Following complaint on Facebook, police arrest human trafficker from Mymensingh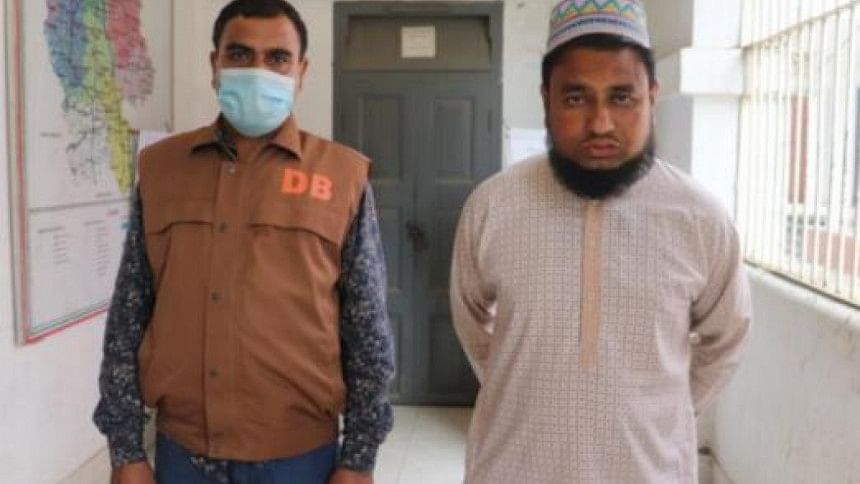 After receiving complaint on social media, police in a special drive, have arrested a human trafficker from Mymensingh district yesterday.
The arrestee was identified as Kazi Salah Uddin Osmani, from Titpur village of the district, according to a statement of Police Headquarters (PHQ).
A Bangladeshi victim from Vietnam submitted a complaint via the messenger of Bangladesh Police's Facebook page three days back, stated the statement.
In the complaint, the victim stated that he gave Tk 3.5 lakh to Kazi Saleh Osman to get a job in Vietnam. The broker assured him of a good job there and said people of the hiring company will receive him from the airport once he lands there.
The victim was also told that he would get a monthly salary of USD 650 while the company would bear his food and medical expenses.
Getting assurance from the broker, the victim went to Vietnam recently but did not find anyone to receive him at the airport and no arrangement of job and food.
The victim mentioned in the complaint, he has been passing days in misery in Vietnam since then. The victim also communicated with the broker to return home and the broker said his job was only to send him to Vietnam.
Receiving the complaint, PHQ took the issue seriously and conveyed the matter to the superintendent of police of Mymensingh district.
The district police in their primary investigation found the complaint authentic. Later a team of detective branch conducted a drive and arrested the broker Salah Uddin yesterday.
During interrogation, the arrestee confessed his involvement in the crime and lawful action is now underway against him, reads the PHQ statement.
Sohel Rana, assistant inspector general of PHQ, said that the Facebook page -- run by the Media and Public Relations Wing of the Bangladesh Police -- has been receiving a lot of complaints and requests from home and abroad.
"Regular instructions are given to the concerned police units from PHQ to take necessary and legal action against these complaints," he said.
"We have also communicated with the authority concerned to ensure the safety of the victim and are taking necessary action so that the victim can come back home," added the AIG.