Prioritise human trafficking prevention
Low conviction rate illustrates govt's lacklustre attitude towards prevention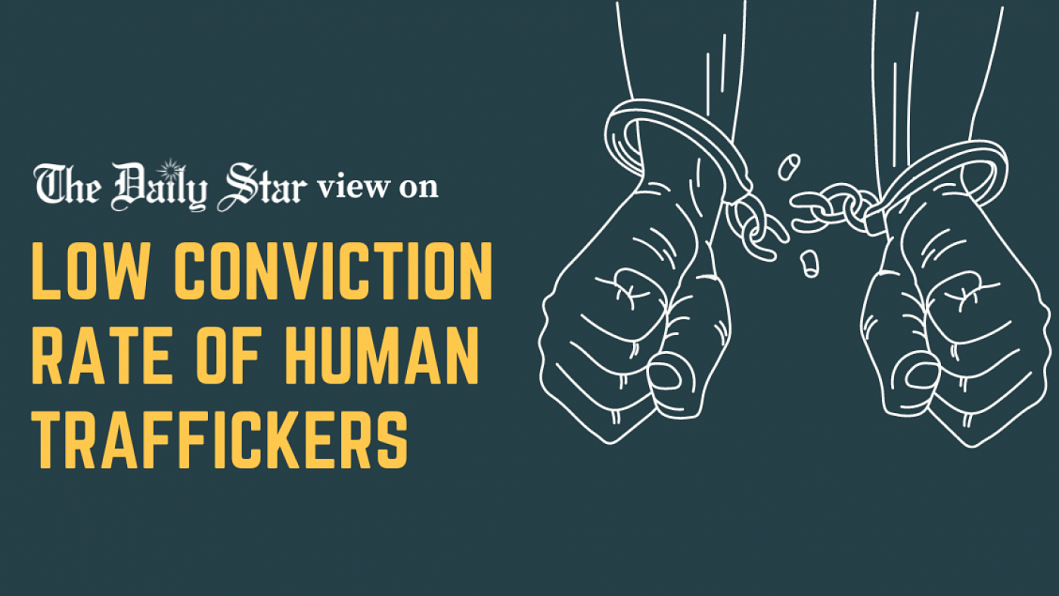 The revelations of a report prepared by the United Nations Office on Drugs and Crime (UNODC) titled, "Trafficking in Persons 2022," are chilling and concerning. According to it, only one person was convicted in a human trafficking case in Bangladesh in 2020, illustrating a shockingly low conviction rate in the country for such an egregious crime. The year before, the number of people convicted in trafficking cases was nine. In 2018, that number was four. Meanwhile, a total of 373 people were arrested in 2020 in connection with human trafficking, 199 were arrested in 2019, and 688 were arrested in 2018. Given that the number of people arrested were in the hundreds, while the number of convictions were less than 10, we should be seriously concerned about how our legal system is handling the issue of human trafficking.
The report contains critical information that could help the authorities identify a number of trends that could prove useful in the fight against human trafficking. For example, Dhaka apparently saw the highest number of human trafficking cases (40 percent) filed in 2020, followed by Khulna (22 percent) and Chattogram (17 percent). It pointed out that economic need was the main driver of trafficking in persons in Bangladesh, while the other factors are discrimination and marginalisation. The relative lack of economic opportunities in rural areas functions as a major push factor.
While victims from all over Bangladesh have been detected in the countries of the Gulf Cooperation Countries (GCC), those districts sharing borders with India near larger city centres disproportionately report repatriated victims. For example, Khulna, which shares its western border with West Bengal and is not far from Kolkata in India, reported the most repatriated victims in 2020. The report also found that traffickers consciously target victims affected by environmental disasters caused by climate change, such as floods and droughts, which erode livelihoods and heighten levels of vulnerability. And that the top destination for trafficking victims from Bangladesh are countries in the GCC, Thailand, Malaysia, India, Europe, and the Americas.
Lack of resources, bribery by traffickers, and insufficient evidence are the main reasons for the low conviction rate in Bangladesh, according to the report. And while trafficking cases should be closed within 180 working days, in practice, the process becomes far more protracted due to these reasons, as well as the involvement of high levels of corruption. The involvement of insiders is another worrying factor here. On January 27, for example, CID officials arrested one security staff of Civil Aviation and another involved with the engineering service of the Dhaka airport. These two employees were allegedly working with a transnational human trafficking syndicate, which has trafficked at least 50 Bangladeshis to Iran. Ultimately, the authorities need to place much greater priority on preventing human trafficking and punishing the perpetrators of such crimes. Human trafficking is one of the most serious crimes around the world – amounting to modern day slavery. Therefore, the lack of resources being invested to prevent it by the government makes no sense. 
All government agencies need to communicate better with each other and collaborate better to prevent human trafficking. And lastly, law enforcement agencies, with the help of other countries, need to identify the masterminds of human trafficking syndicates – who tend to be extremely powerful and influential individuals – and bring them to book.