Gas Crisis: No end to plight anytime soon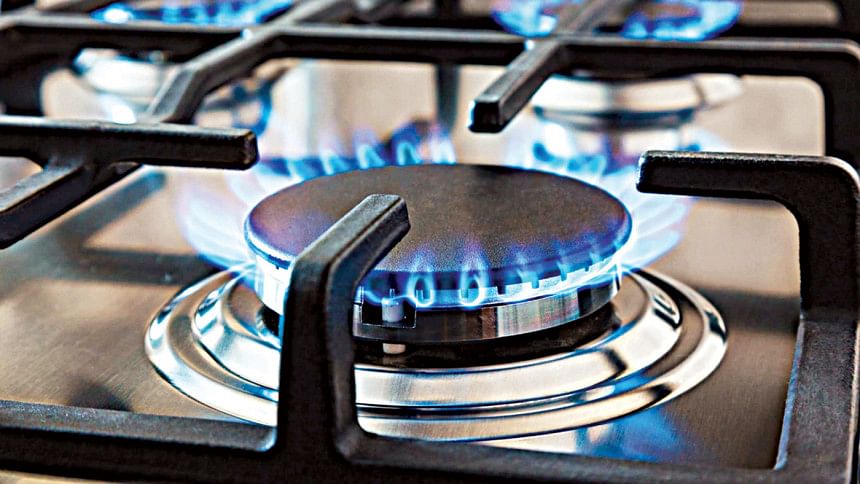 "Our production has dropped by 55 percent, and we don't know when the situation will return to normal. We are at risk of losing our buyers."
The acute gas crisis, which has been plaguing the industrial sector and households, is unlikely to see a drastic improvement anytime soon.
A part of the transport sector that heavily depends on gas has also been hit hard with the filling stations struggling to supply gas to CNG-run vehicles. 
Officials put it down to a huge gap between the supply and demand for gas.
The situation started getting worse in July when the government decided to stop purchase of liquified natural gas (LNG) from the international spot market due to a massive price hike.
It forced the authorities to ration the available gas to domestic and commercial consumers.
On October 16, state-run Petrobangla could supply 2,621 million cubic feet (mmcf) of gas per day to the national grid against a demand for 3,760 mmcf. The average shortfall in gas supply has been around 1,000 mmcf per day over the last few months, according to its production data.
Meanwhile, the arbitrary rationing has aggravated the sufferings.
Take, for instance, the plight of Jummatul Bida, a domestic gas user, in the capital's Gandaria area.
"For the last two months, we are not getting any gas from 8:00am till 7:00pm. I have to wake up at 5:00am to prepare breakfast as well as lunch before the gas supply stops," said Bida.
She further said the crisis has upset her daily routine such as taking her children to school on time.
"If I can't get up very early in the morning, we either have to starve or buy food from restaurants."
Not only Bida, many others in in the city's Mohammadpur, Kazipara, Shewrapara, Jigatola, Banasree, Badda, Postogola, Hazaribagh, Keraniganj, Gazipur, Savar and Manikganj have complained of acute gas crisis.
The power sector that consumes 42 percent of the total gas supply had to reduce power production at around 30 gas-fired plants due to the gas crisis in July.
As power production at gas-fired plants has fallen to 5,000-5,500MW from 11,162MW per day, load-shedding across the country, according to Bangladesh Power Development Board data, has gone up to six hours a day.
INDUSTRIES SUFFER
Production at Little Star, a spinning mill in Ashulia, has slumped by more than half from its daily capacity of 12 tonnes of yarn due to the gas crisis for the last three months.
"Our production has dropped by 55 percent and we don't know when the situation will return to normal. We are at risk of losing our buyers," Md Khorshed Alam, chairman of Ashulia-based Little Star Spinning Mills Ltd, told this newspaper.
He said they have two spinning mills -- one in Ashulia and the other in Bhulta. Gas is needed to run the boilers of both mills for dyeing and printing fabrics.
"The Bhulta factory was hit by the gas crisis one and a half months ago ... At times, gas pressure falls so much so that the machines shut down.
"Sometimes, it takes four to five hours to get the required gas pressure again to resume production. If this crisis persists for long, it will be difficult to keep the business afloat," he added.
According to Bangladesh Ceramic Manufacturers & Exporters Association (BCMEA), the industry has seen a fall in production by 10 to 30 percent due to the ongoing crisis of gas.
"We need gas for a burner to produce ceramic products. The gas crisis is hampering our production. Besides, most of the goods inside a burner get damaged if there is a sudden fall in gas pressure," said Irfan Uddin, Director of FARR Ceramic Ltd.
"We are falling behind schedule and also losing many orders from foreign buyers due to the disruption in gas supply."
Irfan said three of the six burners in his tiles factory in Gazipur remain shut due to the gas shortage.
Taslim Shahriar, senior assistant general manager of the Meghna Group of Industries, said production of consumer goods in their factories in Narayanganj has dropped by 50 percent due to the gas crisis.
SHORTAGE OF CNG SUPPLY
The government, as part of gas rationing, shut all CNG stations for four hours a day in September last year. The shutdown has been extended by another hour since March this year.
Farhan Noor, general secretary of Bangladesh CNG Filling Station and Conversion Workshop Owners Association, said the government decision to shut the pumps for five hours hurt the businesses badly.
"Besides, the filling stations are not getting sufficient gas pressure," he said.
The situation has gone from bad to worse despite the government's assurance that things would improve in three months, he added.
The gas crisis has also affected fertiliser production, as three of the four state-run urea fertiliser factories have remained shut since the last week of June.
In September, farmers staged demonstrations in Jamalpur, Rangpur and several other districts, demanding uninterrupted supply of fertiliser.
The government, however, gave assurances several times that there would be no shortage of fertiliser in the coming days, as it has enough stocks and already signed deals with several countries to import fertilisers.
WAIT TILL WINTER
Petrobangla Chairman Nazmul Ahsan said there has been 10 percent shortfall in gas supply to the national grid since the government stopped importing LNG from the spot market due to its massive price hike in the global market.
"The whole world is in a crisis right now. We will have to work together to get out of this," Ahsan told The Daily Star.
He, however, hoped the situation would improve in the coming winter.
"The demand for electricity will fall in the winter. Besides, some coal-based power plants will come into operation by the end of this year," he said, adding that it would allow them to reduce production in some gas-based power plants and supply more gas to the industries and other sectors.
In reply to a query, he said the existing system doesn't give them the option for letting the consumers know in advance about the gas supply situation like the schedule for load-shedding.