Gas crisis blamed for high price of sugar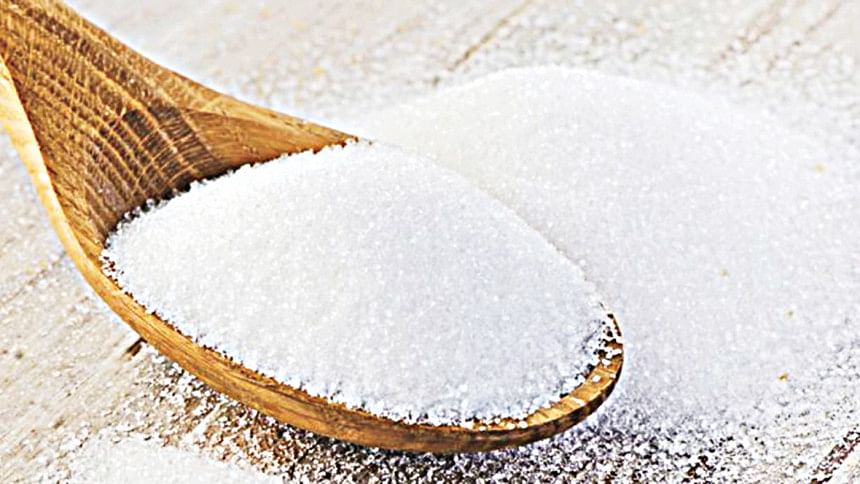 Sugar has become dearer with prices going up by Tk 15 a kg at retail markets as millers cut supplies blaming insufficient gas flow at refineries.
Packaged sugar, preferred by households, is now also hard to find in neighbourhood stores.
Consumers, who are already battered by high inflation, have to pay as high as Tk 110 to get a kg of loose sugar, the correspondents found when visiting most kitchen markets in Dhaka and Chattogram cities yesterday.
Retailers and wholesalers said refiners cut deliveries of the sweetener, for which Bangladesh relies highly on import, creating a crisis in the market.
"We are not getting sugar as per requirement. There is a crisis in the market. You will find sugar in two out of 10 stores here," said Abul Hashem, a sugar wholesaler at Moulvibazar in Old Dhaka.
Hashem, also a former vice-president of Bangladesh Sugar Merchants Association, said the situation worsened gradually over the last 15 days.
At Khatunganj, a wholesale market in Chattogram, prices of sugar shot up by Tk 100-150 per maund (37.32 kg) to Tk 3,780-3,800a maund in the last two days in the face of falling supply, said Anamul Haque, owner of Shah Amanat Trading.
At retails in the port city yesterday, consumers had to pay up to Tk 110 for a kg of the sweetener, which cost less thanTk 100 per kg a week ago.
In Dhaka city, consumers had to spend much higher than the government's fixed price of Tk 90 a kg amidst reduced availability of the item.
And ina meeting with the Directorate of National Consumers Right Protection (DNCRP) yesterday, traders of Karwan Bazar demanded adequate supply of the sweetener to contain prices.
Refiners said imports of sugar continue to be normal but reduced gas supply affected the refining as the process requires steaming. Mills also depend on gas for their own electricity generation.
Biswajit Saha, director for corporate and regulatory affairs at City Group, said it was now supplying 1,200 to 1,400 tonnes of sugar daily, which is half of its usual daily production of 3,000 tonnes.
Taslim Shahriar, senior assistant general manager of Meghna Group of Industries, said the commodity importer and processor was supplying 1,800 tonnes daily.
Businesspeople said the daily supply of sugar by private mills stands ataround 4,000 tonnes, which is half of the total production capacity.
Bangladesh requires 5,000-6,000 tonnes of sugar daily, they added.
Monwar Hossain, owner of Yasin General Store at the capital's Karwan Bazar, said dealers did not deliver any sugar for the last seven days.
"Given the current situation, prices of sugar will rise."
However, AHM Shafiquzzaman, director general of the DNCRP, yesterday said the sugar price would return to normal soon.
The DNCRP spoke to top officials of the gas distribution companies and Petrobangla about ensuring adequate gas supply to the refineries, he added.
"The officials assured me that they would ensure gas supply in the zones where sugar refineries are located," said Shafiquzzaman. "We are conducting drives in markets and legal steps were taken against the dishonesttraders."
Yesterday, the Prime Minister's Office also asked the authorities concerned to constantly monitor markets to contain prices of essential commodities, including sugar, their stocks and supplies in the market.
The directive was given at a virtual meeting with different ministries, departments and deputy commissioners, chaired by Principal Secretary Ahmad Kaikaus.