Businesses dealt a blow
Most of them struggled to continue operation with standby generators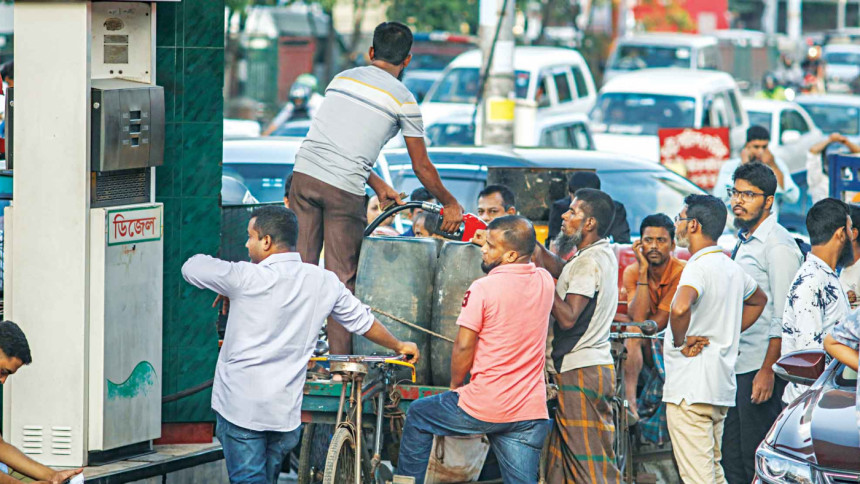 Business and industrial activities were disrupted for several hours since yesterday afternoon as the national power grid failed, plunging half of the country into darkness.
Many factories, including export-oriented garment units in Gazipur, Narayanganj, Savar and Ashulia, could operate for more than six hours with standby generators. Many others had to suspend their operations early.
Shopping malls in the capital also suffered losses due to the blackout. Private offices were affected because of disruptions in telecommunication and internet connections, while ATM booths of many commercial banks also went out of service.
Some banks had to wait till night to settle transactions through electronic networks.
People queued up in front of filling stations had to wait for hours to collect diesel for generators to keep offices and other establishments running. Many returned without diesel after waiting for several hours.
"We could not run [our] factories even though we have standby generators. Filling stations were not able to meet the demand of the buyers," said Shahidullah Azim, vice-president of Bangladesh Garment Manufacturers and Exporters Association.
He said the garment sector normally produces items worth $150 million every day. But yesterday's power failure caused production losses worth $50 million.
Saiful Islam, president of the Metropolitan Chamber of Commerce and Industry, said no electricity means no production and stopping of the industrial units.
The cost of doing business has been on the rise in recent months because of load shedding, he said.
Shamsul Haque, director of KSRM Group, a leading steel maker, said that production of steel requires uninterrupted power supply. He said they had to stop production yesterday for some time due to the power outage since noon.
"We continue our production with backup electricity for about two to three hours. If there is any blackout for a longer period, our production gets affected."
Syed M Tanvir, a director of Pacific Jeans Ltd and director of Chittagong Chamber of Commerce and Industry, said that there was no impact of the blackout on the Chattogram Export Processing Zone as it gets electricity from a specific power producer.
However, productions in the garment and other industrial factories located outside the CEPZ were disrupted. Many continued their production by cutting the duration of shifts.
Md Fazlul Hoque, managing director of Plummy Fashions Ltd, a leading knitwear manufacturer and exporter based in Nararyanganj, said power went off around 1:10pm.
"We had to let our second-shift workers go home around 6:30pm amid uncertainty over when the power connectivity would be restored. We kept our factory running with standby generators."
Helal Uddin, president of Bangladesh Dokan Malik Samity, said traders in different parts of the country had to shut their stores before the sun went down.
Rizwan Rahman, president of Dhaka Chamber of Commerce and Industry, said the government has to find out why the national grid failed.