Revisiting Iconic Movies on Bangladesh's Great Liberation War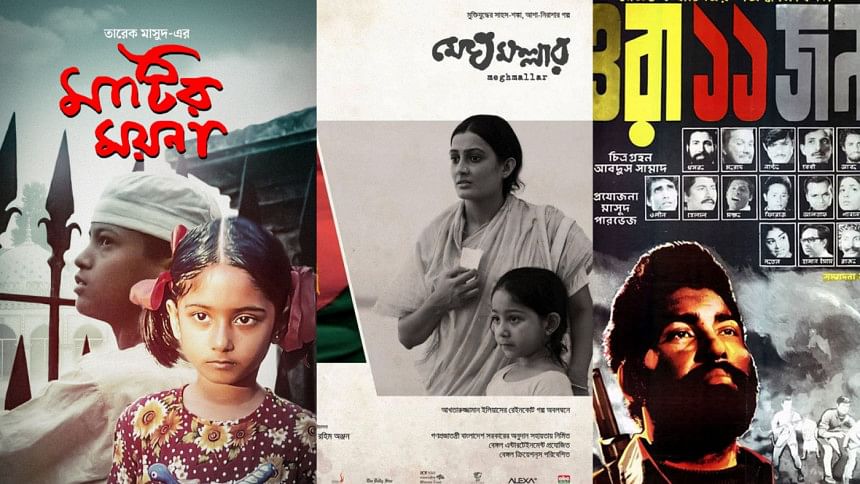 On the occasion of the 52nd Independence Day of Bangladesh, we pay homage to all the brave souls of the soil who liberated the land. Bangladesh's art and culture have been deeply impacted by the war, its cruelty and horrors, the indomitable nationalism of our people and the bloody birth of the independent state. Here are 5 iconic movies which are emblematic of our history:
1.Ora Egaro Jon:
This was the first movie made in independent Bangladesh. This historical drama was written by Al Masood. Director Chashi Nazrul Islam and lead actor Khosru Noman were both members of Mukti Bahini. This movie delicately depicts how the lives of ordinary citizens were heinously ravaged by the war and how they decided to fight back. This movie is indeed a poster of Bangladesh's fighting spirit.
2.  Matir Moyna (The Clay Bird):
"Matir Moina" was the debut feature film of Tareque Masud. Influenced by his childhood, this movie shows the rural context of Bangladesh during the 1960s and the outbreak of the liberation war. Showing the various superstitions and fundamentalism that rampaged rural lives, this movie highlights the beauties of multiculturalism, individual freedom and enlightenment. These aspects make this a very relevant watch.
3. Meghmallar:
Adopted from the famous short story "Raincoat" by Akhtaruzzaman Ilias, this movie by Zahidur Rahim Anjan shows the urban experience of the war. How a war blurs the differences between morality and immorality, rebellion and obedience and personal and political is duly crafted in this movie.  
4. Shyamol Chaya (The Green Shade): 
Written and directed by Humayun Ahmed, this movie is the story of a group of people escaping the horrors of the liberation war. Ahmed's directorial skills combined with the ensemble cast creates an engrossing experience and as the story unfolds, one witnesses the numerous sacrifices made by our ordinary citizens and brave freedom fighters. 
5. Guerrilla:
This 2011 movie is often talked about in pop culture. An adaptation of the novel "Nishiddho Loban" by Syed Shamsul Huq, this film was directed by Nasiruddin Yousuf Bachchu, who was an urban guerilla fighter himself. Joya Ahsan's stunning performance along with the apt cinematography creates a vivid narration, and one realizes that the true costs of our liberation were our very own people. 
The scars that the war created still impacts our daily lives in Bangladesh. The unity and vigour with which our people fought back indeed are needed to combat the challenges of tomorrow. These movies and all the other works done on the great war highlight just that.