Pori Moni has no problems Razz, Mim pair on-screen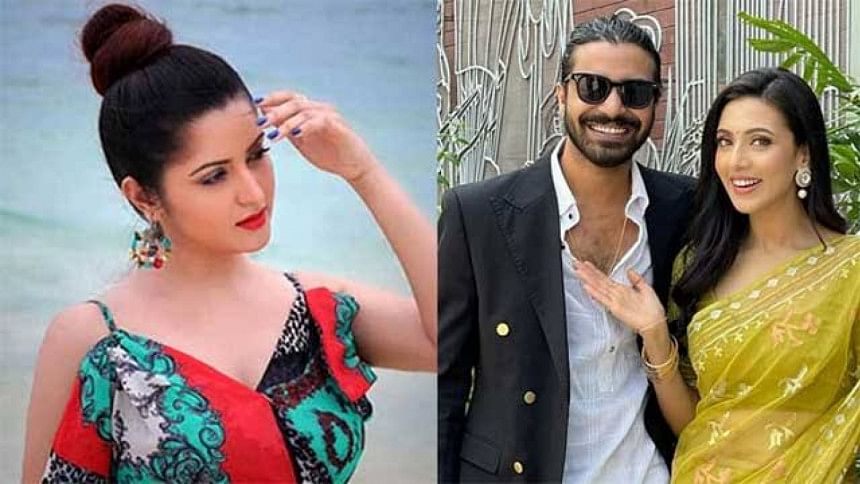 Recently, Pori Moni and her husband, Sariful Islam Razz participated in a talk show, where Pori claimed that she is not responsible for breaking up the much loved on-screen pairing of Mim and Razz. She also stated that she would love to see the duo share the screen once again.
Bidya Sinha Mim and Sariful Razz were featured together for the first time in Raihan Rafi's "Poran". Later, they also appeared in "Damal", which was also directed by the same director. 
However, things went too far when Pori alleged the two of becoming extremely close to each other. Back then, she would take her statement to social media, which caused Mim to make a tough decision. 
During that time, Mim told the media that in a film, there will be some romantic scenes, which might create problems between Razz and Pori in their personal life, as Pori seemed extremely sensitive about the two working together. At that time, the audience loved the duo of Mim and Razz, and they were receiving many offers to work together.
In the recent talk show, Pori said that Mim's sudden decision to no longer work with Razz cannot be the solution. However, Pori mentioned how, at that time, Mim was closer to Razz than even Pori. She also stated that she does not like people who try to have unnecessary intimacy.
While Pori was sharing her thoughts, Razz remained completely silent throughout the conversation.