Pori Moni in and as 'Maa' 
Film's theatrical release today Film's theatrical release today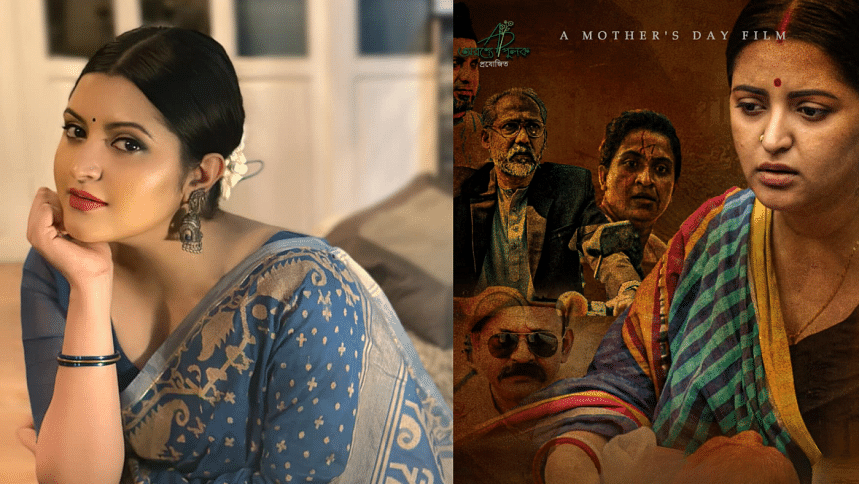 Leaving behind her glamorous persona, actress Pori Moni has stepped into the role of a mother for the first time in her career in the film, Maa, which will be released today in theaters. The film recently premiered at the ongoing Cannes Film Festival, in the Marché du film segment.
The sudden transition to portraying a mother in a pivotal stage of her career has definitely sparked curiosity among her fans. Pori Moni reflects on the initial shock and shares her joy that it coincided with her real-life pregnancy during the filming process. 
"Everyone was shocked when I told them I was going to portray the role of a mother. At that time, I happened to be pregnant. Now, I am spending the best time of my life with Rajya. The journey was challenging, but fulfilling at the same time," said Pori Moni. 
Set in the background of our Liberation War, Pori Moni portrays Beena, a woman who has a six-month-old baby. The story of the film revolves around the little baby. The actress believes that the audience will be captivated by the film's essence and resonate with its powerful themes.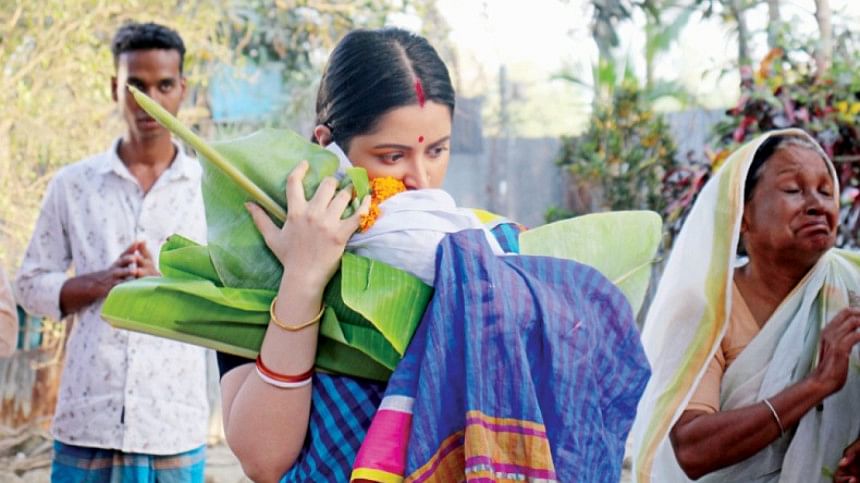 "I was so enthralled by the name and the story of the film, that I agreed to do Aranya Anawer's project instantly. Some people were surprised by my decision to play such a challenging role, but I think an artist is capable of portraying any character, even a mother," shared the actress. 
Since the birth of Rajya, Pori Moni has taken a hiatus from acting, dedicating herself to the joyous task of motherhood. When asked about her return to the screen, she responds with honesty and consideration.
"I am working on mentally preparing myself for a comeback. Recently, I took some time off to visit my hometown and Kolkata. As Rajya is still a baby, he requires my undivided attention. However, acting is a full-time job. I can't focus in front of the camera if I constantly think about my son. Therefore, I feel it is necessary to give myself ample time before returning to work. Rajya needs his mother for a little longer," Pori Moni reveals.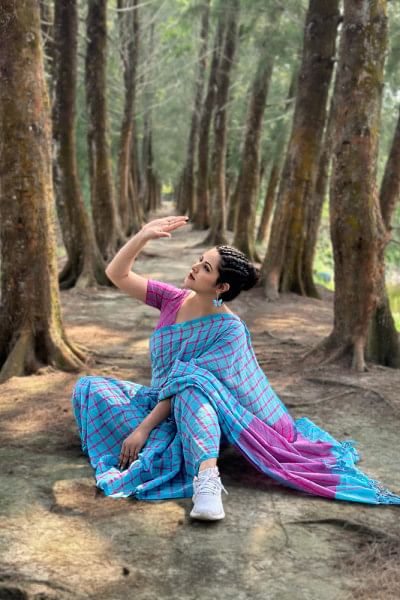 Reflecting on her recent visit to her hometown in Pirojpur, Pori Moni fondly recalls the simpler times filled with nostalgic emotions.
"I remember how on rainy days; water would seep through the tin roof of my school due to holes. Now, as time has passed, they have a proper school building. Yet, I still somehow yearn for those pristine droplets of water on my face, as if to inundate me with endless nostalgia," said Pori Moni.  
"It's a matter of great joy that my film was premiered at such a prestigious festival. I hope this paves the way for Bangladeshi cinema to achieve even greater global recognition in the future," responded the actress, when asked about Maa's stint at the Cannes Film Festival's Marché du film segment.
Maa, for Pori Moni, is more than just another project, as both the shooting and release happily coincides with her real-life, ecstatic and joyful motherhood.