Pori Moni enjoys premiere of 'Maa' with Rajya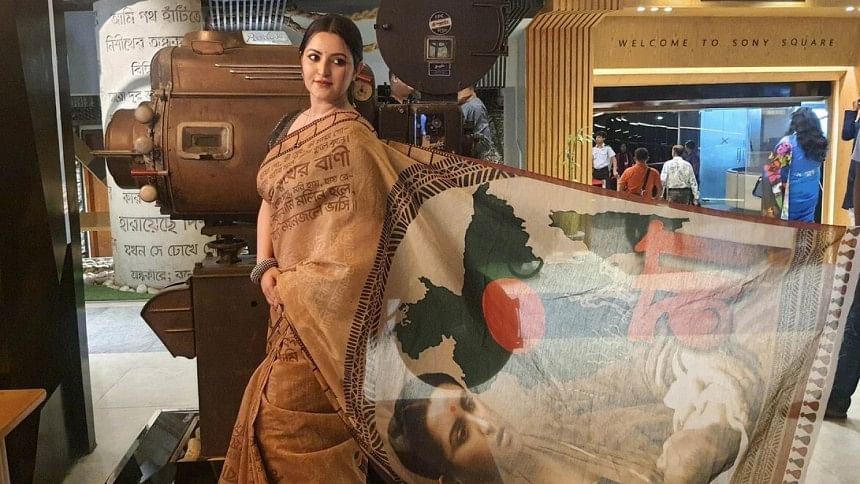 Pori Moni starrer "Maa", directed by Aranya Anawer, was released in theatres today. 
The actor graced the first screening at Sony Square, accompanied by her son Rajya. Dressed in a specially designed cotton saree, adorned with the film's poster, she exuded elegance and pride.
During the premiere show, Pori Moni posed for photographs with her adoring fans, radiating joy and warmth. Adding to the excitement, the child actor, who played Pori Moni's son in the film, arrived from Gazipur with his parents to enjoy the screening. 
Pori Moni was overwhelmed with emotion, as she watched herself on the big screen. This poignant moment held immense significance for her, as "Maa" marked her first role as a mother, coinciding with her own pregnancy during filming. Overwhelmed by the experience, she found solace in her saree, using it to gently wipe away her tears.
Following the screening, Pori Moni engaged with journalists, sharing her thoughts and sentiments. 
"Seeing myself on the big screen and witnessing the emotional reactions of the audience deeply affected me. 'Maa' will undoubtedly be one of the most cherished chapters of my life," she said.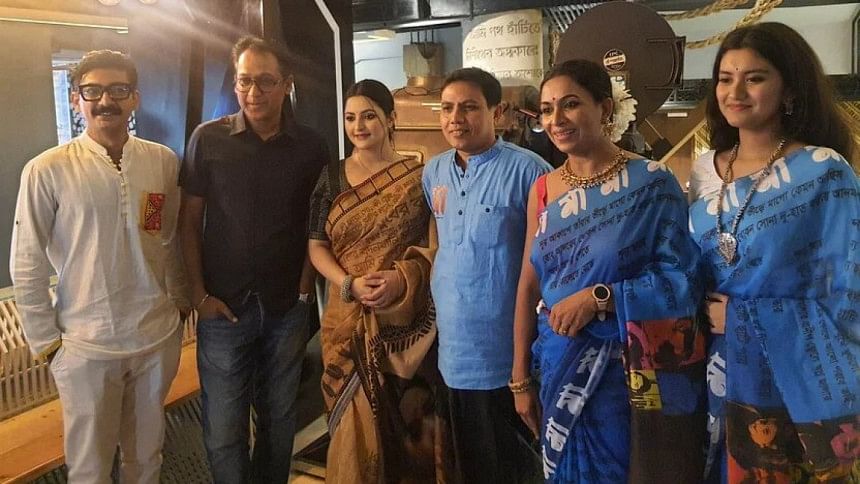 "Maa" is currently screening in three halls: Star Cineplex (Sony Square), Blockbuster Cinemas, and Roots Cineclub in Sirajganj. 
In this heartfelt film, Pori Moni sheds her glamorous image to portray Beena, a mother navigating the trials and tribulations of life against the backdrop of the Liberation War. The story revolves around the bond between Beena and her six-month-old baby, capturing the essence of motherhood and sacrifice.
Adding to its acclaim, "Maa" recently made its presence felt at the prestigious Cannes Film Festival, where it premiered in the esteemed Marché du Film segment.