'Mujib: The Making of a Nation' announces release date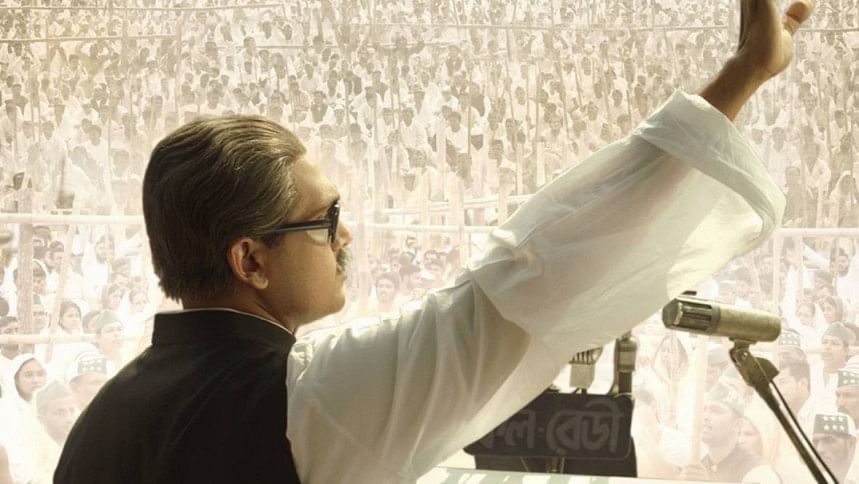 The movie "Mujib: The Making of a Nation", based on the biography of the Father of the Nation Bangabandhu Sheikh Mujibur Rahman, has been the talk of the town for a few years now. The work around it began about four years ago in 2019. The movie is now finally on the threshold of being released.
Taking to its Facebook account today, The National Film Development Corporation of India revealed that the movie is releasing on October 27 (Friday).
Apart from this, the trailer of this much-discussed movie will be released tomorrow by its Indian production company. The movie received its uncut censor clearance in Bangladesh, earlier on July 31.
Famed director Shyam Benegal's "Mujib: The Making of a Nation" stars National Film Award recipient Arifin Shuvoo as Bangabandhu, actress Nusraat Faria as Sheikh Hasina and Nusrat Imrose Tisha as Bangabandhu's wife Sheikh Fazilatunnesa Mujib, amongst many other actors.
In late January 2021, the first phase of the film began shooting at Dada Saheb Phalke Studios in India's Mumbai. Dayal Nihalani worked as an associate director in the movie, while the screenplay was written by Atul Tiwari and Shama Zaidi. Nitish Roy is in charge of art direction and Shyam's daughter Pia Benegal is the costume director.
Last year, the trailer of the movie was released in the commercial section of the 75th Cannes Film Festiva, which was met with fierce controversies. Shyam Benegal had then said, "I have only one thing to say to those who are criticising - you have not seen the original movie yet. I don't know what logic can be used to be so brash after just watching a trailer. Once the movie is released, everyone should watch it - then I will surely listen to the audience's verdict."