Naseeruddin Shah compliments Shuvoo at special 'Mujib' screening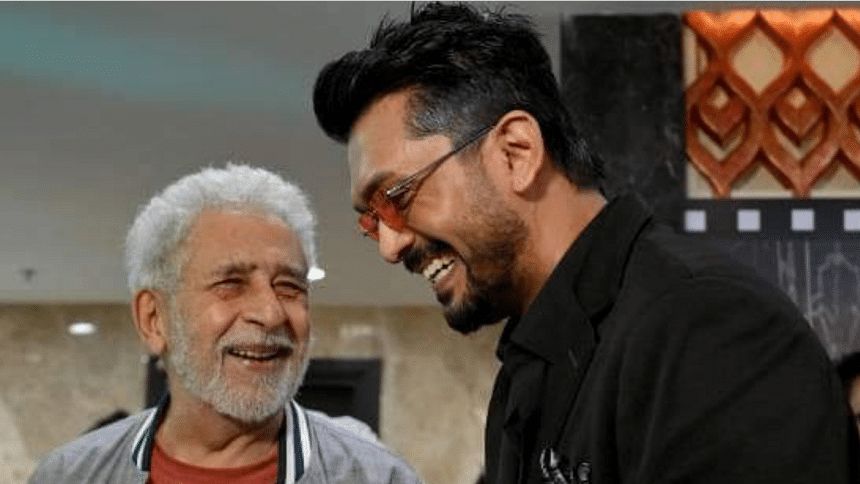 The film "Mujib: The Making of a Nation", based on the biography of the Father of the Nation Bangabandhu Sheikh Mujibur Rahman, directed by renowned director Shyam Benegal will be released in India on October 27. On that occasion, a special screening of the film was arranged in both Bengali and Hindi languages ​​at the National Museum of Indian Cinema in Mumbai on Wednesday.
The event saw people related to the industry, enjoy the movie alongside Shyam Benegal. Apart from Arifin Shuvoo, BFDC officials from Bangladesh were also present there.
Benegal expressed his appreciation, stating, "Certainly, I found joy in creating the film. It is a privilege for me that the Prime Minister of Bangladesh, who is also the daughter of Bangabandhu, appreciated the movie," following the exclusive screening.
Veteran Bollywood actor Naseeruddin Shah was notably in attendance there and he praised Shuvoo after the film screening.
In "Mujib: The Making of a Nation", Arifin Shuvoo plays the role of Bangabandhu, Tisha plays the role of Bangabandhu's wife Sheikh Fazilatunnesa, Dighi plays the role of a younger Sheikh Fazilatunnesa, Nusraat Faria plays the role of PM Sheikh Hasina and Chanchal Chowdhury essays the role of Bangabandhu's father Sheikh Lutfur Rahman amongst other prominent actors in it.