If you're mentally determined, you can do anything: Sabila Nur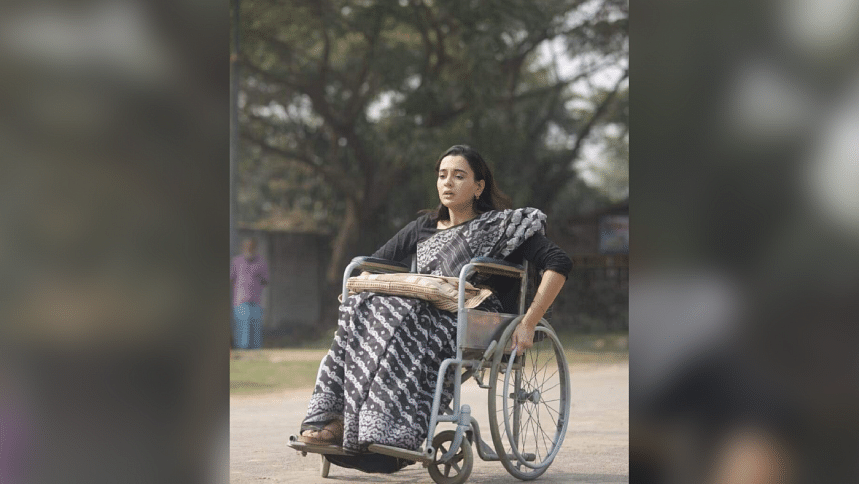 Popular actress, Sabila Nur will be seen in a new avatar this Eid-ul-Fitr. Her new character, Sunaina, will be seen in a wheelchair, with a couple of books in her arms, in Anonno Emon's upcoming drama, "Birotihin Jatra".
"Birotihin Jatra" has been written by Ahmed Tawkir. The film features Sabila Nur, Saberi Alam, and Abdullah Rana, amongst others.
Sunaina is somewhat reclusive, reading book after book every day. In her wheelchair, she travels around, handing out books to the general people. Perhaps that is why many seem to be fond of her. However, this popularity causes the local chairman to fear her. Recognising her efforts, the local police executive officer honours Sunaina with an award. However, some hidden truths are unearthed at the award ceremony.
What are these hidden truths? Unlike normal girls, why does Sunaina spends all her time with nature, books, and butterflies? Fans will soon find out this Eid-ul-Fitr.
Speaking about the film with The Daily Star, Sabila Nur shared, "Physical challenges cannot stop you when you are mentally determined to do something. Nothing is impossible. This is the main message of the drama film. To build a beautiful Bangladesh, it's necessary to change our mindsets first. 'Birotihin Jatra' invites everyone to join this very change."