Bubly-Apu both in my past: Shakib Khan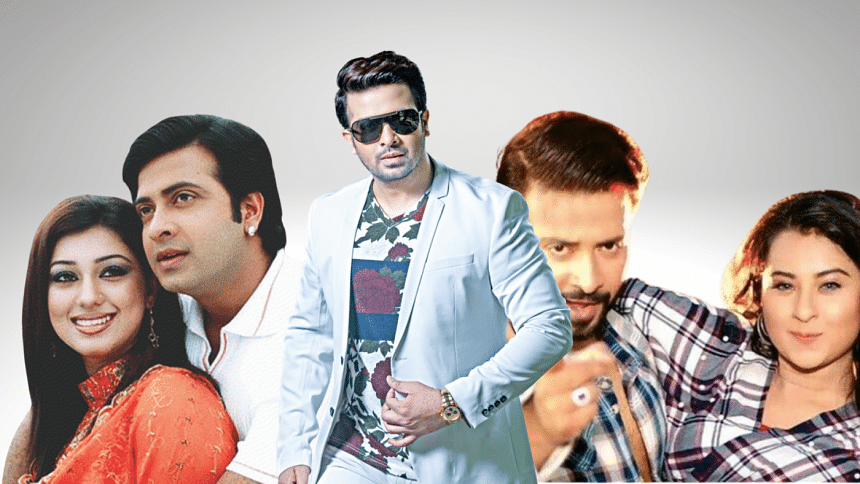 Social media was abuzz about Apu Biswas and Shabnom Bubly's 'open war', where they exchanged demeaning Facebook statuses centering around a diamond nose ring.
Apu, Shakib Khan's ex and mother of his son Abraham Khan Joy, shared Bubly's post regarding Shakib khan buying her a diamond nose ring, and adorned it with 'laugh emoticons'. Naturally, Bubly, who is mother to Shakib's son Shehzad Khan Bir, did not take to it sportingly.
Amidst the crossfire, 'Dhalywood King' Shakib Khan kept quiet, until very recently. He told the media that both Apu and Bubly are his past now.
This might finally be confirmation that even though Shakib and Bubly are officially married, the relationship between them isn't exactly 'amicable'.
"Nobody gets in a relationship to get divorced. Apu and Bubly are both mothers of my children, and for that, we will have the bare minimum relationship," said Shakib. "However, I can assure you that both of them are in my past, there is not chance of us getting back together again."
To add insult to injury, Shakib said that he was not the one who bought Bubly the diamond nose ring, and he is perplexed as to why Bubly is sharing pictures from the past. "We went there in 2018, why she is sharing these pictures, only she can answer."