'Learning from Puran Dhaka'
Exploring the art and heritage of Old Dhaka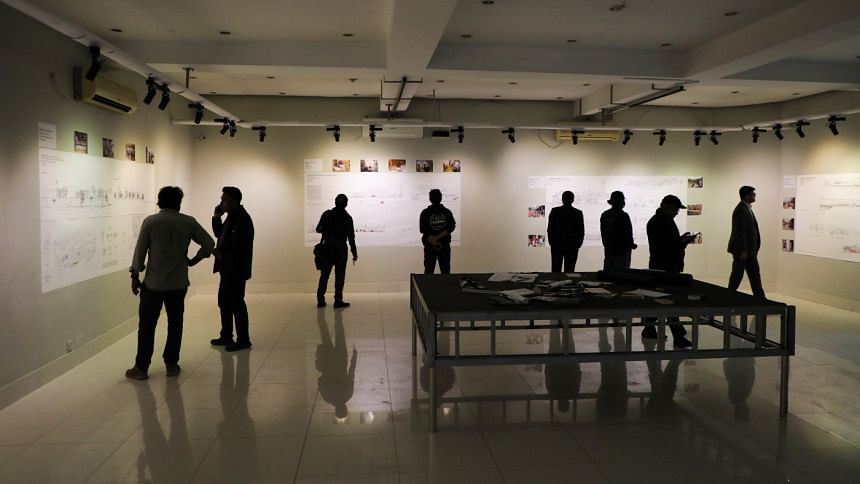 "Learning from Puran Dhaka: The Urbanity of Occupations along the Buriganga Riverfront", a living exhibition and open workshop, was inaugurated on Saturday at La Galerie, Alliance Française de Dhaka.
The opening ceremony was graced by the kind presence of Barrister Sheikh Fazle Noor Taposh, Mayor of Dhaka South City Corporation; His Excellency Charles Whiteley, Ambassador and Head of Delegation of the European Union in Bangladesh; Her Excellency Marie Masdupuy, Ambassador of France to Bangladesh and Thijs Woudstra, Chargé d'affaires, Embassy of the Netherlands in Bangladesh.
Throughout the exhibition, a group of around 50 students from Bangladesh University of Engineering and Technology (BUET), Bharati Vidyapeeth College of Architecture, Ecole Supérieure Nationale d'Architecture de Paris-La Villette, and College of Architecture Trivandrum, will be investigating topics such as endangered heritage, circular economy, urban agriculture, innovation, corporate culture and much more, in the eight river docks of Old Dhaka.
Through this, they will sketch various architectural designs of Old Dhaka. Over the course of the exhibition, they will be adding new sketches, and changing previous ones, thereby presenting a cohesive interpretation of their findings by February 20.
"River Heritage: Learning from Puran Dhaka" is a long-running heritage initiative currently in its third chapter. It is led by Alliance Française, Goethe-Institut, British Council, the Spanish Embassy and the EU Delegation in Bangladesh, with support from the Embassy of the Netherlands. The project is also being facilitated by a number of local partners, including Dhaka South City Corporation, BUET, Brihatta Arts Foundation, Bulbul Academy of Fine Arts and Pathshala South Asian Media Institute.
Old Dhaka offers a range of architectural styles, drawing inspiration from the days of Sena and Mughal dynasties into the Indo-Saracenic and colonial era. During this project, the participating students will continue the documentation of the area, exploring its architectural heritage.
Throughout the workshop and exhibition, participants will be exhibiting drawings, maps, sketches, observations, and photographs of Old Dhaka. The project will be followed by a number of cultural events to encourage reflection and interest about the area's existing and historic heritage.
The exhibition is open to all at La Galerie and will be continuing till February 20, from 3 pm to 9 pm.