Dhaka Int'l Film Festival: Surprisingly solid, disappointingly under-appreciated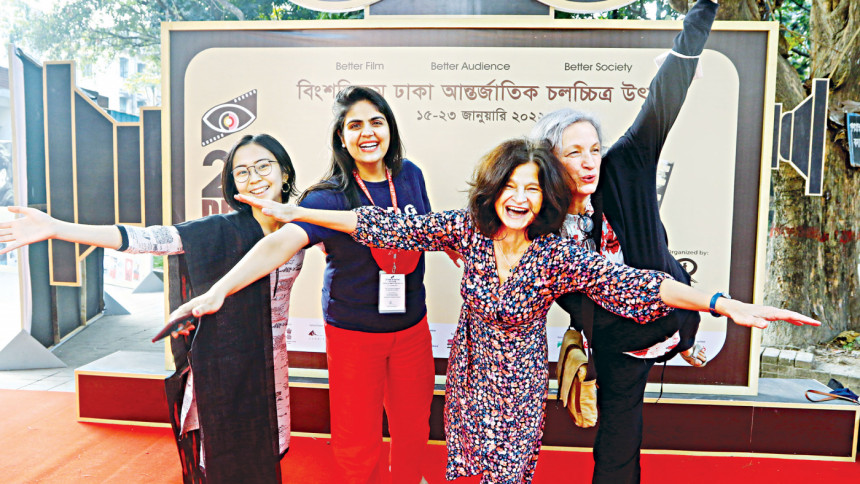 English in many different accents: Indian, Polish, European, Egyptian, Iranian, Russian, and many more, started echoing like a drum roll in my ears when I entered the director's lounge at the 20th Dhaka International Film Festival (DIFF). 
Echoing the theme, 'Better Film, Better Audience, and Better Society', the festival this year has opened its doors in various categories, including the Asian Competition section, Retrospective, Tribute, Wide Angle, Bangladesh Panorama, Cinema of the World, Children's Film, Short and Independent Film, Women Filmmakers Section, and Spiritual Films section. Around 225 films from 70 different nations are being screened at DIFF this year.
The submitted films are being screened at multiple venues across Dhaka – Sufia Kamal Auditorium and Main Auditorium at National Museum in Shahbagh, Alliance Francaise de Dhaka in Dhanmondi, National Art Gallery Auditorium and Auditorium of National Music and Dance at Bangladesh Shilpakala Academy (BSA), and at the Public Library Auditorium in Shahbagh.
Stepping inside the Public Library, a vivid blend of vibrant cultures was a treat to my eyes, as filmmakers, producers, and film academics from different parts of the world were enjoying each other's company while they talked about the passion that united them, films.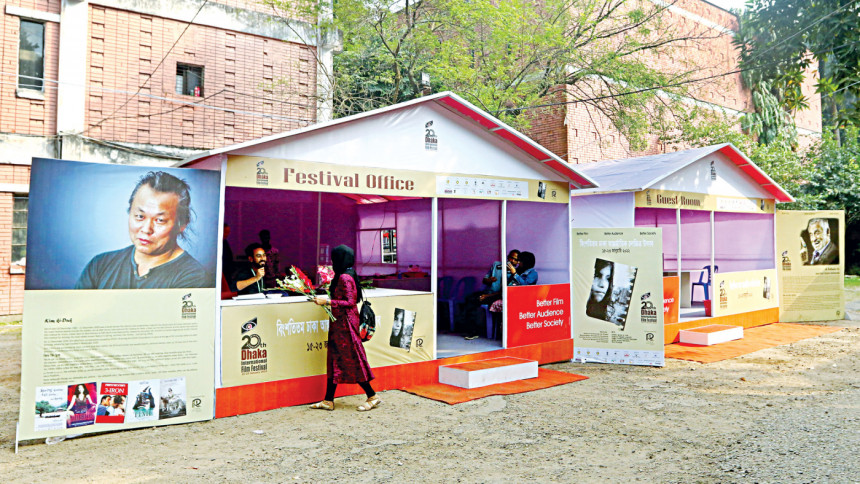 The festival, which opened on Jan 15 and will run till Jan 23, has also became an educational hub of young Bangladeshi students, aspiring filmmakers, and prominent directors and producers, indulging in the wide array of themes displayed onto the screens of the Main Auditorium at the Library.
Similar snippets were seen at the National Museum and at BSA, as individuals from different parts of the world were seen to stand by each other and support their creations while the audience seats were mostly seen vacant.
As the sun started to dim and the evening winds blew in, the DIFF screening theatres started to breathe new air as more stumping feet started entering the halls.
Relishing on themes like inclusivity projected by Iwona Siekierzynska's (Poland) "Amatorzy", reliving Noble winner Rabindranath Tagore's legacy through fresh lenses in Mika Sasaki's (Japan) "Tagore Songs", or projecting the journey from rebellion to rise in Samaher Alqadi's "As I Want", the productions offer a wide array of choices to cine-lovers.
Ranging from smaller budget projects to well-financed productions, DIFF paid equal heed to all comers. While some are worth avoiding, many are also substantial enough to deserve walk-ins as they hit the screens.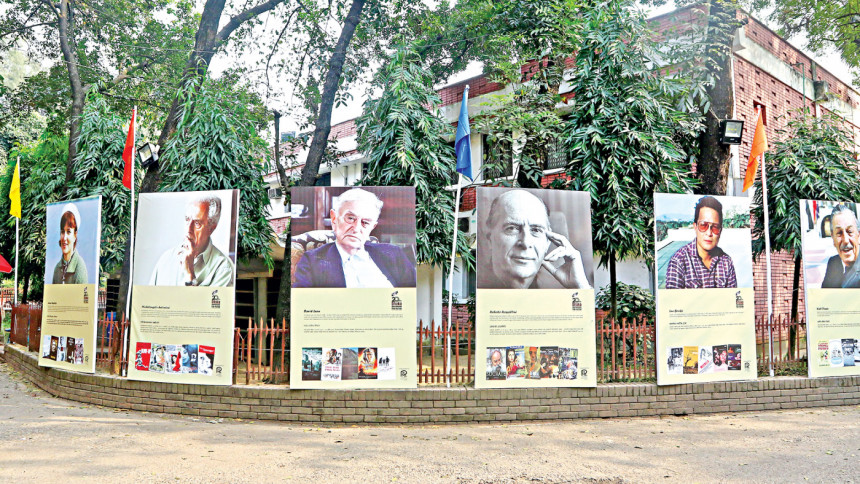 While the volunteers and the organising members were very helpful and welcoming, the main aspect that attracted me would be enjoying the wide view in a cosy environment on this chilly evening. The only thing that could be improved was the quality of the screens in the halls.
The productions seemed to have lost their edge as the poor screen quality hampered the picture quality, degrading the experience I was looking forward to while entering the theatres.
Nevertheless, through DIFF, I was able to live 70 cultures, some similar and others completely different. I became witness to an amazing cultural harmony that inclines one to be accepting and even enjoying each other's differences.
DIFF 2022, in my opinion, is a wonderfully carnivalesque experience, which few people bought the tickets to. That is a shame, as it has a lot to offer for all visitors.