Remembering Leonard Cohen, the poet of melancholy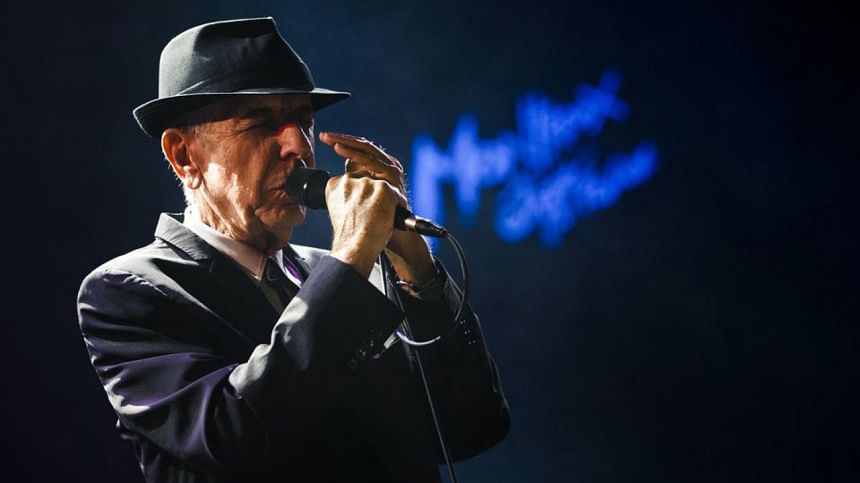 Leonard Cohen was one of the most successful singer-songwriters of the late 1960's. His career spanned six decades—interrupted only by a handful of adventures into personal and artistic exploration—all of which intensified the mystique surrounding him. He was the only musician from the era to be still active in the 21st century.
What makes these accomplishments all the more amazing is that he never considered pursuing a musical career until he was in his 30's.
Cohen was born on September 21, 1934, into a middle-class, Jewish family in Westmount, Quebec—an English-speaking community on the island of Montreal. The Catholic sensibility of Montreal influenced Cohen's writings just as significantly as his Jewish heritage.
This can be seen reflected in the first song that drew attention to him, "Suzanne", which also established him as the prophetic poet of melancholy. Biblical references can be traced in the lyrics of the song.
"Hallelujah", is the most popular vision of his spiritual ideologies. Cohen uses religious imagery from Jewish scriptures to try and comfort the broken-hearted in this song.
Cohen spent five years writing "Hallelujah", and he edited down dozens of verses into just four. The song was an expression of joy, that was also truthful about God's lies, and it had been written during Leonard Cohen's most inconsistent period in his career.
No one else has ever perfected all three—music, poetry and literature—the way Cohen has. He had already earned a name for himself as a forceful and unconventional poet, long before his songs began to explore the mysterious intersections between spirit and body.
Metaphysical poets like Andrew Marvell, John Donne, WB Yeats, as well as WH Auden, who combined religious and cultural concerns, were among his earliest inspirations. Federico Garca Lorca, a surrealist Spanish poet who turned Spanish folk tunes into poetry, before being killed by Spanish nationalist troops in 1936, had a particularly profound impact on Cohen. His exposure to socialist folk music, also influenced how his music was experimental, speculative and spiritual.
At the age of 13, he first picked up the guitar to try to impress a girl. Once he proved himself capable of playing country and western music, he started a band named the Buckskin Boys. He later enrolled in McGill University, as an English major, when he was 17-years-old.
Cohen moved to London in 1959, and then to Hydra, Greece, the following year. He shared a home there with Marianne Ihlen, an Oslo native who was his first legendary love affair. In a way, Cohen's relationship with Ihlen established an archetype of romance for him. While residing in Greece, Cohen wrote his second novel, "Beautiful Losers".
By the time he was in his 30's, Cohen moved to New York and was looking into their music scene. Because of his advanced age, in comparison to his contemporaries, agencies repeatedly advised him against pursuing a career as a performer.
Judy Collins, a fellow folk musician, had previously acknowledged Cohen's considerable skill, covering his songs "Suzanne" and "Dress Rehearsal Rag". With her support, Cohen made his stage debut at the 1967 Newport Folk Festival.
"Songs of Leonard Cohen", which was released in 1967, is one of Cohen's best albums. It combines delicate, sparse arrangements with his distinctive, untrained baritone to deliver melancholic lyrics about sexuality, love, spirituality, and despair. The songs in this album can be described as both straightforward and intricate.
Although commercially the album barely cracked the top 100, it helped Cohen gain a devoted following. Songs like "Suzanne," "So Long, Marianne," and "Hey, That's No Way to Say Goodbye," were cult classics.
Although Cohen continued to write after 1967, his musical career is what he is best known for. His early poems foretold the subjects, tone, and style of his later songs. Both his poems and songs revolved around themes of sensuality, death, loss, and redemption.
Cohen's body of work is unexpectedly mercurial, even though his entire career has had a gloomy overtone. The general idea that he only wrote melancholic songs exists because of his popular albums "Songs from a Room" and "Songs of Love and Hate".
However, his songs frequently explore self-mockery and a grim, caustic sense of wit. This sense of humour is also evident in his humorous live presence, which can be witnessed in two significant documentaries: "Bird on a Wire" (1972) and "Ladies and Gentlemen … Leonard Cohen" (1965).
One of the most unexpected turns in his lengthy career was his conversion to Buddhism. This provides some context to the overarching impression of his lyrics and vocal style, which is that of a reclusive voice emerging from the shadows, providing words that unite the spiritual and material worlds.
Cohen's last album, "You Want It Darker", was recorded at home, while his health was quickly declining. It was released three weeks before his demise. The album was produced by his son Adam, who told Rolling Stone magazine that despite his father's deteriorating health, "the only thing that buoyed his spirits was the work itself".
The legend passed away peacefully in his sleep on November 7, 2016, at the age of 82.