Jungkook dozes off while 6 million fans watch on Weverse live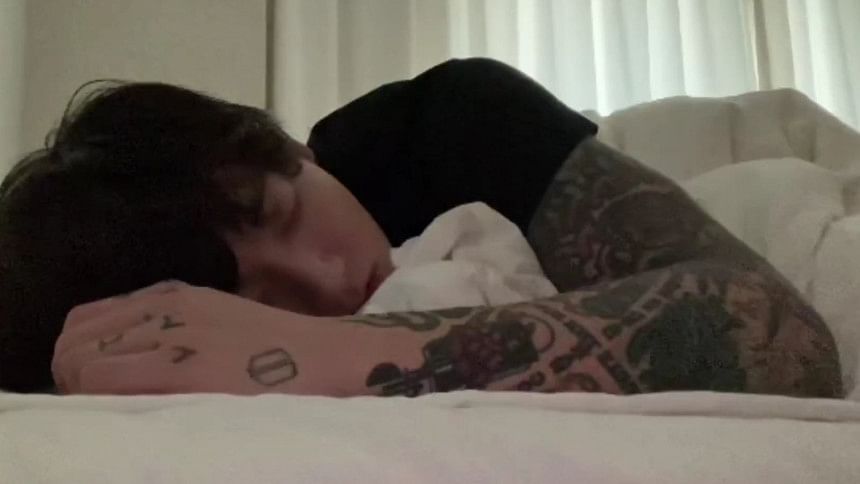 On Sunday, when he was unable to fall asleep, BTS member Jungkook decided to go on Weverse live. He started the live at 7 in the morning, when he was struggling to go to sleep. Dressed in a black short-sleeved T-shirt that showed off his tattoos, Jungkook was in his bed, covered in white sheets.
After talking with his fans for a bit Jungkook said, "If I fall asleep like this, the company will go crazy." He also showed off his black pillow to the camera.
Soon after, he would fall asleep while still on the live session. The live would continue for 21 more minutes, as 6 million people watched Jungkook sleeping on their screens.
BTS Army, as expected, could not handle just how cute Jungkook looked as he dozed off in the bed. Jungkook began trending on Twitter with 890,000 tweets within just hours. 
One Twitter user wrote, "So we 6.6M (million) were literally with Jungkook in his bedroom on his bed... damnnnnnnnn this parasocial relationship is getting out of hands. Jungkook is unbelievable and i love it." 
Another one replied, "Sometimes, home is a person. Comfort is a person. Happiness is in a form of person. and for me all these comes in a single person that is Jeon Jungkook. He will always remain my favourite comfort person."