Hatirpool Sessions Live: connecting with the youth through music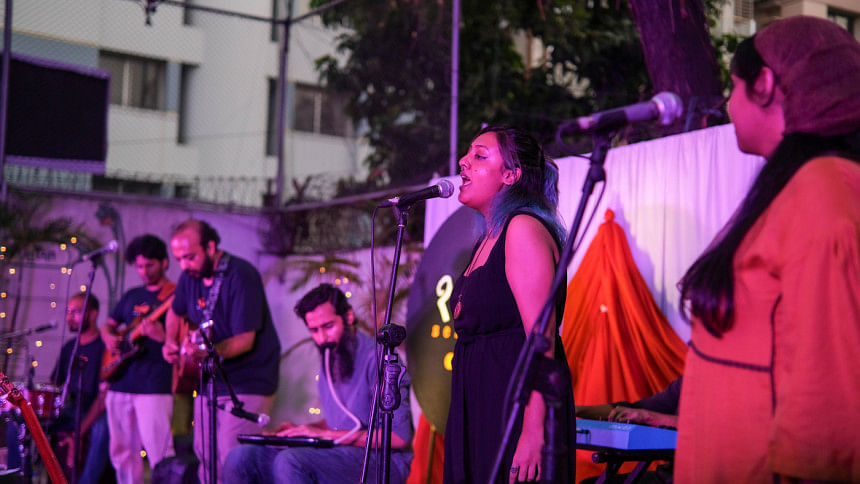 Bangladesh's latest indie sensation, Hatirpool Sessions, has successfully arranged its first two live shows this weekend. Upon the completion of the first show at Alliance Francaise De Dhaka, Gulshan, on Friday, the second show the next day at Dhanmondi has been equally loved by the audiences.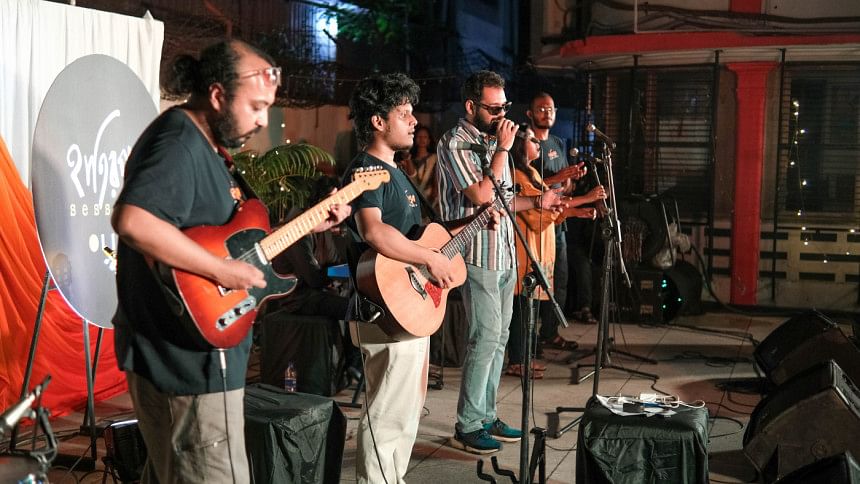 It's a pleasantly cool afternoon on Saturday. A downpour has just quenched Dhaka, and there's a gentle breeze blowing. A beautiful, young crowd has arrived at the venue.
Initially the songs from season 1 are played, setting a very nostalgic ambience. The audience immediately builds that connection with Hatirpool Sessions' journey. The songs from the second season are played next, and are received with even more enthusiasm, with audiences singing and dancing along.
Shanaj Parvin Jonaki, Creative Producer of Hatirpool Sessions says that they never expected such an overwhelming response. The team always wanted to go for a live show, given that it was difficult to navigate with such a diverse group in other shows. "We're very lazy," laughs Jonaki, "but we went for a solo show just to see how things play out." She says that after managing the venue at Alliance Francaise De Dhaka, Gulshan, they released the tickets two to three weeks prior to the event, thinking there wouldn't be much response.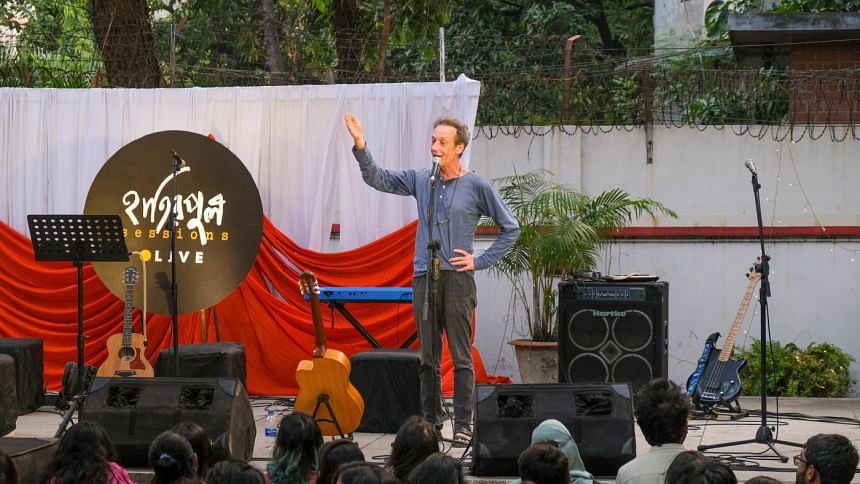 "But within two days, the show was sold out. We received so many calls. Even Alliance Francaise De Dhaka received so many calls that they offered us another venue at Dhanmondi on Saturday. I'm very excited, motivated and inspired. We were sold out before even doing any bare minimum promotion. We're very happy with the love we've received."
Anirudha Anu, a founding member, says that the priority of Hatirpool Sessions has always been coming together and doing music together. In his characteristic humble tone, he says that he doesn't know how well they are, but that Dhaka seems to have a niche for everything. Similarly, Hatirpool Sessions has carved out its own following, people who responded with such admiration which was unexpected for the team. The next plan for Hatirpool Sessions would be to go for the third season.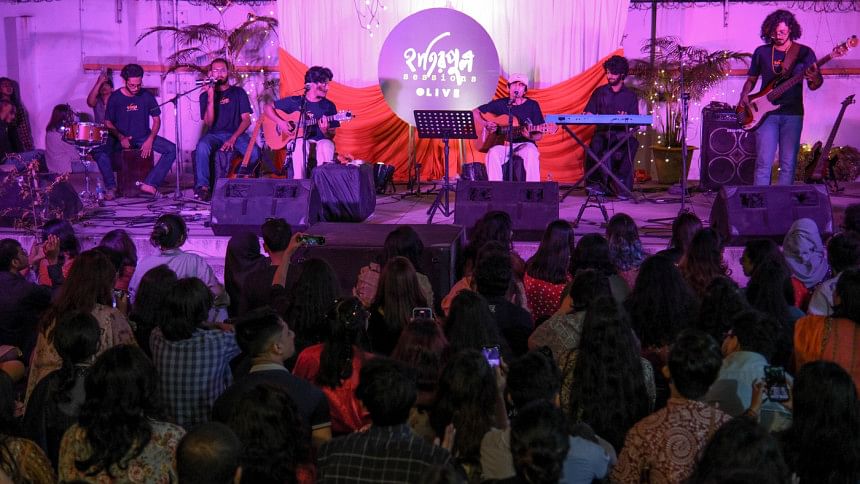 Samin Yasar, part of the houseband, talks about the first show and recalls the last moments, which were the best in his opinion. "It started raining at just the perfect moment and we all sang together, ending the session." When asked about the next big step for Hatirpool, he says that the Hatirpool should ideally aim for whatever is possible being true to its essence. "Often over polished elements lose the authentic rawness, so we aim to keep that intact within the resource capacity."
Joyee Chakma Joy's "Jamaica Farewell" has the best essence from the original folk song, with the beautiful added elements of Bangla and Chakma languages. Talking about the song, she says, "Anu bhai has inspired me a lot to write this in Chakma. As I wanted to write something in Chakma, he was the one who suggested 'Jamaica Farewell'. In my perspective, it's like bidding farewell to Chittagong Hill Tracts, where I come from. When it comes to translating and transcribing the song, I must credit Maclin da, a Chakma poet. This song has a lot of intense vocabulary, words not colloquially used. He helped me a lot to put the whole thing together".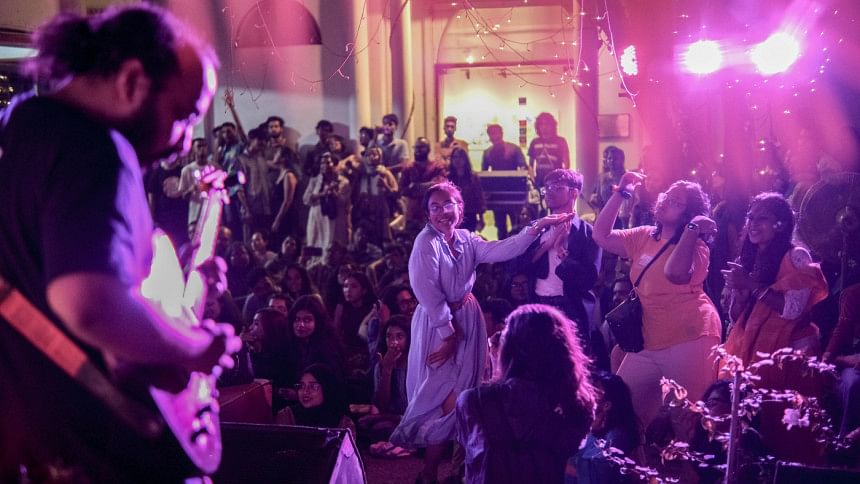 Chetona Rahman Vasha performs exceptionally well. Her versatile performances and her onstage presence turn out to be one of the key elements of making the event a success. When asked about what lies behind this spirit, she says, "It's about connection. We all are deeply connected with the music here. And this is reflected in our performances."
The event ends with Ahmed Hasan Sunny's "Shohorer Duita Gaan". The crowd sings at the top of their lungs, and it's almost as if everyone in there relates to it deeply, having a very personal dimension and reiteration of the song.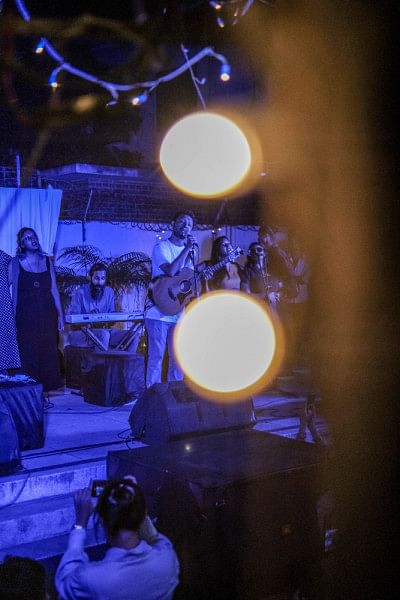 And this is precisely where Hatirpool Sessions stands apart. It has been able to tap into many unspoken emotions of the youth, things they'd otherwise feel too vulnerable to talk about. Heartfelt lyrics, eccentric compositions and most importantly, a sense of universality make them the sensation that they are.