Shuvendu Das Shuvo: A spellcaster with 6-strings
Shuvendu Das Shuvo is an ever-present figure within Coke Studio Bangla. In almost every Coke Studio Bangla video, Shuvendu can be seen, sometimes playing a guitar, a mandolin or just singing.
However, he isn't just limited to being a performer. Shuvendu has carefully crafted and arranged a few of the Coke Studio Bangla songs like Bulbuli, Murir Tin and Darale Duaarey. On a Sunday evening, The Daily Star sat down with Shuvendu to learn the story behind the magic.
How did you get started on your musical journey?
I have been practising music since a very young age. My mother, older brother, uncles, all of them were trained in classical singing. So, it was kind of expected of me. I remember participating in singing competitions at school, where I won prizes as well.
However, the inspiration to make music and play the guitar came from my older brother, Autumnal Moon. Seeing him play guitar made me want to learn it. I particularly enjoyed the feeling of singing a song while playing the guitar. This is where I really got into music of my own accord. I cannot pinpoint a specific moment, but I feel as if I just fell into music at one point.
At a point, I discovered there was nothing else but music around me in my own world.
Around 2010 is when I first picked up the mandolin. I really enjoyed country, Irish, Scottish and folk music, that is where I got the inspiration to start playing the mandolin.
You're an ever-present figure within Coke Studio Bangla.
This is a once in a lifetime experience. Working with so many talented artistes, most of whom are people quite close to me, has been quite a wonderful experience. In particular, the man who has assembled us, Arnob da--who is very important to me as I see him as an idol--has made the experience even better.
You composed and arranged 'Bulbuli', 'Darale Duuarey' and 'Murir Tin'. What kind of input do you have on the other songs?
In the first season, we all lived together in a house. Living together helped us develop a better understanding of each other. The experience of living together and making music really added the soul to our music. It almost felt like a band, so all our input is taken. We bounce ideas off each other and give suggestions all the time.
Do you have any insight about how big Coke Studio Bangla's international audience is?
While I haven't seen the analytics, I do feel the support from the international audience. I see a lot of people reviewing our music from neighbouring countries like India and Pakistan. On top of that, people from countries all over the world post their reactions and thoughts about our songs. We are a global platform, so we can see that our music is reaching out far and wide across the world.
I also see that a lot of non-resident Bangladeshis are very proud that after Coke Studio India and Pakistan, there is now a Coke Studio Bangla.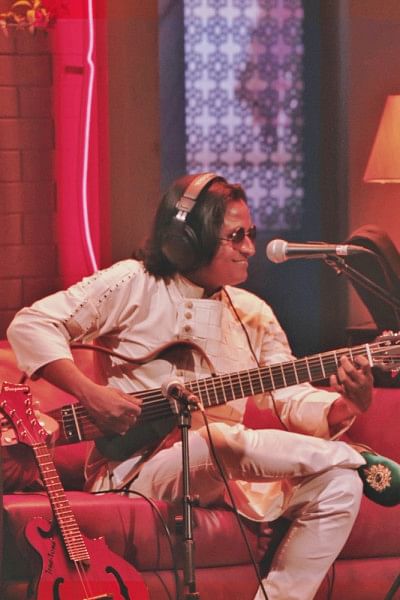 Do you have any advice for the next generation of musicians?
Music is a continuous learning process. My only advice would be to continue to learn music. If you love music, you will always enjoy learning. If we continue to learn music, then we will see even better growth and hear even better music. Don't chase fame, rather pursue the endless love of learning music, as that will make you great.