Did 'Nasek Nasek' set the bar too high for 'Nahubo' to reach?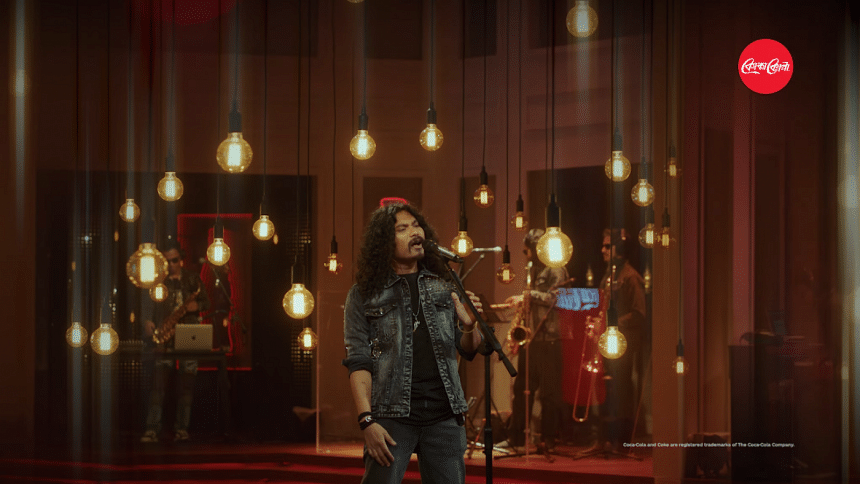 Coke Studio Bangla wasn't wrong in any sense when they called artiste Animes Roy a rockstar, and in its latest song "Nahubo" -- he proves his vocal prowess that could definitely accompany a gritting electric guitar riff. 
Although I'm not a musical expert by any means, the last song absolutely had me bobbing my head along to the crescendo and the diminuendos. The opening notes of the song reminded me of synth keyboards of the 80s.
"Nahubo" definitely packs the punch when it comes to the percussions, the resounding sound of which could be an easy fit for any high-octane film about youth revolution. 
Sung in the Hajong dialect, the song also features Daughter of Coastal, a female rapper from Chittagong. Her ability in spitting bars in Chattogram's dialect made me an instant fan, leading me to subscribe to her channel then and there. As much as I loved both the artists and their individual contributions to the song, I still feel that there was a dissonance in the composition.
The general public has a particular expectation from an artiste, especially in musical terms, we love to expect the same stamina and beat over and over again. 
With "Nasek Nasek", Animes took the country by storm when he sang a song that was literally about dancing. The energy and the rhythmic composition had their imprints carved out in my brain even when I sat down to hear "Nahubo". Despite loving the performances individually, I personally believe that the composition didn't do justice to Animes's extremely diverse vocal range.
Animes's gritty baritone voice could have made for a head-banger, if it was complimented with a female contralto. Daughter of Coastal's high paced rap set a brisker pace than what the song started out with, which was Animes's slow buildup of the first verse. In order for the rap verse to fit in, the diminuendos weren't strong enough where they could match themselves with their pace.
"Nasek Nasek '' on the other hand did the proper utilisation of Animes's vocal range, having the song start off low and reaching the crescendo along with the instruments. However, it held on to its tempo throughout the song, with Pantha Kanai's bass-heavy voice proving to be a perfect foil for Animes.
"Nasek Nasek" follows a groovy-but-consistent musical pattern that I could not find within "Nahubo".
Although one might argue that both set out to achieve different things, comparison will come in, especially when it comes to Animes Roy and his previous work.