Arnob and Hamida Banu's 'Dilaram' bid adieu to a memorable season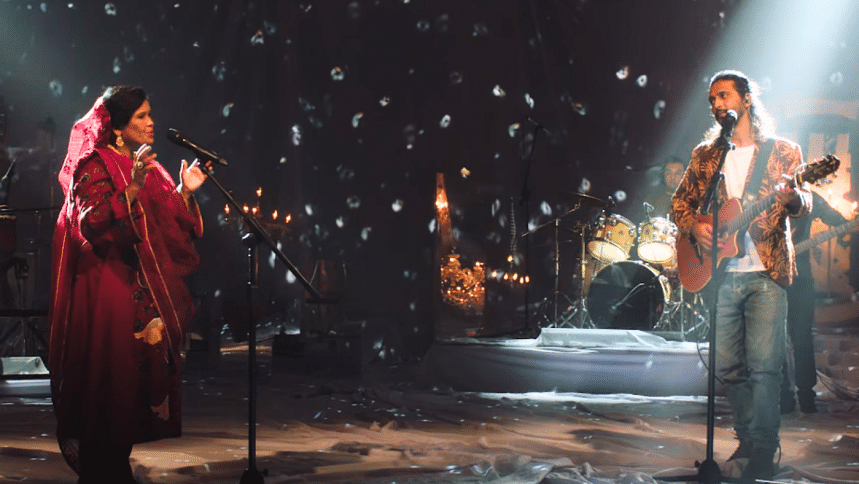 Coke Studio Bangla 2 has finally come to an end with a blast, after capturing the hearts of the audience with soulful renditions of different genres of music. They released the final song of the season, "Dilaram", voiced by Arnob and Hamida Banu. The music has been arranged by Arnob while mixing and mastering have been done by Saadul Islam.
"Dilaram" is an ode to cherishing loved ones, a heartfelt plea to hold them close to one's embrace. Life is an amalgamation of moments, some of which can test the depths of our emotions. In such trying moments, we turn to our respective 'dilarams' — those confidants or inner voices who offer solace and strength.
Hason Raja, a great Bangladeshi poet from the 19th century, penned this emotion in his timeless song, "Dhoro Dilaram". In the song, he asks his 'dilaram', his dearest companion, to grab onto him tightly during the moments when he feels himself slipping away.
The same emotion can be felt in Arnob's "Amay Dhore Rakho" — a song that was written back in 2009. His initiative was part of a global tour aimed at raising funds for underprivileged children, organised by Dristipath.  In his song, Arnob calls out to anyone who has ever been close to him, urging them to stand by his side during tough times.
This season Coke Studio Bangla has given us some beautiful tracks including "Kotha Koiyo Na", "Deora" and "Darale Duaarey" amongst others.