Worrisome state of food safety
Dangerously high level of antibiotics in poultry feed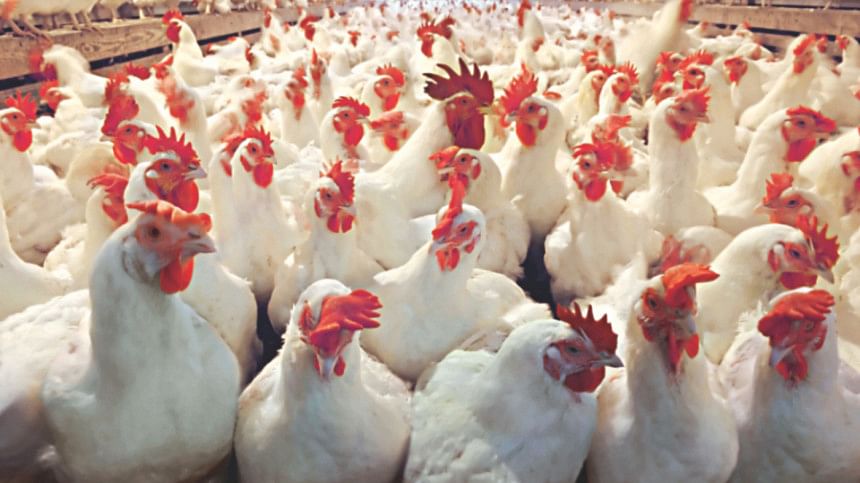 Earlier this year, this paper published a report on the widespread use of meat and bone meal (MBM) in poultry feed which can cause antibiotic resistance and cancer. The government has only recently banned the import and sale of MBM. If the use of low-quality MBM in poultry feed by traders—as revealed by the report—didn't set the alarm bells ringing, the findings of a new study most definitely should.
A study conducted by Bangladesh Agricultural Research Council and Patuakhali Science and Technology University found numerous types of antibiotics in almost 50 percent of poultry feed samples of 14 brands gathered from four districts. The samples, tested at a certified lab in India, were found to have levels of antibiotics exponentially exceeding those acceptable to human health. For example, whereas the permissible level of Chlortetracycline in poultry feed is 0.2 parts per million (ppm), the study found it to be 5,066.85ppm in one sample. That's 25,334 times the permissible level. The numbers are jaw-dropping and extremely worrying.
People have a right to safe food. And when even staple foods such as poultry and milk are found to be unsafe, it paints a very worrisome picture of food safety in the country. As we have said before, steps must be taken to avert a public health disaster that our healthcare system is simply not equipped to handle. The Ministry of Fisheries and Livestock and Bangladesh Standards and Testing Institution need to do a better job of ensuring quality poultry feed being used by traders. Customs authorities must also remain on high alert to check the inflow of MBM, which can be a source of antibiotics in poultry feed. A strict monitoring mechanism needs to be put in place and harsh penalties must be imposed on traders along with others responsible for the supply and use of unsafe poultry feed.