Govt takes step to check food adulteration during Ramadan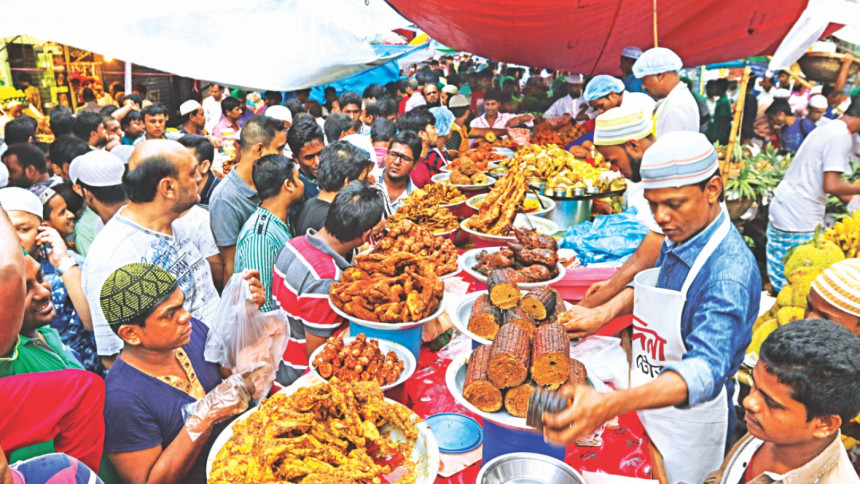 The government has taken a number of initiatives to check adulteration and contamination in foods, particularly in iftar items and fruits, as chemical contamination with

mixture

of toxic ingredients and unapproved

colours

in foods goes rampant during the holy month of Ramadan.
As part of the initiatives, the authorities concerned, including Bangladesh Standards and Testing Institution (BSTI), city corporations, law enforcement agencies and district administration, have been asked to conduct anti- adulteration drives since different kinds of delicious iftar items are made of toxic colour and contaminated oil, officials said.
Industries Minister Amir Hossain Amu has already asked the BSTI authorities to take necessary measures, including conducting anti-adulteration drives, to check chemical contamination in food items.
The BSTI was also asked to conduct awareness campaign across the country involving people of different strata of lives to make them aware of the adverse consequence of food adulteration.
At a recent meeting held at Police Headquarters, Inspector General of Police (IGP) Dr Mohammad Javed Patwary asked police to take all-out measures to prevent food adulteration. Dhaka Metropolitan Police (DMP) Commissioner Asaduzzaman Mia also vowed to conduct drives of mobile courts in the city to check food adulteration.
Mobile courts have already started drives. A mobile court of Rapid Action Battalion (RAB) on Tuesday destroyed 600 maunds of mangoes and jailed eight traders at Karwan Bazaar wholesale market for using toxic chemicals to ripe fruits.
On Wednesday, two mobile courts of Armed Police Battalion (APBn) and Dhaka North City Corporation (DNCC) fined five eateries of the city's Shyamoli area for selling adulterated foods and producing food items in unhygienic condition.
Talking to BSS, Prof Emeritus of BUET Dr M Feroz Ahmed stressed the need for implementation of the existing laws to check mixing chemicals and toxic colours in foods.
He advocated for strong monitoring as some traders are mixing toxic chemicals in foods, including iftar, in absence of proper monitoring.
Prof Feroz, also Vice-President of Bangladesh Poribesh Andolon (Bapa), suggested traders not to use any colour in foods, saying, "But, if necessary, the colours approved by BSTI can be used in foods."
About the adverse consequences of chemical contamination in foods, associate professor Dr Ranjan Kumar Nath said: "People may suffer from different kinds of deadly diseases like cancer, kidney and liver diseases and some vital organs of human body may be dysfunctional after taking toxic foods."
He stressed the need for stopping such illegal activities immediately to prevent unwanted deaths and disabilities caused by taking contaminated foods.