A satiric voice against food adulteration
BANCARAS' cartoon exhibition ends today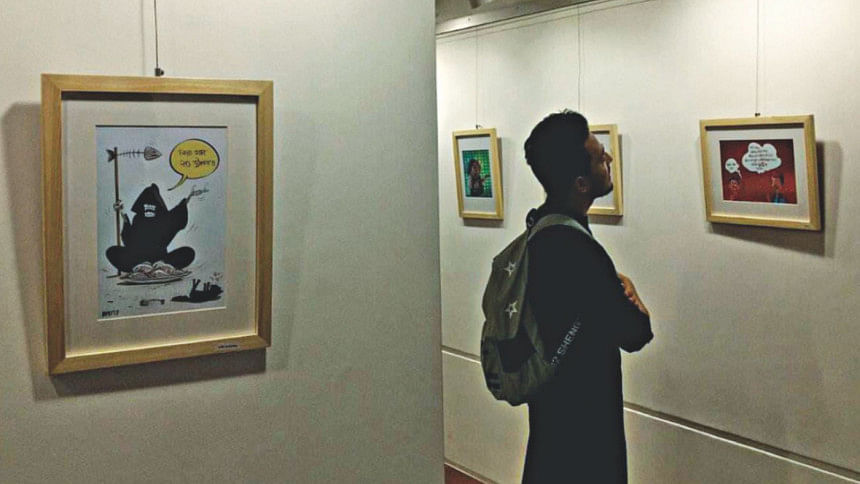 Bangladesh Cartoonists' Association (BANCARAS) is holding a three-day three day Cartoon Fest (from October 12-14) at Dhanmondi's Drik Gallery, addressing a pressing social issue that affects us all: food adulteration and its adverse effects. 
The exhibition features 52 artworks by professional cartoonists, and 15 by amateur artists. The title of the exhibition is blunt: "Khabarey Bhyajal" (adulteration in food). Each piece on display is an interspersion of grim satire and humour; one artwork portrays three coffins, two bearing mummies and the third a perfectly preserved fish. A few others are well attempted plays on merging pop culture with the exhibit's theme- in one artwork Snow White's step mother demands a vendor to add more formalin to his apples to make the poison deadlier, and another piece depicts the superhero character Ant-man trapped in a jar of sugar. 
"Cartoon is a striking artistic medium that is easily comprehensible," stated Zahid Hasan Belu, President of BANCARAS, "and therefore we have decided to hold annual exhibitions surrounding social ills prevalent in our lifestyles today. Adulterated food is a great tragedy, and directly impacts the lifespan of future generations as children ingest these poisons. Through this exhibition, we hope to raise some urgency in taking direct measures, as well as promote cartoons as an important artistic medium." 
Noted cartoonist and organiser Mehedi Haque also added that the proceedings of the exhibition will be donated to the Rohingya refugees. "We had been playing with some themes before the exhibition's inception, such as noise pollution, but eventually settled on food adulteration being the more urgent issue that needs to be showcased earlier." 
Today is the last day of the exhibition, which is open to all from 3pm to 8pm.