Editorial
Chaos at Sayedabad terminal!
Passengers held hostage to transport workers' feud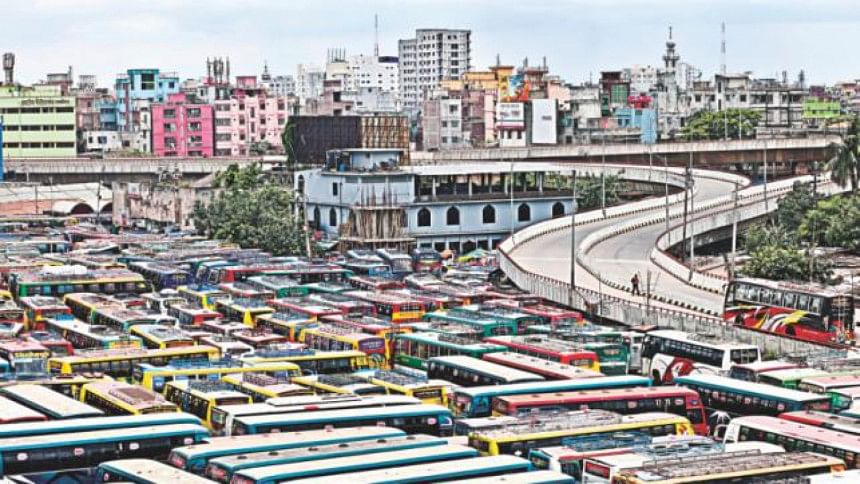 Thousands of people were left stranded on June 21 because of two feuding groups of transport workers' associations clashed over collection of illegal toll money from buses. This is only possible in Bangladesh where operations of a major bus terminal can be halted and communication with 35 districts in the country severed. It appears that anyone or any group can call a strike anytime of the day as and when it suits him or them. While industrial action is a constitutional right, by what right do these associations call a strike over a matter of illegal pecuniary gratification? What exactly were authorities doing while thousands were left stranded in Dhaka and the other districts? And it is not out of the blue that the two groups came to loggerheads on Monday since they hads been agitating for the past few days. Hence the eruption, when it came, was not a bolt from the blue for the authorities.
We sympathise fully with the commuters for the hardship they had to go through and question the legality of the whole affair. Precisely what are commuters to do in such a situation, besides wait it out? This chaos that pervades over illegal activities of such so-called unions is hardly news. They are all powerful and do as they please and the people are at their mercy. The time has come for some sort of legal protection for the public against such actions because these incidents happen all too often. Agitators cannot go on holding commuters hostage and there has to be some action against illegal activities in the transport sector.