10 hours of sufferings
People become victims of feud between two groups of transport workers; Dhaka's communication with 35 districts disrupted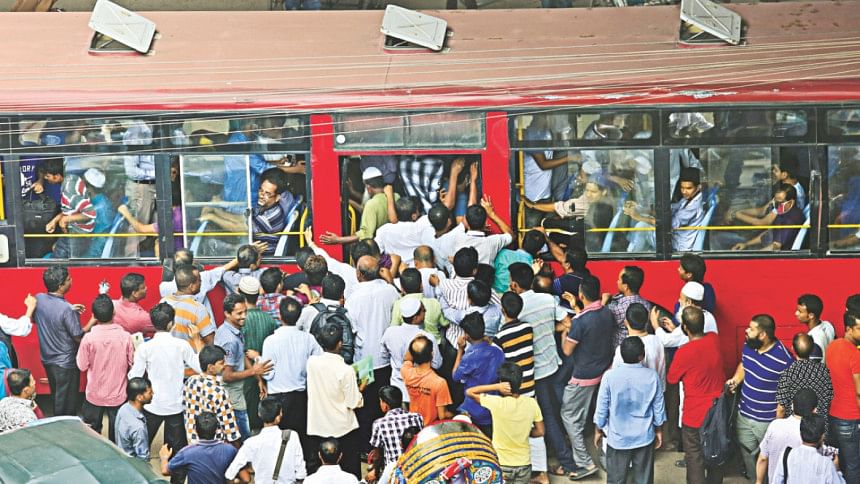 She was excited about meeting her family members after a long time.
Hosna Begum reached Shahjalal International Airport from Muscat in Oman on Monday night. But she had no idea what was awaiting her.
Spending the night at the airport, Hosna and her husband Shahjahan Mia started for Sayedabad Bus Terminal to go to their home in Sylhet.
They reached the bus stop around 9:00am yesterday only to find that transport workers had already launched a bus strike since early morning.
Flabbergasted, the couple kept waiting at the terminal hoping that the strike would be withdrawn soon. But their hope turned to despair, as they had to spend eight agonising hours there.
Finally, operation of buses resumed at 4:30pm.
Like the couple, several hundred commuters had to endure sufferings at the terminal, considered one of the major gateways to the capital.  
Road communication with around 35 districts through the terminal remained halted for around 10 hours since 6:00am due to the strike.
Two transport workers' associations have been fighting over collection of "illegal toll" from buses for the last couple of years. The two sides clashed on Monday, and one of them enforced the bus strike yesterday morning.
After around 10 hours of stalemate, the group withdrew the strike on assurance that ministers concerned and leaders of the transport sector would resolve the feud within three days.
Every day, around 2,000 inter-district buses from the terminal carry about one lakh people to different destinations.
Visiting the bus stop and its adjacent areas yesterday morning, these correspondents found that many of the commuters were sitting idly with their baggage.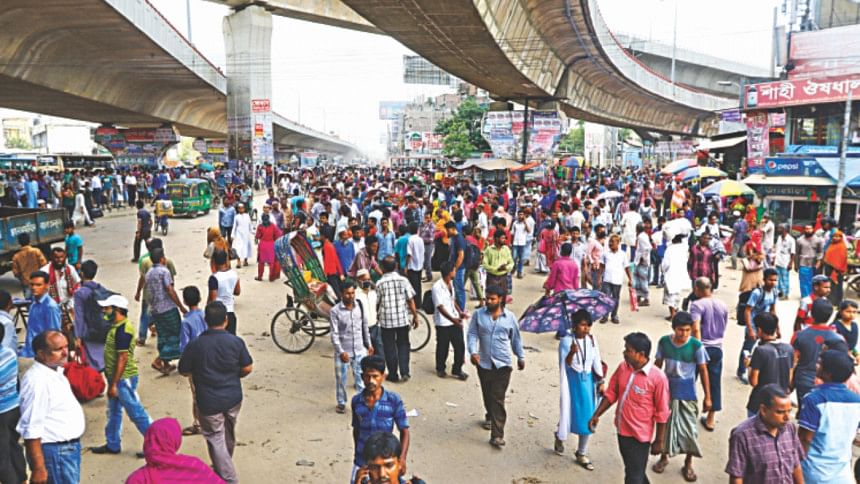 They expressed frustration over the culture of calling strike which causes immense sufferings to common people.
"They [transport owners and workers] always use us [commuters] as pawns in having their ends met. We want this culture to end," said Sheuli Akhter, a university student, who was waiting to board a bus to Feni.
The scorching heat added to the sufferings of the commuters, who came to the bus terminal from a long distance.
"I have come here from Mohammadpur. My bus was scheduled to start for Chittagong at 11:30am. But now they [operators] are saying that the bus will not leave," said 60-year-old Halim Sheikh, who was fasting.
The strike also disrupted road transport in the city. Because of the transport crisis, many people were seen walking towards their destinations from Sayedabad and Jatrabari.
"I waited for about an hour at Jatrabari intersection to take a bus to Karwan Bazar. But I found none, and now I am walking towards Motijheel, hoping to get a bus there," said Nazma Rahman, who was going to her relative's house with her five-year-old daughter.
Taking advantage of the situation, drivers of CNG-run auto-rickshaws and rickshaw pullers charged fares higher than usual.
"I bargained with several auto-rickshaw drivers. None of them agreed to take me to Mohakhali from Jatrabari for less than Tk 400 whereas the normal fare is Tk 250," said Md Sumon, who works at a private firm.