Rampura Road: No end to sufferings of people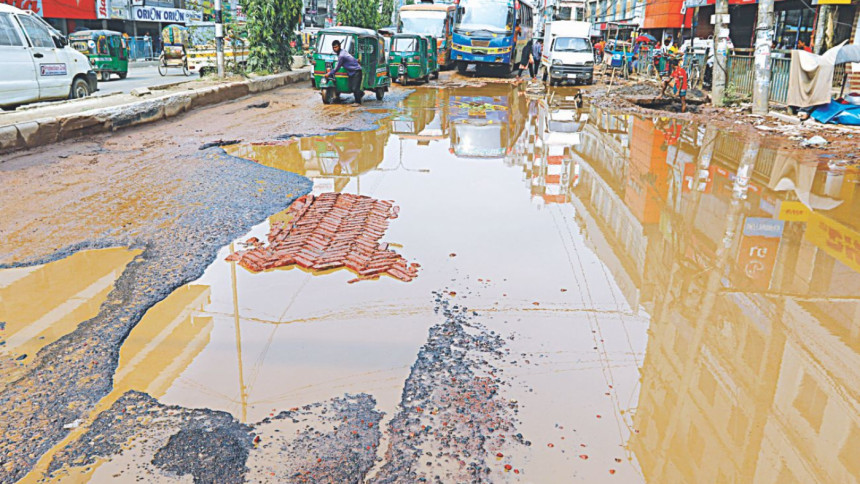 Jannatul Ferdous Mitu, a first year student of Viqarunnisa Noon School and College, along with three of her classmates was eagerly waiting for a bus at Mouchak crossing a few days ago.
The road from Mouchak to Rampura Bridge was in a severely bad condition and they failed to board a bus even after waiting for more than one hour. It was because just half-an-hour rain put the Rampura road under ankle-to-knee deep water.
The four students -- Mitu, Tahira Tasmi Asma, Sumaiya and Afrin Islam -- did not dare to hire a rickshaw seeing the severe condition of the road.
Most of the people avoiding rickshaws tried to get a bus or wade through ankle-to-knee-deep water to go to their destinations.
Locals say the drainage system is still in a very poor condition and the road goes under ankle-to-knee-deep water even after a light shower.
The Dhaka South City Corporation (DSCC) and Dhaka North City Corporation (DNCC) started drainage work to solve the waterlogging problem a few months ago, but the process deteriorated the situation further, the locals add.
They further say since the beginning of the construction of Moghbazar-Mouchak flyover a few years ago the condition of the road started to deteriorate and things went worse since the beginning of the rainy season this year.
 "We have been waiting here for one hour, but all the buses are overcrowded," said Mitu.
She added they had no idea when they might get a bus and if they did not, they would have no alternative to wading through the knee-deep-water.
 "We did not go for a rickshaw as moving through rickshaws is very risky, especially when the road is under water with so many potholes at different points," said Mitu.
The situation was better around three years ago when they were in class nine, but since the beginning of the construction of Moghbazar-Mouchak flyover they have been facing serious problems, she said.
 "Facing this kind of sufferings is so painful that sometimes we think it would be better if the construction of the flyover would not start at all," commented Sumaiya.
Tahira Tasmi said their rickshaw got stuck in a pothole last week but fortunately did not turn upside down.
 "Around 15 minutes later some locals came to our rescue and helped the rickshaw-puller pull the rickshaw from the pothole under knee-deep water," she added.
Kanij Fatema, a resident of Rampura Mohanagar project area, said they did not get a rickshaw to go home as most of the rickshaw-pullers declined their requests.
The fare would be double even if anyone agreed, she added.
Mohammad Shafique, driver of an ambulance of Ad-Din Hospital, said it was very difficult to carry patients as they continuously made complaints against the jerking.
Describing a recent experience, Shafique said he was carrying a surgery patient recently and was struggling hard to keep his vehicle straight on Rampura road.
Every time the ambulance jerked on the bumpy road, the woman who had a caesarean delivery a few days ago began to groan, he recalled.
 "Although I drove very slowly, she kept asking me to drive slower. I was driving at below 15 kmph but could not stop the jerking due to the potholes. You cannot imagine how dilapidated the road is," he added.
A DNCC official said they were executing three projects -- from Rampura level crossing to Bashundhara intersection via Rampura TV station -- with an estimated cost of around Tk 75 crore.
Besides, another project to repair Banasree main road with an estimation cost of Tk 10 crore was going on, he said, adding, the projects would be completed by January next year.
Another road stretching from Malibagh level crossing to Abul Hotel via Atish Dipankar to Malibagh Community Centre and Padma Cinema on DIT Road via Abul Hotel up to Wasa Road would be repaired. The work involving Tk 17 crore would be completed by next February or March, he added.
DSCC Additional Chief Engineer Asaduzzaman said they had already finished most of the drainage and road repairing work and would complete all the work from Mouchak crossing to Malibagh crossing by November.