Road left in battered condition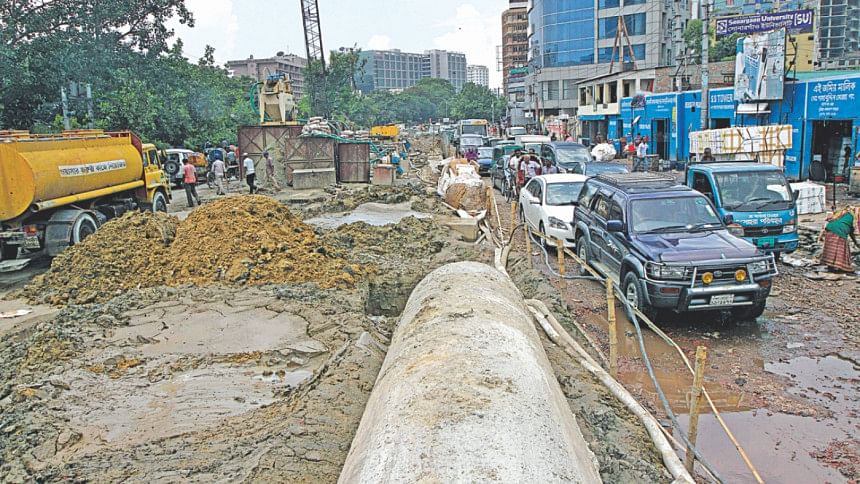 Travelling on part of the road stretching from Sonargaon Hotel intersection to Hatirjheel roundabout has become a nightmare for city residents in the last six months or so.
Massive pits have been dug on the road for the construction of a ramp of Moghbazar-Mouchak flyover. Besides, piling work has been underway. The road is choked with piled-up soil and construction materials.
Numerous potholes have appeared on the road, particularly near Karwan Bazar wholesale fish market and in front of Bangladesh Film Development Corporation, following recent rains and the surface is breaking up regularly.
"The road has been in a very bad state since the Moghbazar-Malibagh flyover project authorities embarked on building the ramp," said Lokman Hossain, a fish trader at the wholesale market.     
Occupying the entire central width of the road, the contractor has piled up excavated soil and kept construction equipment there, leaving very narrow space for traffic.
The road is now under a thick layer of mud in front of the fish market and BGMEA building, making all vehicles, especially the non-motorised ones, struggle to get through, added Lokman.
Shafinaz Ahmed, who commutes regularly in her car, said: "This is probably the dirtiest road in the city. Rickshaw-riders with spine problems might suffer after passing through the road."        
Abdur Razzak, executive engineer of Dhaka North City Corporation, said they handed over around 150 metre stretch of the road to the flyover authorities on conditions that the road would be kept passable for commuters and be returned to the DNCC in its usual condition after completion of the construction work.
The road is not supposed to be left in such a deplorable state. The city corporation even exempted the project from regular road cutting fees to facilitate the construction of the flyover, he noted.            
Despite repeated attempts, this newspaper could not reach Project Director Nazmul Alam for his comment as he didn't answer several phone calls and a text message.