1,000 illegal ATM cards seized at Dhaka airport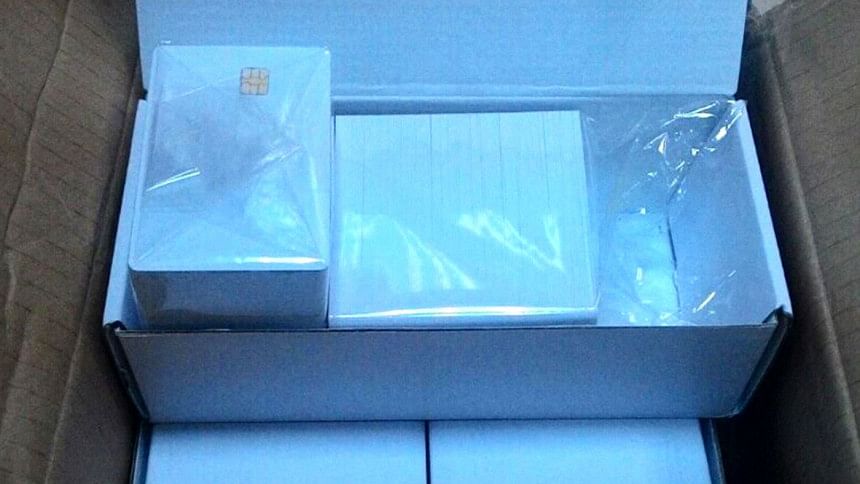 Customs Intelligence (CI) at Shahjalal International Airport yesterday seized 1,000 illegally imported ATM cards, suspected to have been brought for financial criminals' use. 
Shipped from Hong Kong by a courier firm, the cards in five cartons arrived in Dhaka on a Thai Airways flight on February 26.
Tipped off, intelligence officials seized the ATM cards from the freight section of the airport around 11:00am yesterday while the consignment was being cleared without a bill of entry, said Moinul Khan, director general of CI.
The parcels were supposed to be delivered to a house in the city's Mohakhali, he noted.
"No trade mark and country of origination was engraved on the cards. Imports of this type of items are illegal."
People involved in financial crimes might be behind the consignment, said Moinul.
Meanwhile, Home Minister Asaduzzaman Khan yesterday said the foreign and Bangladeshi suspects of the recent ATM forgery are under watch by the law enforcement agencies.
"The activities of all foreigners in Bangladesh are under watch," he told newsmen at his secretariat office.
Four people, including a foreigner, were arrested in the capital last month on charges of stealing money from ATMs by setting up skimming devices at ATM booths.
The minister said several Bangladeshis, including a few expatriates, were involved in the forgery. Steps are underway to bring them to justice, he added.