DMP's unexplained curiosity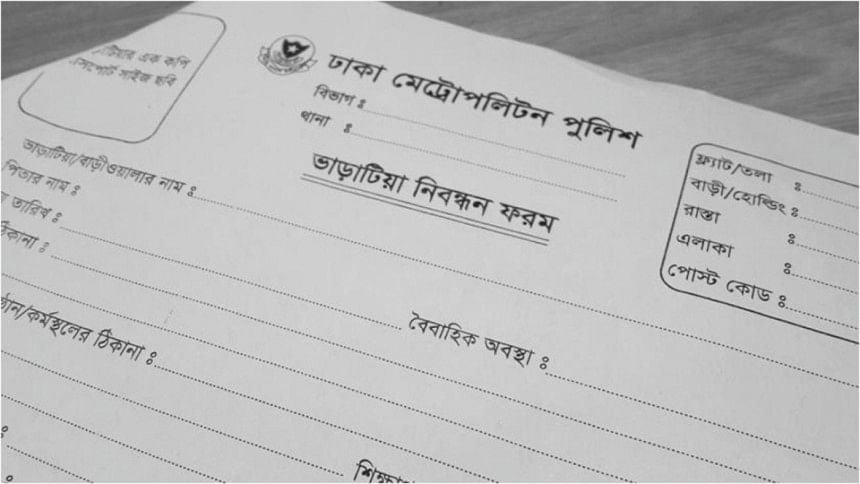 It seems these days in Bangladesh we are either forced or almost obliged to give personal, sometimes very private, information to some national bodies, say, for the issuance of passports, national ID cards and income tax returns. Even private banks, insurance companies and multinational mobile phone operators require the personal data and papers to be submitted before they are ready to provide their services to any individual. Recently, the Dhaka Metropolitan Police (DMP) joined this brigade of collecting personal information of citizens in the name of providing security. 
The DMP fixed a timeframe within which citizens were requested to submit the required data, failing which they would take punitive measures against those tenants and home owners. A lawyer at the Supreme Court has already served a legal notice to the police authority, seeking justification of requiring citizens' data.
Laws of the country allow the police to seek information of criminals, suspects and witnesses. But it is unclear as to under what law have they been sending forms to every home, seeking immediate submission of personal data. The said forms require us to fill out details of our religion, marital status and educational qualifications, but do not explain why such information is needed. 
In Europe, law enforcement agencies need to inform why they need personal information of any citizen, and explain how they intend to protect the information. They have to state how long they will retain the information, along with a protection measure that they won't provide the information to a third party. Not only DMP, all the data collection authorities in the country - including private bodies - don't seem to be aware of data and privacy protection of citizens or consumers.     
Around eight months ago, the Uttara West Police sent ten such forms to my building, and they took the forms after they were filled by all the residents of the buildings. Two months ago, another set of forms with a different format was sent to my building, along with a verbal instruction from the police that they needed to be filled and submitted within a day. The forms were filled up but no one from the police station came to collect them. The welfare society of Uttara Sector 13 has now announced that the forms needed to be sent to the welfare society's office, which would then send the forms to the said police station. This means that the information is going to the police station via a third party. We have, however, not been informed of what happened to the first set of forms, which were submitted to the police station almost a year back!    
As there is no archiving facility in police stations or any data management system, one cannot help but feel skeptical about the safety of  keeping personal information of citizens there. The information could reach a third party, thereby leading to possible abuse of the data. In the West, there is already an ongoing debate regarding the use of personal data by businesses for market research purposes; some broker agencies are also allegedly involved in buying and selling information.  
In the era of nano-technology, a tiny device is enough for culprits to steal billions of data, even if the data is said to be protected; every piece of data is hackable.   
The recent ATM card fraud acts have shown how international fraudsters can join local criminals to steal our debit or credit card information before taking out the money. ID thefts have become commonplace, as criminals often make copies of people's IDs, and misuse them for various purposes. The victims don't even know, before it's too late, how and when their IDs were stolen and signature use for fraud. 
It thus seems futile to take personal information of citizens to crack down on a few criminals. This only leads to the harassment of ordinary citizens. Criminals are often on the run, and live on fake IDs. Thus, seeking personal information of the ordinary public will create panic amongst people, and may actually contribute to widening the existing gap between the police and civilians.
The writer is a journalist and ICT policy researcher. He can be reached at [email protected]