Foreigner, 3 bankers held
Bank officials helped the foreigner skim off ATM booths to steal money of card holders first time in Bangladesh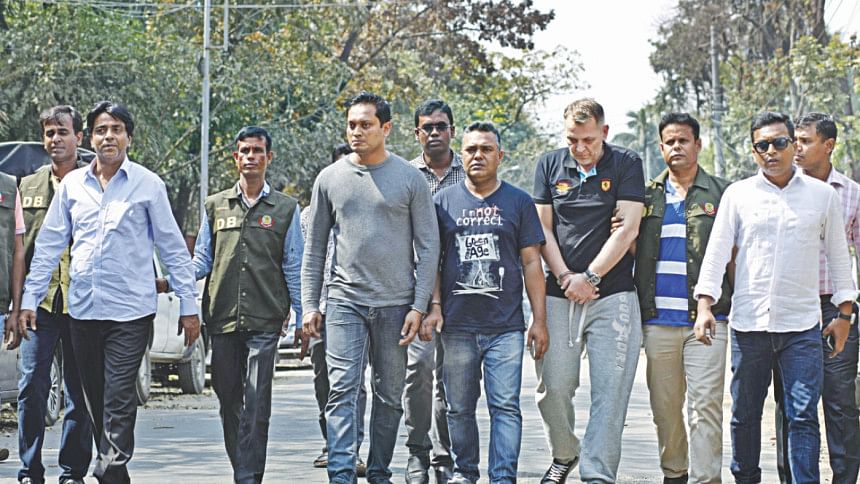 A "German national" and three officials of the card division of City Bank have been arrested in connection with stealing money from card holders by copying card data from ATM booths.
The arrestees reportedly told detectives that they from Bangladesh had stolen hundreds of thousands of foreign currencies from accounts abroad but this was their first attempt to steal from local bank accounts.
Arrestee Thomas was born in Ukraine and had obtained German nationality. He entered Bangladesh using the stolen Polish passport of one Piotr Szczepan Mazurek and a one-year business visa that expired recently, detectives said quoting Thomas.
The three Bangladeshis are: Moksed alias Maksud, Rezaul Karim alias Shahin, and Refaz Ahmed alias Rony.
"The trio assisted the foreign national skim off the ATMs," said Additional Commissioner Monirul Islam of Counter Terrorism and Transnational Crime Unit of Dhaka Metropolitan Police (DMP) at a press briefing at the DMP Media Centre yesterday. 
The ATM frauds, committed between February 6 and February 12, surprised many in the country as it was the first instance of such a crime in Bangladesh.
So far, the investigations found that fraudsters took away over Tk 25 lakh by making clone cards.
The gang of foreign and local nationals used data skimmed off four ATM booths around the capital. The central bank investigation detected that this gang has stolen data of over 1,200 cards, but was able to withdraw cash by using around 40 cards.
After investigating for a week, detectives arrested Thomas, the mastermind, at his Gulshan home, where he used to live with his Bangladeshi wife and a new-born baby, Monirul said.
Based on his information, the DB later arrested the three locals from the same area yesterday. 
Footage of CCTV cameras inside the ATM booths helped police arrest Thomas and the bank officials.
Monirul claimed that the arrestees, during preliminary interrogation, told police that they along with some other foreign nationals and a Bangladeshi expatriate in London have been involved in the crime for a long time.
They embezzled hundreds of thousands of currencies from foreign accounts, he said, adding that their offence came to light as they, for the first time, took money from local accounts.
Thomas told detectives that two of his foreign accomplices -- a Romanian and a Spanish -- had left the country days before the scam became public knowledge.
Police are scrutinising Thomas' information with immigrations database to identify the two foreigners, Monirul said.
A DB official said Thomas had an identity card claiming that he is a citizen of Germany. The official said they were probing to see if the card was genuine.
A DB official said Thomas is a member of an international ATM skimming syndicate. He withdrew crores of foreign currencies in different countries in Africa and Asia before coming to Bangladesh. 
A court yesterday placed the four on six-day remands each, detective said.
Replying to a query on how the four met each other, Monirul said Thomas came to the country pretending to be a manpower businessman and communicated with the three to plan the fraud.
Detectives are also investigating Thomas' communication with some businessmen.
Replying to a query whether it was a failure of the Special Branch of police, which deals with foreigners, to prevent the crime, Monirul said this kind of crimes happen in many developed countries.
Investigators said they found out that Thomas was leading a lavish life in Dhaka stealing money from credit cards used by people abroad. He along with his foreign and local accomplices used to follow foreigners and set up skimming devices to steal data. They then created fake cards which they used for withdrawing a huge amount of cash from other countries.
But these cases were not detected in Bangladesh as those were foreign cards used by foreigners.
Thomas and a Bangladeshi expatriate Farid Nabir checked in at the Holiday Planet hotel in the capital's Gulshan on December 13, 2014, and checked out on December 24, 2014, said Akbar Hossain, general manager of the hotel.
Thomas returned the same day and checked into a suite of the hotel and stayed there until August 7, 2015. His wife started living with him at the hotel about two months before he checked out. The couple rented an apartment in the same neighbourhood for over Tk 1.5 lakh a month, he added.
Meanwhile, Farid Nabir, who told the hotel that he was a citizen of the UK and his hometown was in Sylhet, checked into the hotel on January 20 and left on February 3 morning. CCTV footage of him leaving the hotel revealed that he left the hotel and got into a mid-size blue SUV. The registration number of the SUV, which had a flagpole in the front, could not be seen in the footage.
"He used to throw parties in 5-star hotels once or twice a month. He had a very lavish life in Dhaka," said a police official wishing not to be named.