Transport workers turn rowdy in Sitakunda
Vandalise lorry weighing station over 'attack on trucker'; Dhaka-Ctg highway blocked for 3hrs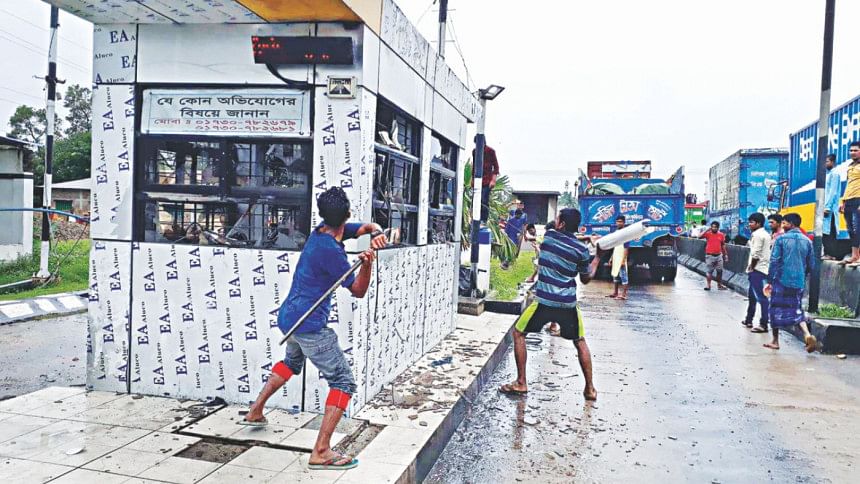 A weighing station on Dhaka-Chittagong highway was vandalised in Sitakunda and the highway blocked for hours allegedly by transport workers yesterday.
Worker leaders said they were protesting an assault on a truck driver by an employee of the station, but denied vandalising the facility at Bara Darogar Hat area of Chittagong.
Locals said a mob of workers blocked the highway, causing a tailback reaching almost 25km in Mirsharai between 10:30am and 1:30pm.
"I think it was a well-orchestrated attack with an aim to destroy the system so that goods-laden trucks can travel violating the weight limit," said Mohammad Hossain Johnny, managing director of Regnum Resources, which operates the vandalised Axle Load Control Station of Roads and Highways Department.
The workers vandalised the office and damaged the system, he said, adding, "It will take 10 to 15 days to resume operation at the station. Experts from Turkey, from where the operating system was brought, will fly in to fix it."
Police rushed to the spot and fired tear shells to disperse the vandals and clear the road, Masud Alam, inspector of Kumira Highway Police Outpost, said.
Traffic movement resumed around 1:30pm, he added.
Worker leaders said an employee of the station beat up truck driver Humayun Kabir over "realising    extortion".
Contacted, Humayun said he was coming from Dhaka with rice husk on his truck.
"At the load control station an employee demanded Tk 500, but I refused as the weight of my truck did not exceed the limit. All on a sudden they started beating me up and I fainted at one stage."
As the "news" spread, workers quickly thronged the station and chanted slogans demanding punishment of the attackers and blocked the highway, locals said.
At one stage, the workers started vandalising the station, they added.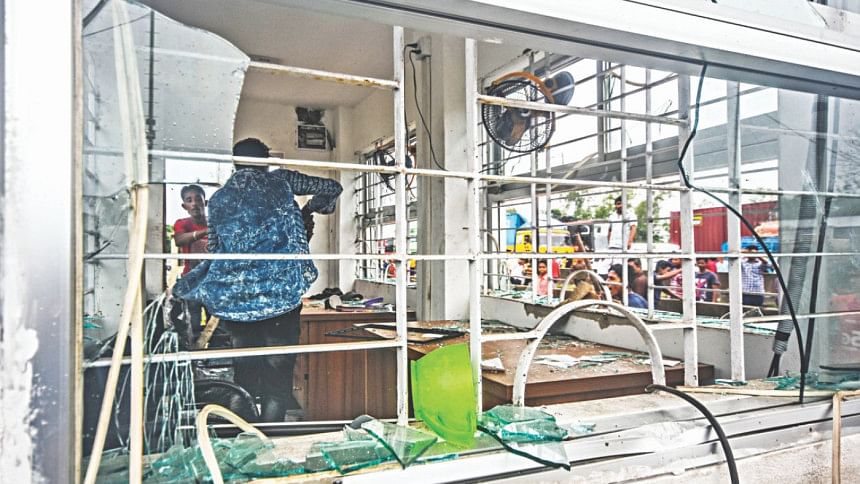 Abdus Sabur, general secretary of Chittagong District Truck and Covered Van Workers' Union, said the workers "only protested" the assault on the trucker and demanded punishment of the attackers.
He added that the damage to the property was not done by transport workers.
"Those who attacked and damaged the station were outsiders… We do not know them."
Sabur alleged that realising extortion by employees of the station was an everyday phenomenon, adding that they also tampered with the weighing scale to demand money from the truckers.
Asked, Johnny denied the allegations and said for every tonne of additional weight the government fixed a fine of Tk 5,000 which the drivers did not want to pay.
Zulfiqar Ahmed, executive engineer of RHD, Chittagong, said a case would be filed in this regard. He added engineers from Dhaka would go there and assess the damage.