16 more children from Sitakunda taken to hospital
68 others with similar symptoms recovering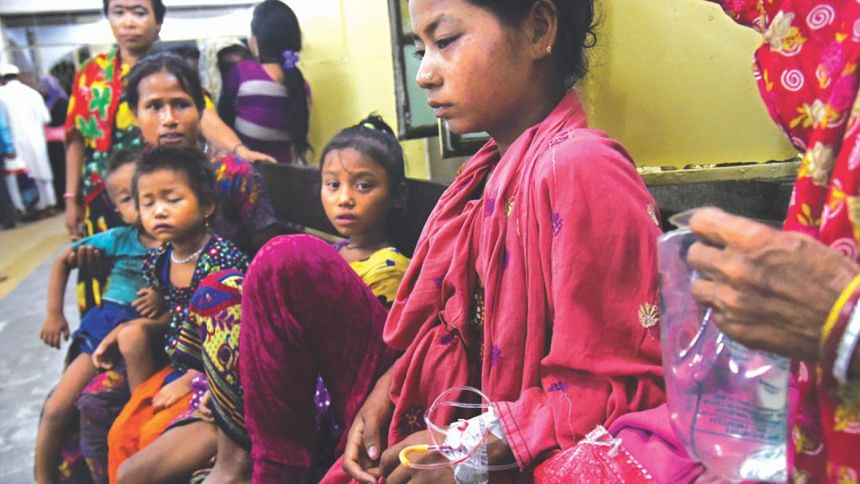 Sixteen more children in Sitakunda's Tripura Para became sick and were admitted to hospital yesterday, but doctors say the 68 other local children, hospitalised earlier with similar symptoms, were recovering.
Last week, nine children from the remote hilly area in Chittagong died apparently of the same disease, which has not been identified yet.
However, doctors at Chittagong Medical College Hospital, where 50 of the patients were being treated, said the symptoms suggest the victims were suffering from measles.
They also might have bacterial secondary infection and electrolyte (sodium, chloride, magnesium, potassium and calcium) imbalance in their bodies.
"Most of the children came here with fever and rash all over their bodies. Some of them were also suffering from pneumonia and encephalitis," said Pranab Kumar Chowdhury, head of pediatrics department at the CMCH.      
"As measles is an easily transmitted disease, the malnourished children were affected one after another. They were also not vaccinated and it means that their immune system was very poor," he said.
Pranab, however, said the reason of the disease would be confirmed once they received test reports of urine, blood and other samples collected from the children by Institute of Epidemiology, Disease Control and Research in Dhaka on Thursday.
Contacted, Faruk Ahmed Bhuyan, chief scientific officer at the IEDCR, said it would take three to four more days to get the reports.
NEWLY AFFECTED CHILDREN
One-year-old Ajay became sick yesterday morning and was admitted to Bangladesh Institute of Tropical and Infectious Disease (BITID) in Sitakunda's Fouzdarhat.
Two of his brothers had already been hospitalised with similar symptoms. 
Pradip Kumar Tripura, a local who taking Ajay to the hospital, told this correspondent that the boy's father, Dhirendra Tripura, could not come as he was taking care of the two other boys.
Somacharan Tripura's six-year-old son Uzzwal was also hospitalised yesterday. The boy had been suffering from fever for three days. He also had breathing problem.
Contacted, Chittagong Civil Surgeon Azizur Rahman Siddique claimed that the situation was under their control and that there was no need to panic.
"Doctors were taking a good care of the children," he said, adding that the condition of the 16 children admitted to hospital yesterday was not that serious.
"The children are malnourished .They are recovering as they are being provided with healthy food and treatment."
Of the 84 hospitalised children from Tripura Para, 50 were at CMCH while the rest at BITID, he said.
All the victims are between one and 12 years old and the symptoms include fever, rash, breathing problems, vomiting and blood in stool, the civil surgeon had said earlier.