Dam makeshift, damage extensive
GPH Ispat builds it to secure water for factory; forest streams drying up, biodiversity threatened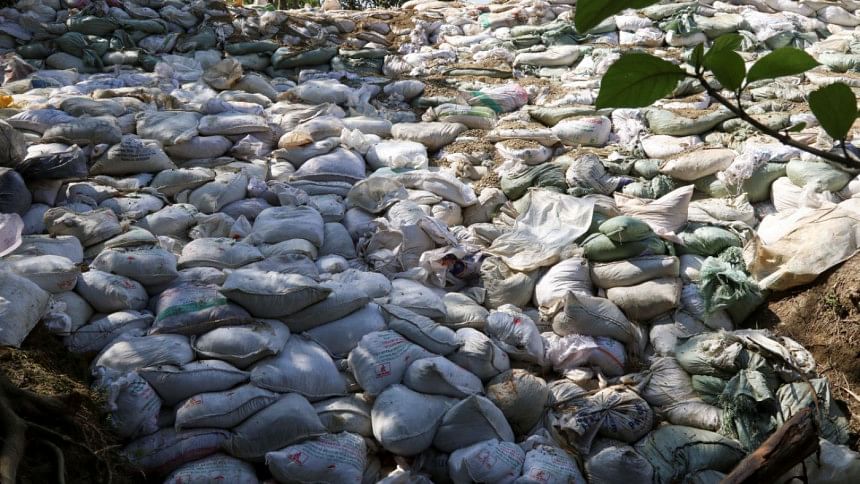 The Chattogram-based GPH Ispat Ltd has constructed a makeshift dam on a stream bordering the Jangal-Bashbaria reserve forest in Sitakunda to secure water supply to its new factory.
The diversion could jeopardise the forest's biodiversity and deprive an indigenous village of water, said forest department officials.
The dam was built with sandbags on April 2, resulting in drying up of at least seven crisscrossing streams springing from various hills in the forest, they added.
During a visit on April 5, it was seen that about a 100-metre canal was also dug to channel water off the stream to the factory.
The steel manufacturing company owns hundreds of acres of land in the area mostly covered by hills. It says the dam was built as a temporary measure as it failed to secure water connection to the under-construction factory that has at least 4,200 workers.
Gazi Moniruzzaman, acting range officer of Kumira Range, told The Daily Star that GPH constructed the dam overnight engaging at least two hundred labourers.
"They built the dam by dumping sandbags. They even cut a hill to direct water to their steel factory. Drying up of the streams will wreak havoc on the wildlife of the reserve forest and people living downstream," he said.
"We have already filed a case with Sitakunda Police Station against the GPH."
The ethnic minorities in the area, particularly the people of Tripura Palli, will suffer an acute crisis of water because of the dam, he said, adding that they contacted the local administration to take steps in this regard.
Inhabitants of Tripura Palli, a home to about 200 indigenous families, refused to comment on this, fearing intimidation.
Bakteyar Nur Siddiqui, divisional forest officer of Chattogram (North), told The Daily Star that it was sheer land grabbing.
"They built the dam overnight by engaging hundreds of labourers and even threatened our staff who went there to stop the work. We are trying our level best to restore water flow in the streams by removing the sandbags," he said.
Milton Roy, upazila nirbahi officer of Sitakunda, said they received complaints from the forest range office on April 3.
"GPH should not do something that may jeopardise water flow and livelihoods of people living downstream. We will inspect and survey the area soon," he added.
Md Bodrul Huda, assistant director of the Department of Environment, Chattogram, said the company also filled up 1.26 acres of pond in Kumira area of Sitakunda to expand its factory.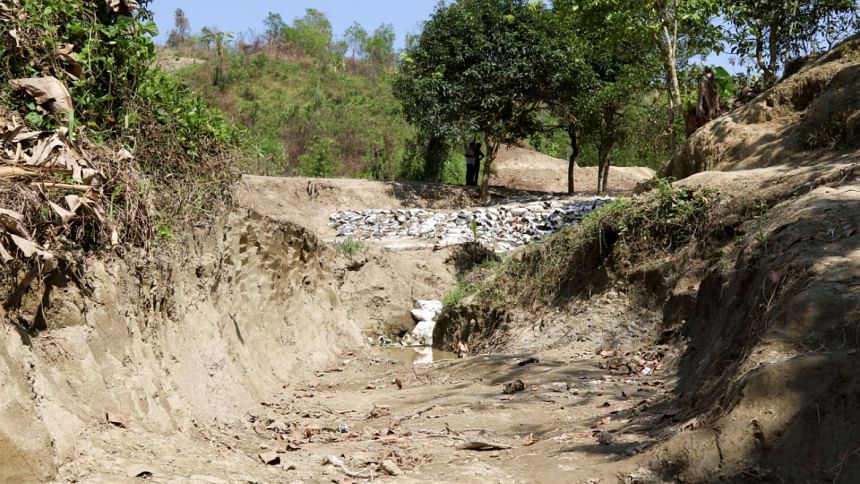 "We have served a notice upon them to appear before the environment court and will inspect the area where they put sandbags to make a dam and cut the hills to channel the water," he added.
WHAT GPH ISPAT SAYS
Md Almas Shimul, director and additional managing director of GPH Ispat, told The Daily Star that they tried their best to find alternative sources of water.
"We have at least 4,200 workers in our new factory, who consume more than 2.2 lakh litres of water for their daily activities. When the factory goes into production in June, we would require 60 million litres of water daily. Besides, the underground water table is too deep," he told this correspondent at his office in Kumira last week.
He said they dug at least 1,000 feet underground but did not find water.
"We urged the Water Development Board to install a sluice gate for which we promised to pay. The sluice gate would help us get the rainwater rolling down the hills. But they did not install it.
"Finally, the Chattogram Wasa has promised us to supply water but that too would take at least one year. We built the dam as a temporary structure for one year or even less. We would plant almost a hundred thousand saplings this year."
The company recruited two environment engineers to oversee the environmental issues to make sure that there is no damage, he added.