Toiling for a mere living
3.45m working children remain a cause for concern as world observes day against child labour today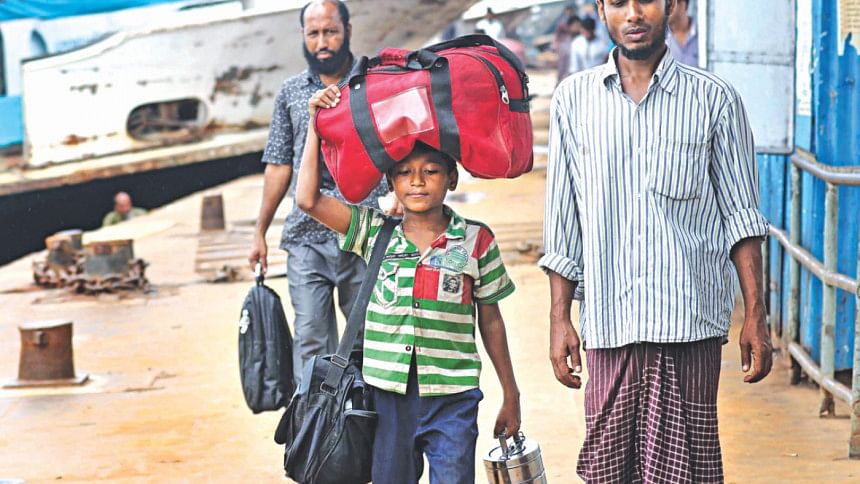 A toothbrush, two shirts, a pair of trousers and a savings of Tk 465 are all that Russell has after four years of back-breaking labour at Sadarghat Launch Terminal in the capital.
The twelve-year-old boy carries launch passengers' luggage and suitcases that are quite heavy, and earns between Tk 200-300 a day. But almost all of it is spent on food.
"I love chicken and Biryani. That's why I cannot save much," said the boy who felt that for someone as poor as he it was a matter of embarrassment to crave these foods.
After Russell's father was crushed to death beneath the wheels of a truck around five years ago and his mother died a year later, he and his younger sister started living with his maternal aunt in Faridpur. But he would often starve as the family was very poor.
One day, Russell teamed up with an older boy of the neighbourhood, who was also from an impoverished family, and got on a bus leaving for Dhaka.
At Sadarghat Launch Terminal, he either sleeps on the vast pontoon, or at an Emergency Night Shelter of Aparajeyo-Bangladesh, an NGO. He has difficulty remembering the time he had spent at his home. He said he studied up to class-III at a madrasa, but had to drop out after his father's death.
"I like being in the terminal and helping people with their bags," he said with a smile.
Russell is one of the 6,89,037 child labourers in Dhaka division. While countries across the globe observe World Day Against Child Labour today, there are an estimated 3.45 million working children, aged between 5 and 17, in the country, according to Child Labour Survey 2013 of the Bangladesh Bureau of Statistics (BBS).
The Bangladesh Labour law 2006 defines child labour as children working more than 42 hours a week. Children doing "light work" up to 42 hours a week are considered working children.
Abdulla Al Mamun, programme coordinator at Manusher Jonno Foundation, said the labour ministry through a gazette in 2013 published a list of 38 hazardous forms of child labour. But children working in terminals as porters, domestic helps, and waste pickers were not included in the list.
Due to lax monitoring by the government, exploitation of children in informal labour sectors goes unabated.
At Sadarghat, children can be seen toiling away in physically demanding jobs throughout the day. There are around 90 homeless children like Russell staying at the night shelter there.
Talking to this correspondent at the terminal last week, Russell said his back often aches due to hours of carrying heavy loads.
While the natures of work the children do are detrimental to their health, they also fall victim to abuses of different kinds. During a visit to the shelter, most of the boys alleged that older men try to harass them if they find the boys alone at night.
The children did not want to elaborate on the nature of the harassment. They, however, hinted that they were sexually abused sometimes.
Sagor, one of the boys staying at the shelter, said he used to do the dishes at the kitchen of a launch before he started selling bottled water to travellers.
The 11-year-old boy's rib bones were visible, which clearly shows that he has been suffering from malnutrition. He was wearing trousers only and had one shirt which was wet at the time.
"My hands became itchy and sore from the detergents I used to clean the dishes. I could hardly sleep at night because of the burning sores. When I complained about my hands, they gave me only Tk 20 to buy medicines," he said, adding that he used to get Tk 4,000 a month for his job at the launch.
Sagor, who never received any schooling, said he lived with his mother in a Shariatpur village after his parents got separated five years ago. One day while playing in the field, his father forcibly took him to a different village where he lived with his second wife.
"I missed my mother a lot and fled from my father's house. As I didn't know the way to my mother's house, I just got on a bus from a terminal and ended up in Dhaka."
Sagor added that he cannot even remember the name of his mother, let alone the address of his mother's house.
Wahida Banu, executive director of Aparajeyo-Bangladesh, an NGO that runs 200 shelters across the country for impoverished children and 75 learning centres in Dhaka for working children, said the government should establish a department entrusted with the task of eliminating child labour in hazardous conditions.
She also suggested that the government make it a rule that no children can be outside of schools during school hours.
State Minster for Labour and Employment Md Mujibul Haque Chunnu said that in the budget, his ministry proposed a project to train and rehabilitate 50,000 children engaged in informal sectors.
"Eliminating child labour from both formal and informal sectors would take some time, considering the reality of the country," he added.