Dhaka attack: 4 new 'suspects' detected
Four new faces have been detected by the law enforcers, suspected to have been involved in the gruesome Gulshan restaurant attack of July 1.
Also read: Friends identify 3 Dhaka cafe attackers
A video has been posted on Rapid Action Battalion's (Rab) Facebook page in this regard. The public has been asked to report on those individuals' whereabouts.
The video shows four separate individuals, including what it seemed like a woman, walking on what is said to be Road 75 and 79 in Gulshan on the night of July 1.
Read also: Court orders DNA test of Dhaka attack militants
Rab asked people to contact +88 0177-772-0050 with information on these individuals.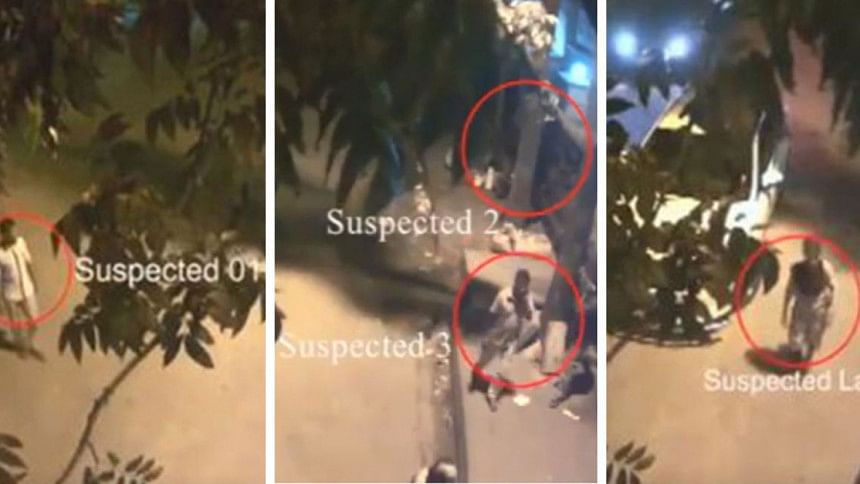 The elite force's legal and media wing Director Mufti Mahmud Khan confirmed The Daily Star of the recent development and said photos will be released of these new suspects.
On July 1, Dhaka witnessed one of the worst terror attacks in its history as gunmen attacked Holey Artisan Bakery, an upscale eatery on Road 79 of Gulshan killing 20 people after a 12 hour long hostage situation. 
WHAT THE VIDEO SHOWS
The 1:19-minute video, starting from 8:42pm of July 1, shows four suspects walking on the footpaths.
The first suspect, marked in a red circle, has been seen walking on the footpath several times around 8:42pm. The second suspect, also marked in red circle, was also seen doing the same.
Read also: Teacher of 3 Dhaka attack victims remembers his students
There is also a "suspicious" car seen plying on the road.
The "suspect 2" is seen meeting with a third person, suspected 3. The fourth suspect seems like a lady, seen walking twice, on the pavement and the road.