Tribute paid for the Dhaka cafe attack victims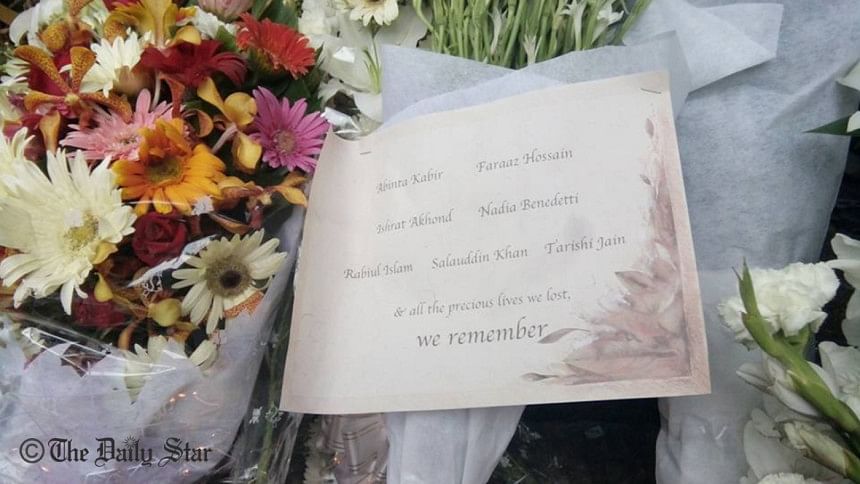 Relatives and friends of the victims of Holey Artisan attack, along with people from all walks of life, paid tribute at the entrance of Road 79 in Gulshan today.
Throughout the morning, amid a drizzle, people placed flowers at the barricade that barred the way to Holey Artisan Bakery where 20 hostages were killed Friday, reports Prothom Alo.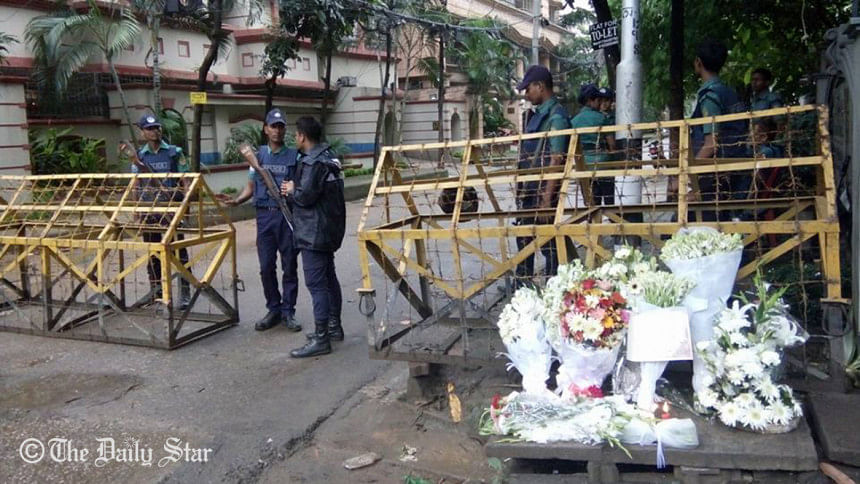 Akku Chowdhury, a freedom fighter in 1971, said after offering his tribute, "I don't know what to say. It seems as if we have gone back to the days of 1971."
"Killings in the name of religion should be stopped. Only then we would be able to build our golden Bengal. The youths should come forward to build the nation in the spirit of the Liberation War."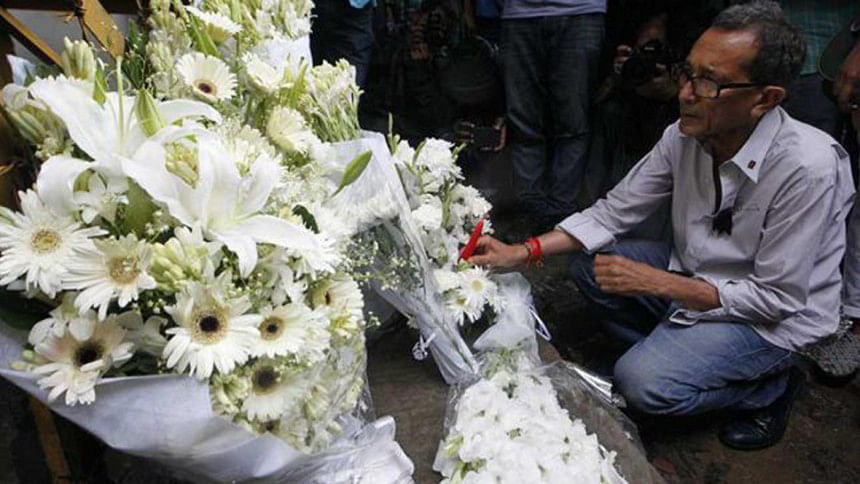 "I am very shocked. I am here to pay my respect to those who lost their lives here. We will be haunted by this woe. We want to live in a secular country where everyone will live in harmony." artist Moniruzzaman told the Bangla daily. 
However, the foreign nationals who gathered there did not want to talk to journalists. 
Meanwhile, people across the world mourn for the loss of the lives in the terror attack in Gulshan and express solidarity with the families of the victims. 
Thoughts and prayers with Tarishi Jain and all other victims of #DhakaAttack. Rabb rakha!!

— Shikhar Dhawan (@SDhawan25) July 3, 2016
One more barbaric attack by terrorist to kill innocent people.... My heartfelt thoughts&prayers with all those affected in the #DhakaAttack

— VVS Laxman (@VVSLaxman281) July 3, 2016
Twenty hostages -- nine Italians, seven Japanese, one Indian, one Bangladeshi American and two Bangladeshis -- were killed in the terror attack by armed assailants who took them hostage.
Another senseless act of terrorism. Thoughts and prayers with all those affected in the #DhakaAttack

— Anil Kumble (@anilkumble1074) July 2, 2016
Besides, two senior police officers-Banani Police Station officer-in-charge Salauddin Ahmed Khan and Detective Branch assistant commissioner Robiul Islam-were killed during rescue attempt.