Review: Literary Magazine
The new speculative literary magazine on the block
Veering off from stories, Fahim Anzoom Rumman's "The Secret" was a breath of fresh air. It seemed to be a cross between a poem and the kind of fable your grandparents would tell you as a kid to get you to fall asleep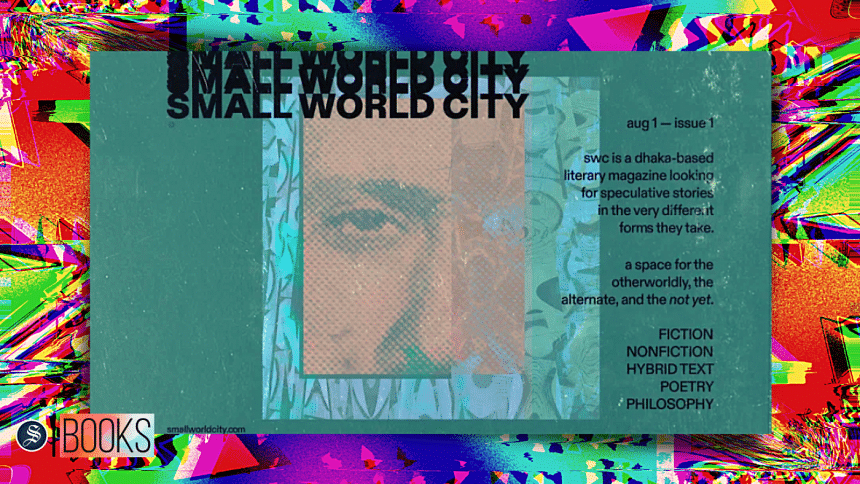 Life as a writer, or even an aspiring writer, is a difficult one. One particular aspect where it is extra challenging is in the publishing sector. 
Getting published as a young writer is an incredible hurdle to overcome. Think about it: there are only so many newspapers, magazines, websites, and so on, especially in Bangladesh, that a young writer can venture into and discover their voice. So, whenever a new magazine is out, I am personally excited by both what it will bring and the fact that it is another platform where writers can find an audience.
The new speculative literary magazine, Small World City (SWC) just released its first issue last month, and as a writer of fiction, I wanted to let the world know exactly why they should give it a read.
First things first, and I have to give them props where it is due: visually, as a digital magazine, the team of SWC has done a tremendous job. In his bio, Mehrul Bari, the editor of the magazine, states that he is a visual artist and the website designer. From that, I assumed he might be the man behind the website. And I have to say it is one of the best looking magazine websites I have seen in a long time. Be it in terms of design, the user interface or choice of visuals, the SWC website is top tier.
Getting back to the 'story' side of it—the first issue of Small World City had fiction, non-fiction and philosophy categories. As a self-professed hater of non-fiction and with zero credibility as an expert of philosophy, I decided to take a look at what their fiction section had to offer.
Starting off, the first story "Hidden Things" by Namira Hossain was a treat to read. SWC bills itself as a "literary magazine looking for speculative stories" and this particular short story really captures the essence of that. Namira's writing style is captivating and made me want to keep going to find out what happens next. Anytime a story is able to capture that particular feeling for a reader, you know it is on the right track.
My only criticism for "Hidden Things" was that some of the wordplay used for humour caught me off guard amidst the story's flow, but that's really just me nitpicking.
Having gotten off to a great start, up next was Mehrul Bari's "Come on be a Good Thing". This story left me with mixed feelings by the end. While there is no question about Mehrul's writing style being impeccable, the plot sort of left me wanting more. Now, as a speculative fiction piece, that is fantastic, but I personally felt there was a scope to have a lot more fun with this brilliant plot that he came up with, a lot more avenues that could've been explored.
Maybe it's the writer in me that sees that potential direction of "narratives that could have been" and perhaps that is not the right approach, but that's just how this brain works.
Next up, we had "Notarized Notoriety" by Rumman R Kalam. This particular story had my mind going all over the place. There were parts of the hook where I was engaged and was excited to see where it would go. However, by the time I got to the end, I was simply left disappointed. It felt like an old trope where a writer gets their reader hooked with a mysterious element, drags the story along and ends it abruptly with a punchline that's meant to be funny or ironic. I know why it works as a narrative tool, but if the payoff doesn't live up to the hype built up along the way, it leaves the readers feeling like their time was wasted. 
Veering off from stories for a bit, Fahim Anzoom Rumman's "The Secret" was a breath of fresh air. The piece seemed to be a cross between a poem and the kind of fable your grandparents would tell you as a kid to get you to fall asleep. Fahim's brilliant visuals accompanying the piece made it that much better and when combined with SWC's website; they came together to hit a home run. Short, simple, and visually stunning. For a writer, that's usually the dream.
Finally, the issue was rounded-off by Mehrul Bari's "Thank You, Lucky Stars" and my oh my, was it a great way to end the issue. Ending the issue with this story was extremely enjoyable. At this point, I started to think back to "Come on be a Good Thing" and considered whether Mehrul had intentionally used that to warm up readers for the eventual finish line.
Perhaps the choice was intentional, but irrespective of everything else, this story was fantastic from start to finish. Well-written, engaging and pronounced in its own voice, it ticked off everything an engaged reader could possibly expect. With this finale, I felt that I read this story through Mehrul's voice. Additionally, Zareen Tasnim Bushra's accompanying visuals added more depth to the story. Hopefully, we see more artists, illustrators and designers as part of SWC going forward.
So, should you give Small World City a try? The answer is a resounding "heck yeah!" Three out of the five stories I absolutely loved, and by the end, I found myself eagerly waiting to see what the SWC team brought for us next.
Aaqib Hasib is a sub-editor at The Daily Star. Reach him at [email protected].