Reading 'memory' with Sehri Tales and Sister Library
Being a participant, I not only enjoyed listening to the other stories but felt in awe of the variety of styles and experiences that I was exposed to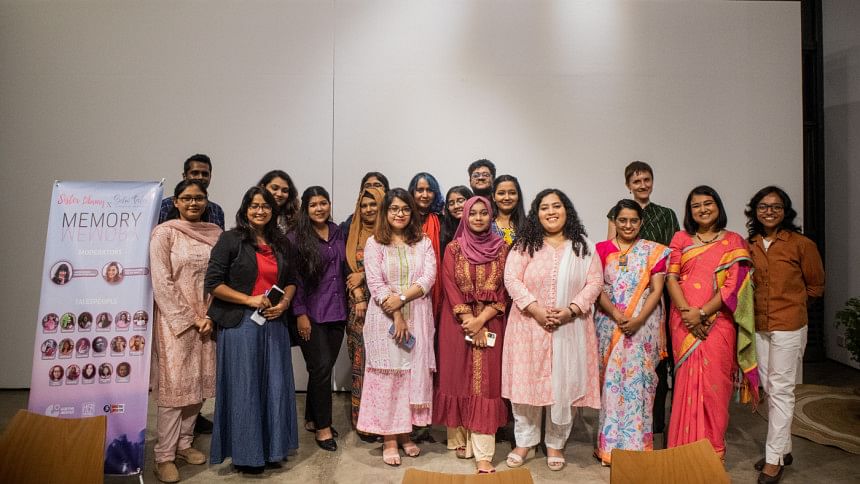 Sehri Tales, the Ramadan micro fiction writing challenge, recently organised a live storytelling session as part of the Sister Library's monthly reading session. This year marked the sixth season of the challenge, and it has established itself as a Ramadan tradition for many Bangladeshi writers. 
The event, themed 'Memory,' took place on Sunday, May 21 at Dhanmondi's DrikPath Bhaban. The event was supported by Goethe-Institut Bangladesh and HerStory Foundation, and was moderated by Sabrina Fatma Ahmad, the founder of Sehri Tales; Katerina Don, Creative Director and Co-Founder at CholPori and Curator at HerStory Foundation; and Sarah Anjum Bari, Books & Literary Editor at The Daily Star. 
A selection of fiction and poetry from the Sehri Tales challenge around this theme were read out, followed by a nano-fiction writing workshop conducted by writers and editors Abak Hussain and Sabrina Fatma Ahmad. Having recently finished their residences at the Iceland Writers Retreat in Reykjavik, Iceland, they utilised their experiences to guide the emerging writers present at the event.  
The event was a one-of-a-kind celebration of the power of storytelling, observing the culmination of a literary collaboration. It celebrated female writers, who shared their diverse range of tales. The shortlisted writers include Rokeya Asha, Maisha Islam Monamee, Nujhat Jabin, Tanisha Arman, Rifah Tashfia, Shanjida Nowshin, Fabiha Tanzeem, Shobnum Alam, Sadia Tasmia, Fahmida Sharmin, Nafisa Naomi, Nazmun Tabassum Mayeesha, Tasneem Tambawala, Sara Rashid, Farah Aziz Annesha, Faeeja Humaira Meem, and Farah Ghuznavi.   
Selected from the prompts #remember and  #sticker, the tales touched upon a number of ideas. From nostalgia to humour, they kept the audience hooked to their seats. Be it the fear of being forgotten, or foreign responses to the practice of henna designs, the writers came up with their own take on memories. Being a participant, I not only enjoyed listening to the other stories but felt in awe of the variety of styles and experiences that I was exposed to. There were memoirs, fairy tales, and poetry, in both Bangla and English. The writers hailed from different backgrounds, with many of them still being students. There were also published authors, and new writers who wrote their debut Sehri Tale this year, showing how the event united everyone through the spirit of storytelling.
"I always let my heart direct me when it comes to writing, and it allows me to connect with the readers' hearts", shared Sara Rashid, a debut participant. "Reading my own story aloud in front of an amazingly supportive audience has been a surreal experience for me. It was an incredible night ornate with tales, warmth and sparks of memories."  
"It was a pleasure seeing the faces of all those writers whose tales I used to regularly read during Ramadan. I loved the friendly and inspiring ambience of the event, and the best part was being able to meet such like-minded people who have a passion for storytelling", shared Farah Aziz Annesha, another debut participant.
"Sabrina always wanted to create a safe space for the Talespeople members, and this event felt just like one. I feel humbled, overjoyed and hopeful. The turnout was better than I anticipated, the reception being joyful. I think the trippiest part about it was putting faces to names, and realising we have been getting to know each other a little better through every season of Sehri Tales", she added.
The planning process for the event started with a casual chat between Sabrina Ahmad and Sister Library during the Dhaka Lit Fest where they expressed a mutual interest in each other's projects. Later, they got together just before Sehri Tales 2023, and agreed upon the prompt 'memory'. The organisers asserted that collecting and compiling the entries came out to be a natural progression. 
"When we realised that we had some cool memory-related stories outside of the original #remember prompt, we added stories from #sticker as well", Sabrina explained. 
"Organising this event has been a wonderful experience, and I am grateful to all the writers who showed up to read their works. It is amazing coming across so many different renditions of the theme", Katerina Don mentioned. 
The Sister Library is a partnership between Goethe-Institut Bangladesh and HerStory Foundation that honours women's literary talent. The platform organises monthly reading sessions of works by female authors, which are moderated by an elder sister. This year, they are reading about borders, memory, labour, and celebration. The theme 'memory' resonated with the history and portrayal of women, serving as an apt theme for an event that celebrated emerging and veteran female writers.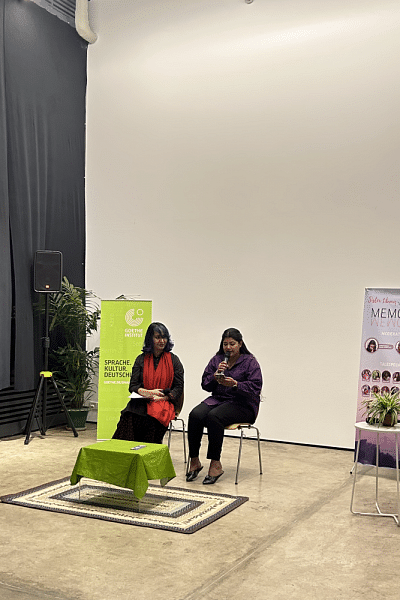 "Sister Library and Sehri Tales are women-led communities that support creativity and self-expression. Since we were exploring memory as a theme in our readings, Sehri Tales allowed us  to gather many personal interpretations of this theme, as it is transformed by technology, becoming more concrete and disembodied", Katerina said.
The writing workshop primarily focussed on brainstorming for ideas in a limited time frame, and included two exercises that the participants thoroughly enjoyed. These were checked by a time frame of 10 minutes, in order to boost creativity and bring forward the rawest form of literary thoughts.
Sehri Tales is planning to host more events, such as writing workshops, that not only serve a get-together for writers but also help them develop their skills.
Maisha Islam Monamee is a student of IBA, DU, and a freelance journalist who likes reading, scribbling, and blogging. Follow @monameereads on Instagram.