REVIEW: SHORT STORY OF THE MONTH
A miracle in milk
Daily Star Books is excited to start this new monthly series, in which we review short stories that deserve to be rediscovered and appreciated.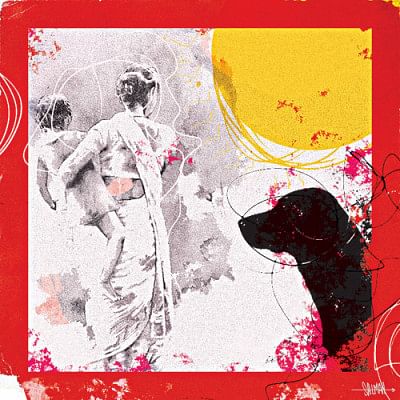 "Once there was a severe flood in the month of Magh.
– Local saying".
So begins "Milk", winner of the Himal Short Story Competition 2019. At first, this opening sentence may not mean much to a reader. But one can realise after reaching the end that the sentence is a very minimalistic forecast of sorts.
Originally written in Bangla by Mashiul Alam, and translated into English by Shabnam Nadiya, "Milk" is the magic-realist story of a toddler who is one day found suckling a dog's teat for milk.
The boy's mother, a 24-year-old farm labourer, is incapable of breastfeeding him owing to her malnutrition. The boy nevertheless is "quite well, growing". The residents of Modhupur—the village where the story is set—are initially unaware of the little boy's source for milk. His father, a farmhand himself, resorts to great violence upon making the discovery, egged on by the villagers and his own rage. Soon, a supernatural event strikes the village, like divine retribution.
Told in a fable-like, sombre yet playful tone, the story is reminiscent of the writings of Samanta Scwheblin, Matsuda Aoko, George Saunders, and the Arabian Nights. The initial mundane descriptions of Modhupur and its inhabitants betray the chilling absurdity of things to come. As such, the final events come as darkly rewarding surprises that firmly etch themselves onto the reader's mind. Alam's prose as seen through Nadiya's translation is spare and economical; not a word here is wasteful. The narrative is divided into fast-paced episodic fragments, which facilitate a satisfying and gripping read.
When I first read the story back in 2019, I was bowled over, completely in awe of the magnificent scope a short story can encompass. Short stories are known and loved for their ability to pull readers into thrilling rides in the span of a brief time. "Milk" achieves just that, setting a precedent for discomforting, subversive, and unconventional storytelling from Bangladesh.
Shabnam Nadiya's sharp translation of the story does a great service highlighting it before an international audience and retaining its haunting excellence. A Steinbeck Fellow at San Jose University, she is currently translating more of Mashiul Alam's non-realist fiction. She has previously translated Leesa Gazi's Hellfire (Eka, Westland 2020) and Shaheen Akhtar's Beloved Rongomala (Bengal Lights, 2019), among other titles. Mashiul Alam is a Senior Assistant Editor at Prothom Alo, and has several novels and short story collections to his name.
Their collaboration heralds a hopeful breeze for the literary works coming out of Bangladesh.
Shah Tazrian Ashrafi is a contributor.
Mashium Alam's "Milk", translated by Shabnam Nadiya, can be found at on the Himal Southasian website.