Free books for everyone—A hawker's selfless dream
A hawker in Jhenidah, with his own hard-earned money, has established a self-made library at his house in College Para area under Kaliganj municipality. 
Mirazul Haque, 58, sells hand fans, handkerchiefs, biscuits, khaja, fruits and other sweetmeats on public buses. Having lost his father when he was 49, Mirazul is the only one among his four siblings to have passed class three in 1978. He could not afford to continue his education and began living in the slum, in a tin shade house on a three decimal land. 
A pathagar can help propagate education in the society, Mirazul told this reporter. Mirazul himself is very fond of reading books, and dreams that those who have dropped out of studies can gather knowledge by reading the books in his library free of cost. 
He has purchased 450 books using his earnings, which includes a collection of novels, political books, and so on, worth BDT 2.50 lakh. Being a staunch supporter of Bangabandhu, most of the books he purchased are on the life of Sheikh Mujibur Rahman and the liberation war. Mirazul's intention, now, is to build a library where students, the unemployed, and the elderly are able to read books in their leisure time. 
"I cannot afford to purchase land upon which I can build the library," says Mirazul. He plans on naming it Bangabandhu Smriti Pathagar. "My books are stuck at my tin shade house. They are at risk of being damaged because of the lack of a proper storage facility." He earnestly requests the local administration to allot a room for his pathagar.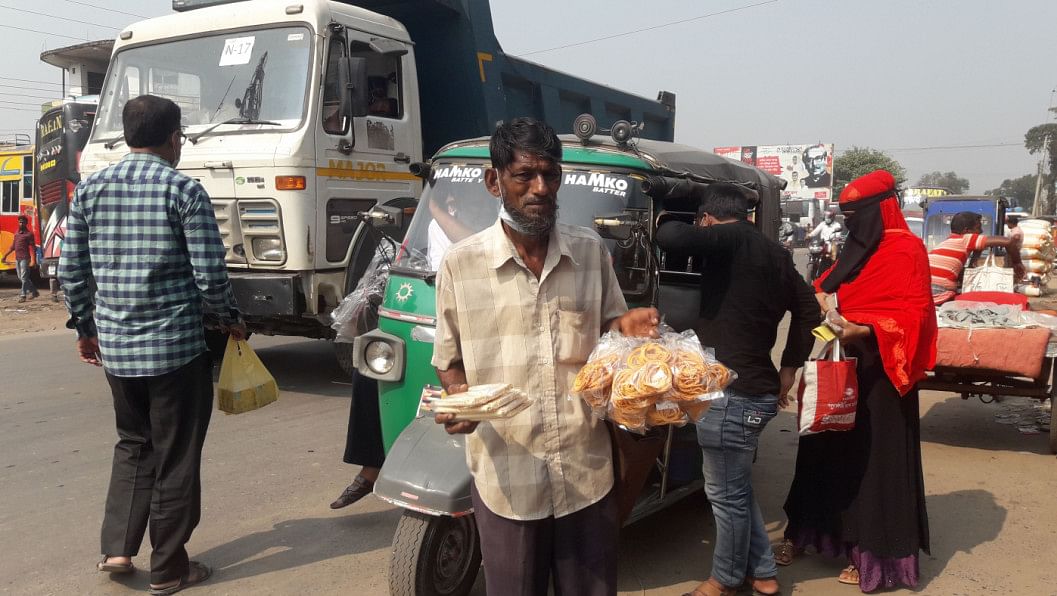 Montu Gopal Das, a freedom fighter of College Para, and Emran Hossain, a timber trader of Bakulia village under the upazila, echoed that Mirazul is "rich in books"—it is his hobby to collect them with the money he earns from hawking. Both of them often borrow books from Mirazul. 
"Though we are needy, he does not let that get in the way of his dreams", Julekha Begum, wife of Mirazul Haque, told The Daily Star. "He has taken a noble initiative". A sweeper at Agrani Bank, Julekha contributes to the family finances with her monthly salary of BDT 3,500. 
Of their four children, elder son Jahangir Alam has passed his MA in social welfare and research from Dhaka University in 2020, appeared in the 41st BCS preliminary, and is now looking for a job in Dhaka. The younger son, Alamgir Hossain, is studying global religion and Sanskrit at Dhaka University. He is also a regular football player at Muktijoddha Sangsad Kira Chakra premier league. 
UNO Sadia Jerin of Kaliganj upazila has provided assurance that she will try to arrange a room for Mirazul's initiative. 
Mirazul wishes to donate his eyes after his death; he has made a rotary in this regard, and plans to provide his dead body to a medical college and hospital for medical research. 
For more book-related news and views, follow Daily Star Books on Facebook, Instagram, Twitter, and LinkedIn. Write to us at [email protected].