Bengal Boi's 'Fagun Shomirone' spring fair ends tomorrow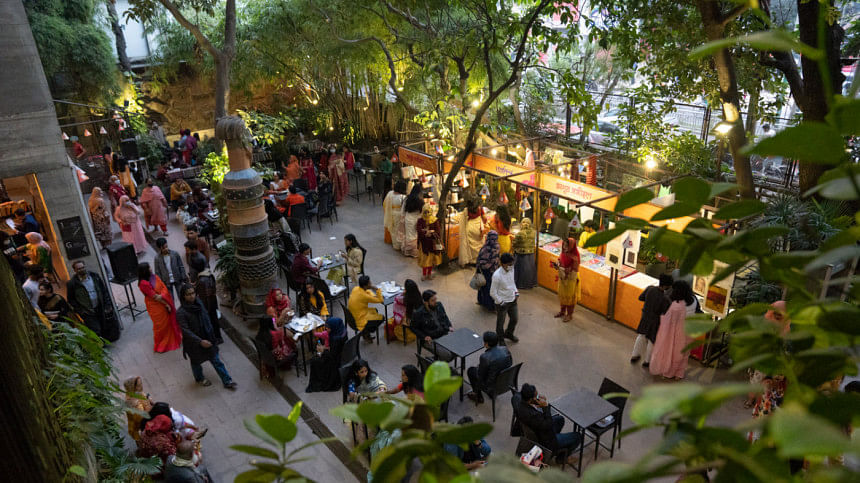 Bengal Boi has been hosting their spring fair, Fagun Shomirone, at their premises in Dhanmondi, Dhaka, from February 11. The fair is due to end on Saturday, February 26, running from 11 am to 10 pm. 
Several art and handicrafts stores, including Sevendays Notes, Jothashilpa, and Bengal Arts Programme, have set up stalls at the venue. The products on display comprise artwork pieces, notepads, tote bags, and other handcrafted merchandise. Book lovers will be drawn to the stall set up by Kali O Kolom. 
Bengal Boi intends to boost cultural activities and reach a wider audience. They have organised a number of cultural events till date, promoting local arts and crafts. "This year, due to lack of space, and considering the Covid-19 situation, we have invited only art and crafts manufacturers", Golam Sarwar Farouqui, Operational Manager of Bengal Boi Ltd., told The Daily Star. 
Farouqui thanked the audience for their participation and asserted that the footfall has been remarkable. The participating stalls also pointed out that initiatives like these help them revive their craftsmanship. 
Sevendays Notes, who specialise in producing handcrafted notebooks, is currently offering 10% on all its items at display. Their most popular items include notebooks of the 'City' and their 'Van Gogh' series. Visitors are also purchasing their multi-purpose tote bags that come in a variety of designs. The venture is trying to bring people back to the habit of writing things down. In this attempt, the store has introduced a range of different notebooks and notepads, ranging from yearly planners to pocket sized ones.
Jothashilpa, an arts and crafts store, is selling handmade products and nakshi katha embroidered notebooks. Their popular products include the nakshi notebooks and a 'Shadhinota' notebook, featuring the flag and map of Bangladesh. The store also offers different dresses and handicraft decorations for purchase. 
The Bengal Arts Programme is selling artwork that was curated at their studio. These exclusive pieces will only be available for purchase at this and such future fairs. 
Maisha Islam Monamee likes reading, scribbling, and blogging. Suggest her new ideas and follow @monameereads on Instagram.