Aglow with Falgun flames
Valentine's Day today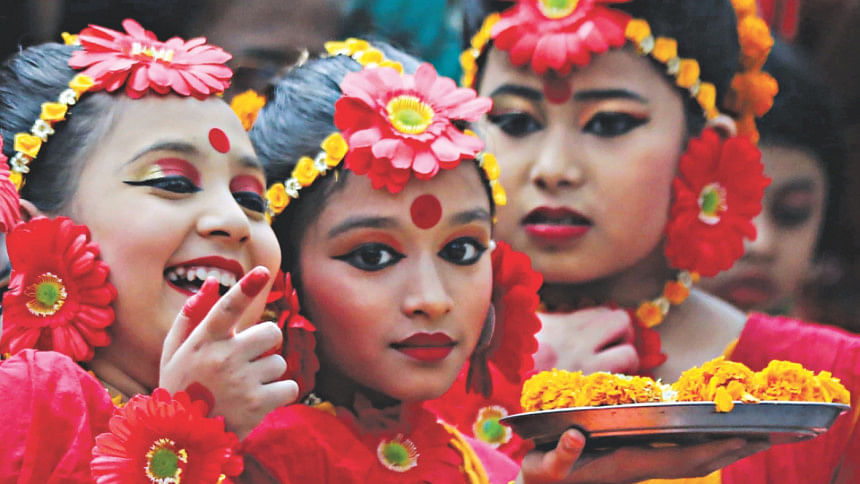 Leaving behind the boredom of life, city people wearing red, green, yellow and orange poured into the streets yesterday to greet the arrival of spring.
It was not a national holiday, yet they were all in a celebratory mood over the first month of the Bangla season of spring: Falgun.
As nature reclaims its vigour, beauty and youth with the winter retreating, people having an otherwise busy life in the capital yearn for some time with their loved ones and that is what reflects at every corner here on Pahela Falgun.   
City dwellers congregated at parks and on Dhaka University premises where cultural events took place marking the arrival of spring. 
Sheikh Shariar Amin, an employee of a private bank that remains closed on Saturdays, was enjoying family time with his wife and three-month-old son Shuprovo at the park surrounding Dhanmondi Lake.
"This is Shuprovo's first spring and so we came out with him," he said clicking pictures of the baby in a green shirt. In fact, all three of the family were in green.
"We chose this colour to look a bit different," Shariar added.
Md Noman, third year student of fine arts, University of Development Alternative, preferred the traditional spring colour: yellow.
Applying light brush strokes on a watercolour painting he was working on at one corner of the park, he said, "Yellow is a warm colour. It signifies the transition from the cold towards warmer weather."
Selina Rahman, who came to the park with her two daughters, wore a brightly coloured sari.
"We dress up on the day like the nature that adorns itself with new leaves and flowers," she said.
Forty-two-year-old Shahnaz and her sister Jamila Akhter, 27, were busy selling flowers at the park. They were dressed up in yellow too.
Shahnaz said she had bought flowers to sell them on Pahela Falgun and Valentine's Day that is today. She has been selling flowers on such occasions for the last two years. At other times, she runs a gymnasium.
Floral head wraps were in demand yesterday while roses and bouquets sell well on Valentine's Day, she said.
Pahela Falgun this year coincided with Saraswati Puja, a festival of the Hindus. Many visitors in spring colours were seen at the DU Jagannath Hall's Puja Mandap. 
Shukla Baksi and Antara Pal in bright yellow saris came there with their families and relatives from Savar. After attending the puja ceremony, they were roaming around the university campus.
"We don't have any particular plan, but we will spend some time here," Shukla said.
Reminded of the sexual harassment that took place last year during Pahela Baishakh celebration, college student Fahad accompanied by his friend Afroza said he was initially worried about security but he felt relaxed after seeing this year's security measures.
He pointed to a watchtower near Bangla Academy.
Law student Saima, who came out with her boyfriend, was celebrating the first day of spring for the first time in her life.
"I didn't know the day is celebrated with such fervour."
Today is Valentine's Day. Hira Monir and his wife Naznin Islam said the day is a weekday this year and "so probably we would spend some time with family and then go out at night."