February brings hope for florists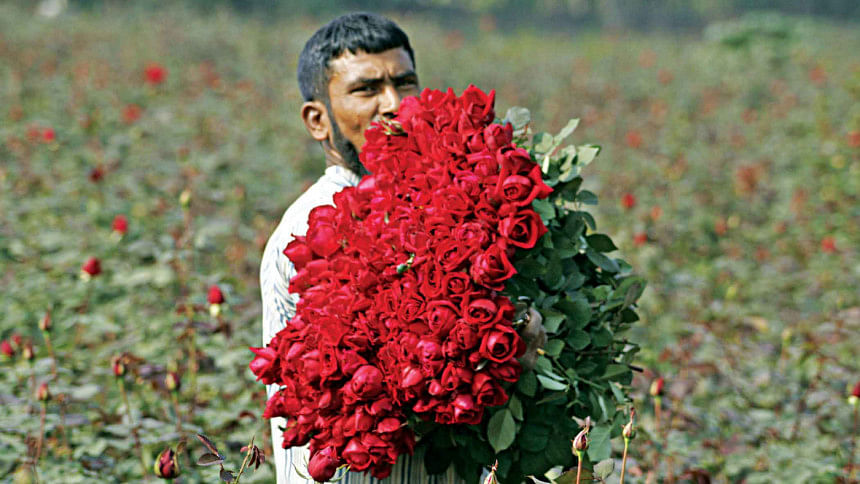 Days will be longer for the flower growers for the next couple of months thanks to its increased demand because of back-to-back national events, beginning with Pahela Falgun and Valentine's Day today, both of which will be observed on the same day in Bangladesh this year.
Md Abdur Rahim, president of Bangladesh Flower Society, hopes Tk 50 crore worth of flowers would be sold today throughout the country.
"Farmers have incurred huge losses due to the Covid-19 outbreak and cyclone Amphan this year."
Many flowers got wasted in the field as there were no takers.
The growers will need some more time to recover from the devastation caused by the pandemic and the cyclone, he said.
"If flower lovers come back to their habit of spending money for flowers, retail sales will surely increase and benefit farmers."
Among the flowers, roses are the top selling and widely cultivated ones.
The wholesale price of each bundle of 300 pieces of roses now hovers between Tk 2,200 to Tk 2,500, which could hardly hit Tk 800 to Tk 1,000 in most of the time of the year.
Around 1,500 farmers cultivated flowers in around 300 hectares of land in Savar this year, of which over 250 hectares were roses.
Abdul Khaleque Mollah, who cultivated rose on his 1.5 acre of land this year in Shyampur area in Savar, sold roses worth Tk 30,000 Friday.
He was happy with the current prices.
Mollah expects to sell Tk 3 lakh worth of roses this month owing to the twin festivals and the International Mother Language Day, which will be observed on February 21.