Bangladesh tour of Sri Lanka, 2nd Test
Crowning win for centenary Test: Tigers beat Sri Lanka by 4 wickets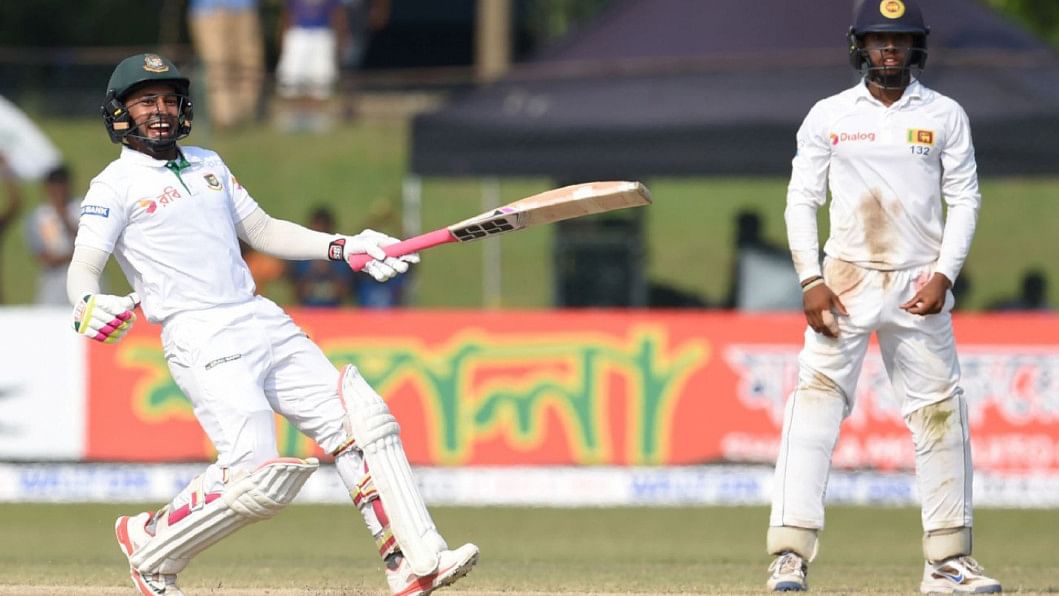 Bangladesh won their centenary Test by four wickets to level the 2-match series against Sri Lanka at 1-1 at Colombo's P Sara Oval today.
A magnificent knock of 82 under pressure from Bangladesh opener Tamim Iqbal and the third wicket stand with Sabbir Rahman of 109 enabled Tigers to beat Sri Lanka for the first time in Test cricket. Bangladesh recorded their ninth win in 100 Tests by this victory today.
Dilruwan Perera and Rangana Herath took three wickets each to peg back Bangladesh. Dilruwan captured 3-59 in 22 while Herath took 3-75 in 24.5 overs.
Shakib Al Hasan had a terrific match with six wickets and a hundred during Bangladesh's first innings of 467. Mustafizur Rahman looked like getting back to his best and captured five wickets in this match.
Mosaddek Hossain was the sixth wicket to fall for Bangladesh. Lobbed up outside off, turned away, kicked from the rough, glanced the batsman's glove and settled into Dickwella's glove. The celebrations must wait…
Mosaddek Hossain c †Dickwella b Herath 13 (31m 28b 2x4 0x6) SR: 46.42
Fall of wicket 189/6 (57.2 ov); Partnership: 27 runs, 9.1 overs, RR: 2.94 (Mushfiqur Rahim 13, Mosaddek Hossain 13)
Earlier, Bangladesh lost their fifth wicket during the last session of day-5 when Shakib Al Hasan was sent back by Dilruwan Perera for 15 to leave the tourists at 162 for 5 in 48.1 overs.
Shakib had played on, and the TV umpire confirmed the dismissal. The batter attempted a forcing cut but chopped the ball onto the off stump. Another twist in the tail…may be too little too late for the hosts.
Shakib Al Hasan b Perera 15 (43b 1x4 0x6) SR: 34.88
Fall of wicket 162/5 (48.1 ov); Partnership: 19 runs, 7.2 overs, RR: 2.59 (Mushfiqur Rahim 9, Shakib Al Hasan 6)
Bangladesh reached 156 for 4 in 46 overs chasing 191 to win at tea on day-5.
Shakib Al Hasan was batting on 12 from 33 and Tigers skipper Mushfiqur Rahim on 6 from 15 balls when the players left the field for tea.
Bangladesh managed to score 77 runs in the first hour after lunch. Sri Lanka then struck back with the wickets of Tamim and Sabbir. Bangladesh need a further 35 runs; it will be fitting if both Mushfiqur and Shakib stay till the end and take their team to a memorable win.
Sabbir Rahman became the fourth wicket to fall in Bangladesh's second innings when he was sent back for 41 by Dilruwan Perera to leave the tourists at 143 for 4 in 40.5 overs.
The review proved successful for Sri Lanka, and they got Sabbir. Tossed up on the leg stump, Sabbir attempted a sweep and missed the line. He was struck on the front pad. Replays showed pitching in line, impact in line and hitting leg. Afterwards, TV umpire Erasmus reversed the on-field decision and Sabbir had to go.
Sabbir Rahman lbw b Perera 41 (76b 5x4 0x6) SR: 53.94
Fall of wicket 143/4 (40.5 ov); Partnership: 12 runs, 4.0 overs, RR: 3.00 (Shakib Al Hasan 9, Sabbir Rahman 3)
Bangladesh lost their third wicket after the crucial third wicket stand between Tamim Iqbal and Sabbir Rahman when Dilruwan Perera sent back Tamim for 82 to leave the tourists at 131 for 3 in 37 overs.
The Tamim-Sabbir partnership is broken, and Tamim falls at 82…but what a fantastic knock from the Bangladesh opener…nearly took his team home. Bangladesh fans hope the wicket does not throw the cat among the pigeons as far as the chase is concerned.
Tamim went down the track, Dilruwan tossed it on leg. Tamim looked to smash the ball on the leg side but was taken smartly by Chandimal at deep mid-on.
Tamim Iqbal c Chandimal b Perera 82 (125b 7x4 1x6) SR: 65.60
Fall of wicket 131/3 (36.5 ov); Partnership: 109 runs, 28.5 overs, RR: 3.78 (Tamim Iqbal 70, Sabbir Rahman 38)
Tamim Iqbal and Sabbir Rahman took Bangladesh past fifty as they began to assert themselves on the Sri Lankan bowlers during the post-lunch session of day-5.
Both the batsmen were intent to keep the scoreboard moving by rotating the strike, and made sure the bad balls didn't go unpunished. When Bangladesh reached 64 for 2 in 21 overs in their second innings, they needed 127 runs to win. The third wicket stand between Tamim and Sabbir reached 42 runs in 13.1 overs at that score.
Earlier, Bangladesh reached 38 for 2 in 15 overs at lunch on day-5.
Tamim Iqbal was batting on 22 from 43 and Sabbir Rahman on 6 from 20 balls when the players left the field. The action-packed morning session has brought the climax of this riveting contest even nearer. Sri Lanka managed to get some runs, and gave Tigers a challenging target.
Rangana Herath threw a spanner in Bangladesh's works late in the session and dented the prospects of an easy chase with the wickets of Soumya Sarkar and Imrul Kayes in consecutive deliveries. The pitch is still looking good for batting, and Bangladesh batsmen need to spend some time at the wicket before they can step on the gas.
Sri Lanka's stand-in skipper Rangana Herath sent back Soumya Sarkar and Imrul Kayes in two balls to leave the tourists in a spot of bother at 22 for 2 in 8 overs chasing 191.
Imrul is gone first ball, and Sri Lanka are on a roll…their captain leading from the front! Herath is bowling beautifully and Bangladesh stumble.
Herath bowled one flat, quick and outside off, Imrul played for the turn but got a thick edge and was smartly taken at slip.
Imrul Kayes c Gunaratne b Herath 0 (1b 0x4 0x6) SR: 0.00
Fall of wicket 22/2 (7.6 ov); Partnership: 0 runs, 0.1 overs, RR: 0.00 (Tamim Iqbal 0, Imrul Kayes 0)
Bangladesh lost their first wicket in the 8th over when Soumya Sarkar was caught in the deep in his attempt to get on top of Herath. Soumya ran down to a flatter delivery, was not close to the pitch but still went through his lofted shot, got a leading edge and was taken at long-off.
Soumya Sarkar c Tharanga b Herath 10 (26b 2x4 0x6) SR: 38.46
Fall of wicket 22/1 (7.5 ov); Partnership: 22 runs, 7.5 overs, RR: 2.80 (Tamim Iqbal 12, Soumya Sarkar 10)
Earlier, Bangladesh needed 191 runs to win their centenary Test and level the series after Sri Lanka were all out for 319 in their second innings.
Sri Lanka's lower order and their ninth wicket partnership of 80 between Dilruwan Perera and Suranga Lakmal have given a challenging target for the tourists on the last day, and fortunately for the Tigers, the pitch has not deteriorated at any alarming rate, and the bounce is still true. Bangladesh managed to chase down 215 against West Indies at Grenada in 2009, so if the batsmen can apply themselves at the wicket and bat sensibly, Bangladesh will have the crowning win for their 100th Test.
Dimuth Karunaratne held the Sri Lankan second innings together with his 126 off 244 balls. Dilruwan Perera chipped in with 50 while Suranga Lakmal managed to score 42.
Shakib Al Hasan was the highest wicket-taker for Bangladesh, with 4-74 in 36.2 overs. Mustafizur Rahman captured 3-78 in 23 overs to rip the heart out of Sri lanka's middle order.
Shakib Al Hasan gave Tigers their tenth wicket when Suranga Lakmal was caught in the deep for 42. The ball was tossed up and drifted in on leg stump, and the batter could only mis-hit it long-off after a crucial knock in the context of this contest.
RAS Lakmal c Mosaddek Hossain b Shakib Al Hasan 42 (48b 4x4 0x6) SR: 87.50
Fall of wicket 319/10 (113.2 ov); Partnership: 1 runs, 0.4 overs, RR: 1.50 (Lakmal 1, Sandakan 0)
Sri Lanka lost their ninth wicket to a run-out in the 113 th over. Dilruwan Perera had to go back after reaching 50. The batsmen made the cardinal sin of running after a misfield, and paid the ultimate price…Dilruwan was short of the crease despite a full-length dive.
MDK Perera run out 50 (174b 6x4 0x6) SR: 28.73
Earlier, Sri Lanka's ninth wicket stand between Dilruwan Perera and Suranga Lakmal continued to thwart Bangladesh's effort to get a breakthrough during the morning session of day-5 of the Test match at Colombo's P Sara Oval Today.
Sri Lanka led by 178 runs when the score reached 307/8 in 108 overs in their second innings. The Dilruwan-Suranga stand reached 69 runs in 16.4 overs, and managed to keep the scoreboard moving at a decent rate with a mixture of positive batting and good fortune.
Bangladesh
Tamim Iqbal, Soumya Sarkar, Imrul Kayes, Mushfiqur Rahim (Captain, Wicketkeeper), Shakib Al Hasan, Sabbir Rahman, Mehedi Hasan, Mosaddek Hossain Saikat, Mustafizur Rahman, Taijul Islam and Subashis Roy
Sri Lanka
Dimuth Karunaratne, Upul Tharanga, Kusal Mendis, Dinesh Chandimal, Dhananjaya de Silva, Asela Gunaratne, Niroshan Dickwella (Wicketkeeper), Dilruwan Perera, Rangana Herath (Captain), Suranga Lakmal and Lakshan Sandakan
Umpires - Aleem Dar and S Ravi

TV umpire - M Erasmus

Match referee - AJ Pycroft

Reserve umpire - RSA Palliyaguruge