Shakib's constant fluctuations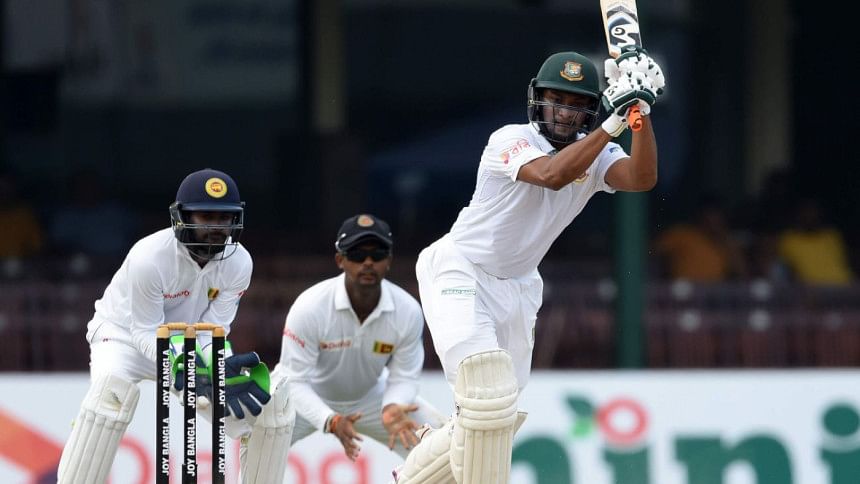 Shakib Al Hasan is a cricketer who invites extreme emotions, with the only certainty being that the emotions he brings out in fans and critics alike will change from day to day. Perhaps it is because he is the most influential player for Bangladesh that the team itself follows those fluctuations, but whatever the connection, it is fitting that Shakib was the man to score a century in Bangladesh's 100th Test and bring them to a position of dominance when all seemed bleak just the day before.
Shakib was at the forefront of the bleakness too. On Thursday night, although he was unbeaten, he was the player reviled for showing not even a shred of responsibility when it was sorely needed, scoring 18 runs off eight torrid balls, one of which was a dropped catch and another that almost carried. In January in Wellington he was dropped off a hook on four on the first day before going on to add 213 runs of the highest class the following day, displaying masterful judgement of which bouncer to duck under and which to play. Yesterday, when one would have thought that nothing good could come off Shakib's presence at the crease -- such was the recklessness of his batting the previous evening -- he confounded expectations yet again.
"Yesterday as I was not out, there was time at night to think about it," said Shakib to a room full of media people awestruck by the change. "And in that time I thought about what approach would be good, especially the way [Dinesh] Chandimal batted in the first innings. I think there was a lot to learn from that with regards to how to bat in this innings."
Shakib has a way of not really taking these briefings too seriously, or maybe it is just a cultivated insouciance, but there was reason to believe what he said about following Chandimal's example. The left-hander had hit the fifth ball of the day by Lakshan Sandakan for four through point, but it was a shot played to the merit of the ball which was short and wide instead of the mad rush to hit anything in sight. Since then, Shakib did not hit a boundary for 53 balls while scoring 23.
The ability to change style of play and the will to learn and apply so quickly hints at a virtuosity that, save perhaps Tamim Iqbal, few in the Bangladesh camp can lay claim to.
It was not a perfect innings and was not of the quality seen in Wellington, but it was what was needed. Shakib had two further lives yesterday, on 40 when he could have been run-out after a mix-up with Mushfiqur Rahim but for a wild throw by Chandimal and on 67 when wicketkeeper Niroshan Dickwella dropped a tough low chance off a bottom edge. None of those were examples of recklessness but, like Chandimal's few chances, reward that cricket sometimes hands out for having done the hard work.
"It's a special one for me because I had to work really hard to get those runs," said Shakib. "So really happy with the way I played. Since there was a big need to score runs here and I could do that, I am very happy."
Shakib thought that the wicket had some help for the spinners and the first session today would be the most crucial of the match. "Tomorrow if they bat well the match may get away from us, and if we bowl well and take wickets the match may come in our favour. A lot will depend on the first session.
"Over the last few matches it has happened that we play very well in one innings and not in the next. So our focus will be to ensure that -- we have two innings left in batting and bowling -- we do well in the next two innings."
For that too Shakib will be needed on a wicket that has had a good bake from the sun yesterday and was showing signs of serious turn.
At the end of the press conference, when asked what the thinking was behind Thursday's batting in the evening, the all-rounder just smiled and shook his head.
Perhaps even he does not know, and all that can be hoped for in the coming two days is that Friday's Shakib sticks around.