Bangladesh tour of Sri Lanka, 2nd Test
Hosts lead BD by 139 runs after Day-4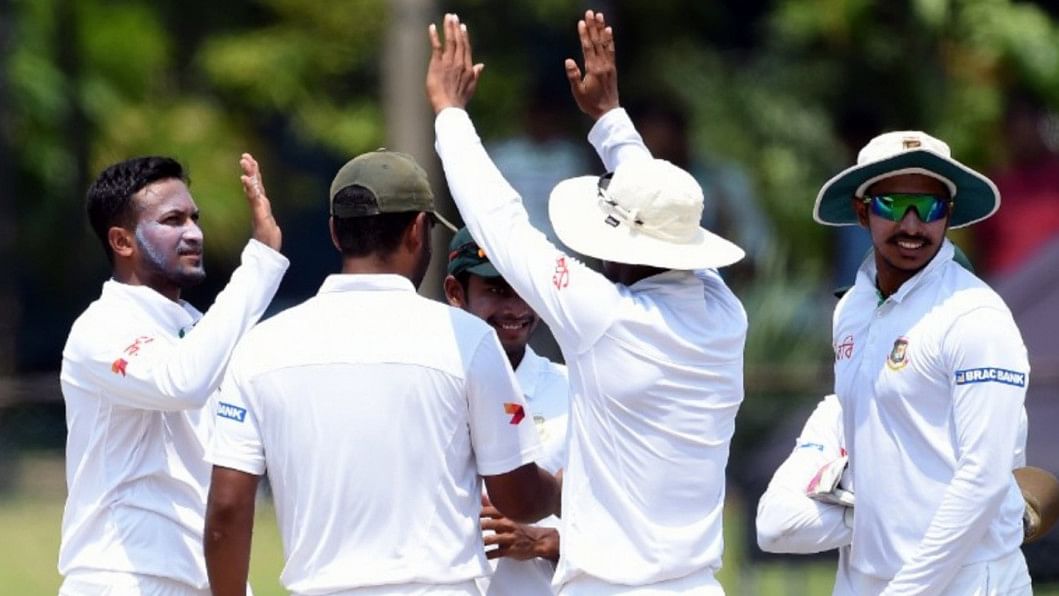 Sri Lanka reached 268 for 8 in 100 overs and led Bangladesh by 139 runs in their second innings when the umpires called stumps on day-4 of the second Test of the series at Colombo's P Sara Oval today.
Dilruwan Perera was batting on 26 from 126 and Suranga Lakmal on 16 from 17 when the players left the field for the day. The ninth wicket stand of 30 in 8.4 overs continued to frustrate Bangladesh in the last session.
Both Shakib AL Hasan and Mustafizur took three wickets in Sri Lanka's 2nd innings. Shakib took 3-61 in 30 overs while Fizz took 3-52 in 19.
The hosts now lead by 139 runs and have two wickets in hand. If they manage to add another 30 tomorrow, they will make life tough for Bangladesh.
Taijul Islam gave Bangladesh their eighth wicket during the last session of day-4 when he trapped Sri Lanka stand-in captain in front to leave the hosts at 238 for 8 in 91.2 overs.
The eighth wicket resistance is broken, and Taijul gives the breakthrough…Herath gone!
The on-field umpire ruled out, and Sri Lanka went for the review. The ball spun a lot from length and struck the batter on the back-foot. Ball tracking showed the impact was in line and it would have taken out middle stump.
Last bat HMRKB Herath lbw b Taijul Islam 9 (32b 0x4 0x6) SR: 28.12
Fall of wicket 238/8 (91.2 ov); Partnership: 21 runs, 9.5 overs, RR: 2.13 (Herath 9, Perera 8)
Shakib Al Hasan gave Bangladesh the crucial breakthrough during the last session of day-4 when he sent back Dimuth Karunaratne for 126 to leave the hosts at 217 for 7 in 81.3 overs.
Dimuth falls, big wicket for Bangladesh…and Shakib delivers again!
Shakib pitched it up outside off and tempted the batsman. Dimuth came forward and the ball did not turn into him as expected. The call came on straight and took the outside edge before going to first slip where Soumya Sarkar didn't make any mistake.
Last bat FDM Karunaratne c Soumya Sarkar b Shakib Al Hasan 126 (244b 10x4 1x6) SR: 51.63
Fall of wicket 217/7 (81.3 ov); Partnership: 27 runs, 22.2 overs, RR: 1.20 (Perera 4, Karunaratne 23)
Sri Lanka led by 91 runs with 3 wickets remaining in their 2nd innings when they reached 220 for 7 in 83 overs.
Sri Lanka reached 199 for 6 in 69 overs and led Bangladesh by 70 runs in their second innings when the umpires signaled tea on day-4.
Dimuth Karunaratne who held the Sri Lankan innings together was unbeaten on 110 from 206 balls and Dilruwan Perera 2 not out when the players left the field for tea.
A fantastic post-lunch session brought Bangladesh back into the contest. Sri Lanka lost five wickets, but have Dimuth at the crease. Still lots of time left in the game and Bangladesh have wrested the initiative. Still no signs of unplayable turn but the pitch may deteriorate on the fifth day.
Bangladesh were on the ascendancy during the post lunch session of day-4 when Shakib Al Hasan gave his team their sixth breakthrough by removing Niroshan Dickwella to leave the hosts struggling at 190 for 6 in 60 overs.
Sri Lanka led Bangladesh by 62 runs with four wickets remaining in their second innings when they reached 191 for 6 in 63 overs.
What a catch from Mushfiqur Rahim behind the wicket. He anticipated that so well. Niroshan was getting down to paddle it fine and he moved across early so he could get in position. The batter lobbed it up and Mushfiqur was ready. Short leg too was watching the batsman and moved across to get in position. Mushfiqur caught it easily in the end…Tigers on a roll!
Last bat N Dickwella c †Mushfiqur Rahim b Shakib Al Hasan 5 (15b 0x4 0x6) SR: 33.33
Fall of wicket 190/6 (59.1 ov); Partnership: 13 runs, 4.1 overs, RR: 3.12 (Karunaratne 8, Dickwella 5)
Bangladesh lost a review appeal in the 58th over. Umpire's call was held as replays showed the ball struck marginally outside the stumps.
Earlier, Mustafizur Rahman's disciplined bowling paid off as he gave Bangladesh their fifth wicket when he sent back Dhananjaya de Silva to leave the hosts in a spot of bother at 177 for 5 in 55 overs.
Dhananjaya fell to a wide delivery outside off. Caught in two minds, the batter ended up playing a tentative push, got an outside edge and was taken by the keeper.
Last bat DM de Silva c †Mushfiqur Rahim b Mustafizur Rahman 0 (7b 0x4 0x6) SR: 0.00
Fall of wicket 177/5 (54.6 ov); Partnership: 1 runs, 1.2 overs, RR: 0.75 (Karunaratne 1, de Silva 0)
Shakib Al Hasan struck soon after Fizz and gave Bangladesh their fourth breakthrough in the 54th over. Asela Gunaratne was flirting with danger…didn't offer a shot and the ball struck in front of off. The ball was slightly sliding in, around off and middle and the umpire ruled in Shakib's favour. Important period of play for Bangladesh post lunch!
Last bat DAS Gunaratne lbw b Shakib Al Hasan 7 (15b 1x4 0x6) SR: 46.66
Fall of wicket 176/4 (53.4 ov); Partnership: 11 runs, 3.2 overs, RR: 3.30 (Karunaratne 4, Gunaratne 7)
Sri Lanka lost their third wicket during the second innings when Mustafizur Rahman induced Dinesh Chandimal to play a loose shot away from his body. The batsman managed a healthy edge for his troubles, and Mushfiqur Rahim dove to his right to complete the catch.
Last bat LD Chandimal c †Mushfiqur Rahim b Mustafizur Rahman 5 (13b 1x4 0x6) SR: 38.46
Fall of wicket 165/3 (50.2 ov); Partnership: 22 runs, 5.2 overs, RR: 4.12 (Karunaratne 17, Chandimal 5)
Mustafizur Rahman gave Bangladesh their second wicket after lunch when he sent back Kusal Mendis for 36 to leave the hosts at 143 for 2 in 45 overs.
Fizz strikes…and gives Bangladesh the boost they need post lunch…the second wicket resistance from Kusal and Dimuth Karunaratne is broken.
Mustafizur went up in a late appeal, after seeing the fielders behind excited. They asked for a review for a caught-behind. The ball was full, angling in and Kusal played with an angled bat.
The ball straightened after pitching and went to the keeper as the batsman stuck out his bat. Bangladesh went for the review after the on-field umpire ruled not out. The third umpire had a long hard look and inferred that there was a noise. The on-field decision was overturned and Bangladesh cricketers celebrate!
Last bat BKG Mendis c †Mushfiqur Rahim b Mustafizur Rahman 36 (91b 2x4 0x6) SR: 39.56
Fall of wicket 143/2 (44.6 ov); Partnership: 86 runs, 30.5 overs, RR: 2.78 (Karunaratne 48, Mendis 36)
Earlier, Sri Lanka reached 137 for 1 in 43 overs and led Bangladesh by eight runs at lunch on day-4.
The second wicket unbroken stand of 80 in 28.5 overs between Dimuth Karunaratne and Kusal Mendis took Sri Lanka ahead in their second innings. Dimuth was batting on 67 from 113 and Kusal on 36 from 85 when the players left the field for lunch.
Sri Lanka went past Bangladesh in the 41st over bowled by Mehedi Hasan Miraz. Kusal struck a four through the backward square leg boundary with his sweep shot.
Bangladesh nearly had their second wicket during the morning session of day-4 via a run-out in the same over the hosts went ahead. Dimuth opened the bat face and played the ball to point. At the same time his partner Kusal took off for a single.
Dimuth denied his partner the run, and Kusal had to scamper back to his crease. He was almost half way down the pitch and a direct hit would have sent the batsman back to the dressing room.
Kusal brought up the fifty of the 2nd wicket stand in the 32nd over. Sri Lanka opener Dimuth brought up his fifty in the 30th.
Sri Lanka batsmen Dimuth Karunaratne and Kusal Mendis batted through some testing spells from Bangladesh bowlers and took the hosts past 100 in their second innings.
Sri Lanka trailed Bangladesh by 24 runs with nine wickets remaining in their second innings when the score reached 105 for 1 in 30 overs.
Kusal was reprieved in the 23rd over bowled by Mehedi Hasan Miraz. Imrul Kayes at short leg could not react quickly enough to take the ball and it struck him on the right leg.
Mustafizur Rahman was left exasperated by the slowness of the pitch when he managed to produce an edge from Kusal's bat in the 18th over, only to see the ball fall short of the slip cordon.
Earlier, Mehedi Hasan Miraz gave Bangladesh the early breakthrough on day-4 when he dismissed Upul Tharanga for 26 to leave the hosts at 57 for 1 in 14.1 overs.
The fourth day begins in the best way possible for Bangladesh, a wicket to peg back the hosts after a confident first wicket stand…and Mehedi does the trick!
Nothing much the batter could do…the ball on a length pitched on middle and leg, spun sharply to beat the outside edge of the batsman and took out the off-stump. Upul was playing the angle and did not account for the turn…too good for the batter.
Last bat WU Tharanga b Mehedi Hasan Miraz 26 (40b 3x4 0x6) SR: 65.00
Fall of wicket 57/1 (14.1 ov); Partnership: 57 runs, 14.1 overs, RR: 4.02 (Tharanga 26, Karunaratne 25)
Bangladesh
Tamim Iqbal, Soumya Sarkar, Imrul Kayes, Mushfiqur Rahim (Captain, Wicketkeeper), Shakib Al Hasan, Sabbir Rahman, Mehedi Hasan, Mosaddek Hossain Saikat, Mustafizur Rahman, Taijul Islam and Subashis Roy
Sri Lanka
Dimuth Karunaratne, Upul Tharanga, Kusal Mendis, Dinesh Chandimal, Dhananjaya de Silva, Asela Gunaratne, Niroshan Dickwella (Wicketkeeper), Dilruwan Perera, Rangana Herath (Captain), Suranga Lakmal and Lakshan Sandakan
Umpires - Aleem Dar and S Ravi

TV umpire - M Erasmus

Match referee - AJ Pycroft

Reserve umpire - RSA Palliyaguruge