You have to build a family environment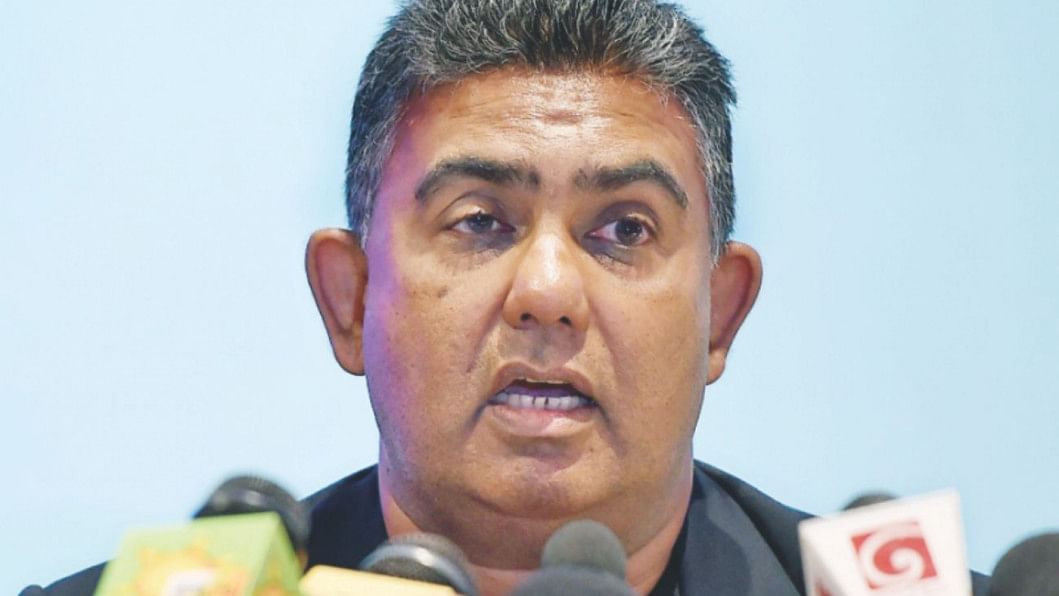 When recalling Sri Lanka's 1996 World Cup triumph, the bearded, bespectacled Asankha Gurusinha will probably not be the first name that comes to mind. But Sri Lanka's current strategic consultant was the sixth-highest scorer in the tournament and the second-highest for his team after Aravinda de Silva. He came into the game when Sri Lanka were babies in Test cricket -- soon graduating into a high-class number three batsman -- and saw the transitions that took them to top. On Sunday morning, before play on the fifth day of the Bangladesh-Sri Lanka Test, Gurusinha stepped aside for a chat about those heady days and how he sees Bangladesh cricket with The Daily Star's Sakeb Subhan. The following are excerpts from the interview. 
The Daily Star (TDS): You came into the side in 1985, when Sri Lanka were very new in Test cricket. When did you think that things were turning around?
Asankha Gurusinha (AG): At that time I was very young. We were just playing, sometimes, three Tests in a year. We realised when we had a team playing together for three or four years, that we are going to get better and better. Because in 1994-95, for the first time we won a Test outside Sri Lanka in New Zealand. And beating New Zealand in New Zealand was very difficult. So we did that and won the series, we drew the last Test, we did well in the one-dayers. We started winning one-dayers in Pakistan. We won a series in Pakistan with Waqar [Younus], Wasim [Akram] and them. So we realised that we are good enough to do it. So when the World Cup came, we realised that yes we have a chance of winning this.
TDS: How was the mood in the dressing room before the world cup?
AG: We were very confident. We knew our team was good, even though some people might not have believed it. We had the most experienced team and the batting lineup in the world cup. Between the top seven or eight batsmen we had over a thousand games, and in 1996 a thousand games were a lot. So we knew we had the most experienced batting lineup and we knew we had a very, very good fielding side. So if we bowled okay we can still do much better than what others thought.
TDS: As far as the 1996 World Cup is concerned people talk a lot about Aravinda De Silva and Sanath Jayasuriya. But even though you scored 300-plus runs, people don't talk about you much. Do you see yourself as an unsung hero?
AG: I don't know about unsung hero; I did my job for the team. I had a job to do for my team and I did that. My players believe in me and they always talk about it so to me that is more important than what anyone else thinks.
TDS: What was the conversation you had with de Silva out in the middle during your partnership in the 1996 World Cup final?
AG: What we discussed is that I am going to bat till the 50th over, that as long as Aravinda and them are there. We discussed that Aravinda will be a bit more aggressive and start pushing a little bit and I'll bat through. During the game we changed our roles as well. There were certain overs that Aravinda said, 'I am struggling a bit here, why don't you take over and push it through'. So that's how we did it out in the middle. We discussed and thought someone has to take charge; with Australians you can't let them take control.
TDS: How do you evaluate Bangladesh?
AG: Great side. Their playing improved so much, they're playing good cricket. We went through the same thing; you win one and you start building. The important thing is to keep these 15 or 20 players together for a little while. When they are together they trust each other and start playing with each other. It's that family environment you've got to build and that's what my good friend [Chandika] Hathuru[singha] is doing. He's a great coach and I played a lot of cricket with him, so that's where Bangladesh will have to look at, because they are in that zone now of performing and they need to know a little bit more of how to win from difficult situations.
TDS: Who has impressed you most?
AG: I think out of the players I have seen here I am very impressed with your captain, Mushfiqur. The way he was batting, more than anything else, he is waiting for someone to bowl at his strength. He doesn't go after them. Shakib is an aggressive player, an entertaining player. He changed the game on the third day when he was batting. He is entertaining, he is a good player. I am very impressed with your fast bowler, Mustafizur, because of the variations and the things he is doing. I know he is a good player in one-dayers and T20s, so now it's his job to start proving it in Test cricket to say that he is good. Because if he travels to Australia and places like that he is going to start doing different things. That's where he will be tested, but he is a great cricketer.
TDS: You negotiated spin very well in your career, even Shane Warne couldn't get you out. What was your secret?
AG: I wasn't a flashy batsman like Aravinda or Sanath. I didn't take too many risks. That is most probably one of the things, I batted well against Warnie and I read Warnie well. I knew what he was doing and that helped me. He is one of the greatest bowlers absolutely. And he didn't bowl that well against left-handers, so that was an advantage for me.
TDS: You also played Muttiah Muralidaran. What was your experience negotiating him? Could he get you out?
AG: I didn't play too much against him. It's very difficult to say; I can't remember. But Murali is a great bowler. Even in the nets it's a challenge to face Murali. Even in the nets he wants to get wickets; that's the way he bowls and that's his mentality, and that's why he became one of the greatest bowlers in the world, because he wants to take wickets. He was a tough competitor but when you play him in the nets every day you get used to him.
TDS: Who do you think is the best ever spinner?
AG: The best spinner I have faced is Abdul Qadir, Pakistani leg-spinner. I can't say Murali because Murali played with me and I haven't played too much against him, but definitely Abdul Qadir is the most difficult spinner I have faced in my life.