A defeat too hard to swallow for Sri Lanka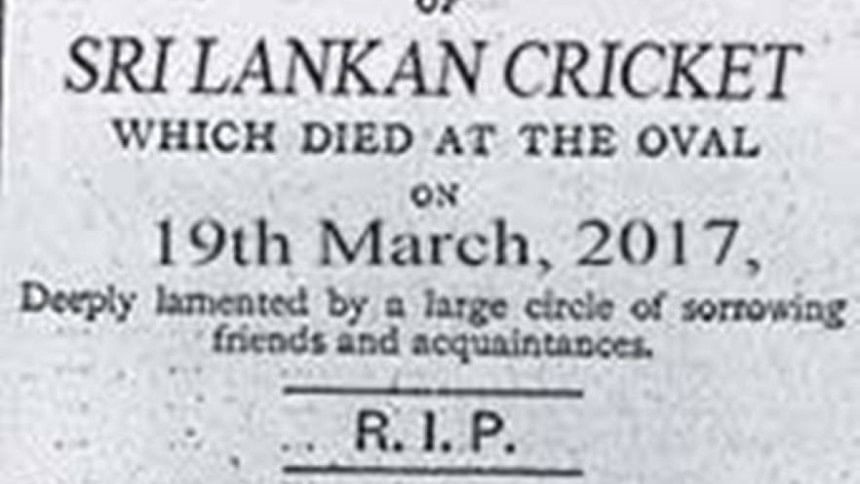 When Bangladesh showcased their 100th Test with a magnificent four-wicket win against Sri Lanka at the P Sara Oval in Colombo on Sunday, the home side termed the loss, their first against Bangladesh, as the biggest embarrassment in their history of Test cricket.

Also read:A momentous 100th: United they delivered 
Sri Lanka's leading English language daily The Island carried out an obituary note in its Monday's issue terming March 19th 2017 as 'the darkest day in Sri Lankan cricket'.  It also carried an obituary plaque, similar to that of the legendary obituary notice by England's Sporting Times after England's historic defeat against Australia in August in 1882.

Read more: Ghosts of the past put to rest
"March 19th 2017 will go down in history as the darkest day in Sri Lankan cricket as world's youngest cricketing nation Bangladesh stunned the hosts to record their maiden Test win over Sri Lanka at P. Sara Oval yesterday," read the Island, which also carried a cartoon featuring the cricket board president Thilanga Sumathipala carrying the coffin of its national team.
While criticizing the attitude, the paper also read: The Sri Lankans were cocky and their attitude shocking. Day four began with Sri Lanka still 75 runs behind. The batsmen below number six were told to relax and arrive at the ground at 9:30am, 30 minutes prior to start of play. It was as if the Sri Lankans were 300 runs ahead.
Sri Lanka Cricket (SLC) tinkered with the P. Sara Oval wicket for this game. They called for a slow wicket hoping for a high scoring draw to complete a series win, but were outsmarted by a man who had plied his trade all his life at Tamil Union. Chandika Hathurusinghe is his name.
The Bangladeshi coach had spent several seasons at P Sara Oval playing First Class cricket under the watchful eyes of cricket's finest gentleman S. Skandakumar and he knew the wicket here like the back of his palm.