Ghosts of the past put to rest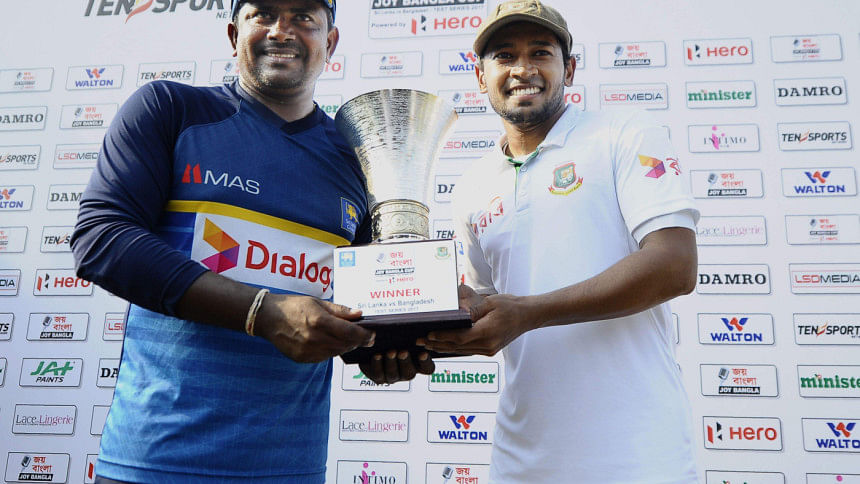 "What's the news? Two gone! Oh no," a student in uniform exclaimed over phone and cursed out of frustration after learning that Bangladesh had lost two quick wickets in chase of a 191-run winning target. His expression relayed more pain than when he was riding on a bus along the bumpy Malibagh-Mouchak route.
By the afternoon the young man must be in a joyous mood similar to millions of cricket fans across the country -- who kept in touch with the match the whole time whether they were on the road, in offices or any other place -- following the Tigers' historic four-wicket victory at P Sara Oval.
Mushfiqur Rahim and Co. might have brought another moment for many to celebrate perhaps just like another victory, but there are others to whom this success means a lot more than just a win. For them, it seemed like the future generation had finally relieved their predecessors from a long-standing pain.
What was that pain? Ask former national captain turned selector Habibul Bashar and he will tell you how ignominious the day in September 2001 was when two Sri Lankan batsmen -- Marvan Atapattu (201) and Mahela Jayawardene (150) -- retired after making big scores at the Sinhalese Sports Club ground in Colombo.
"I also played the match where we scored the lowest Test total (62) at this very P Sara Oval in 2007, but today's success reminded me of the humiliation on that day when two Sri Lankan batsmen retired. It was really embarrassing for us because this type of thing happens in practice matches.
"Those were the days when we were only on the receiving end, so it's a special victory for those of us who have bitter memories against Sri Lanka as players and we must thank our successors who created the new history by beating Sri Lanka in Sri Lanka," Bashar reminded of the forgettable records against Sri Lanka, adding that: "Don't forget it's a 100th Test match, man!"
However, Bashar had little doubt over the win after the Tigers were set a 191-run target.
"I was bit nervous when the two tail-enders batted brilliantly but once Sri Lanka were dismissed for a below 200-target, I had no doubt. And now we have achieved the belief that we can win Test matches away from home against tough opponents."
In that ill-fated match in 2001, Mohammad Ashraful made his debut and entered the record books by becoming the youngest batsman to score a hundred. However, when it comes to tours of Sri Lanka, it's still all about the bitter memories. He was the captain when Bangladesh made their lowest total at the P Sara Oval. And he shared Bashar's feelings yesterday.
"It's very special for those of us who had have gone through humiliation against Sri Lanka. It all began when we drew the Galle Test in 2013, but a win against Sri Lanka in Sri Lanka is not a joke when even teams like Australia struggle. I doubted whether we could get 20 wickets but the bowlers proved me wrong and I give full credit to them. It's a great comeback after the Galle Test defeat."
Both former captains also shared in the belief that up and coming talents like Mosaddek Hossain would continue and take the baton even further.